•Says Achebe is living in the past
Former President Olusegun Obasanjo has accused President Goodluck Jonathan of mismanaging the security issues engulfing the country.
Obasanjo stated this in an exclusive interview published in the February issue of the pan-African magazine, New African. He blamed Jonathan for the deteriorating situation caused by the insurgent Boko Haram.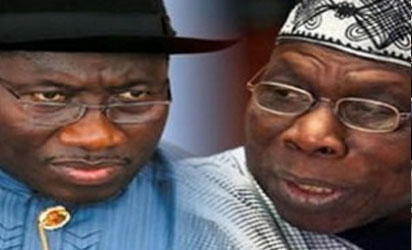 "If the President is the chief security officer of the country and there is a security problem, where do you go for the solution? And if that solution is not coming from the chief security officer, who else inside and outside will get a solution? He has the responsibility to solve the problem, and nobody else should be blamed but him."
In a wide-ranging interview, the former General also challenged claims made by Nigerian literary giant, Chinua Achebe, regarding the country's civil war in the 1960s. Obasanjo rebuffed claims that successive Nigerian administrations have marginalized the Igbo ethnic group within the country.
"Maybe he is making those remarks because he is not living in Nigeria. If he was living in Nigeria, when I was the president of this country, an Igbo lady was my Minister of Finance, and Igbo man was the Governor of the Central Bank; an Igbo man was one of the military service chiefs. The permanent representative to the UN was also an Igbo person. What more do you want? For someone to say the civil war has not ended, 40 years after its conclusion, that person is living in the past."