By JOHN EGBOKHAN
Burkina Faso striker, Alain Traore has said that it was a shame that the Stallions lost the final match of the 2013 Africa Cup of Nations in South Africa to the Super Eagles of Nigeria.
Both sides had first played to a thrilling 1-1 draw in a Group C opening match but in th final match held Sunday at the National Stadium in Johannesburg, Nigeria ran away with a 1-0 win to lift the Cup for the third time, while the Le Stallions, were left counting their loses.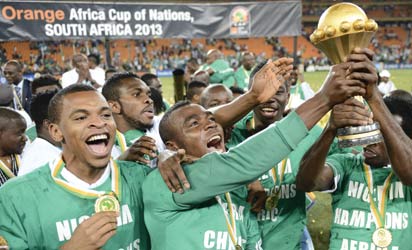 Speaking during the team's arrival in Ouagadougou, Traore, who scored three goals in the competition but missed out of the knockout stage because of a tournament-ending injury, said that their dream was to win the Cup for the first time but remained positive of the good things that would come to their football with their final stint at AFCON 2013.
"We honor the people of Burkina Faso. Our desire when we are going to South Africa was to at least give pleasure to the people of Burkina Faso. This nation has always supported us even in difficult times.
"It is a shame that we have not brought the trophy to Burkina Faso but the people can be rest assured of one thing, that the result from this tournament will be interesting", added Traore, who netted the equaliser against Nigeria in the last minute of stoppage time.
On the injury which ruled him out of the tournament, Traore said that "when I was hit in the foot, I admit I was shaken in my heart because I really wanted to play. But my teammates gave me the strength to stay positive".