By Henry Umoru & Joseph Erunke
*Passes vote of Confidence on Keshi, others
*We are surrounded by enemies— Mark
*Says why Keshi resigned, foreign partners must not be forced on him
ABUJA—THE Senate, basking in the euphoria of Nigeria Super Eagles' emergence as champions of Africa at the just concluded 2013 Africa Cup of Nations, AFCON, Tuesday, broke protocol and gave a standing ovation for the team.
Senate President David Mark who could not hide his joy for the performance of the Nigeria team, had to stand up when the senators shouted hip, hip, hip, hurray thrice for the players and also clapped. After discussions on a motion, yesterday, the Senate passed a vote of confidence on the Super Eagles' coach, Stephen Keshi, and members of the technical team and hailed the team for winning the trophy and thereby making the nation proud.
The resolution of the Senate followed a motion by Deputy Senate President Ike Ekweremadu, and 107 Senators titled "Nigeria's Glorious Outing at the Africa Cup of Nations, AFCON 2013." Meanwhile, Senate President David Mark disclosed that Nigeria as a country was surrounded by many enemies in the continent against the backdrop that other African countries expect much from us and we must defend the slogan of being the giant of Africa through actions and not words.
Show of greatness
Senator Mark said: "Surprisingly, while I was in the state box watching the match, almost all the countries were supporting Burkina Faso for some inexplicable reason. It shows that people believe that we have the potential, people believe that we are great and we must show this greatness not only in words but even in deeds because we are always going about saying we are the giant of Africa. We have to prove that we are truly the giant of Africa in every sphere of life."
The upper chamber also commended President Goodluck Jonathan for the achievement as well as for motivating the team, even as it urged Keshi to rescind his decision to resign. The Senate also urged President Jonathan and the Federal Government of Nigeria to reward the team handsomely.
Senator Ekweremadu in his lead debate congratulated the Senate President whom he noted, consistently urged senators in particular and Nigerians as a whole to pray and fast for victory. The victory, according to him, was a valentine gift because it came on the week of valentine.
He, however, regretted that Nigeria was deviating from sports development, adding: "It seems we are not concentrating more on sports development. Aware that the AFCON trophy had eluded Nigeria for the past 19 years since she last won it in 1994. Further aware that until this competition, the performance of the Super Eagles had been grossly dissatisfactory to the generality of Nigerians, while Nigerian football had nosedived abysmally.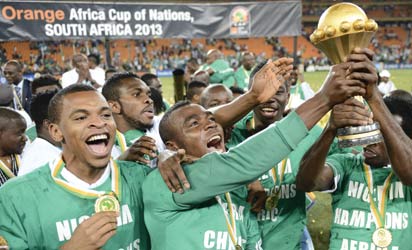 "Notes with pleasure, the splendid performance of the Super Eagles of Nigeria and Nigeria's emergence as champion of Africa at the 2013 Africa Cup of Nations, AFCON, tournament in South Africa. Also notes with delight the tenacity of spirit, patriotic zeal as well as unity and team spirit displayed by players, coach, and the entire team management. Observes with keen interest and satisfaction the contributions of the home-based Super Eagles to the overall success of the team…."
Senate President Mark who also disclosed that he had discussions with Keshi and the coach told him that he was under pressure to accept to work with foreign partners and which he (Keshi) failed to key into, added that the coach must be allowed to do his work without any interference from any quarter.
Senator Mark said:  "I spoke to Stephen Keshi this morning and he confirmed to me that he actually said he has resigned. He said the reason was because there was too much interference. Before the final tournament on Sunday there was a lot of pressure on him that he must accept foreign technical team or foreign technical advisers and he said he was opposed to it because he has got all that it needs in this country and that there are Nigerians who can work with him and he doesn't see the gain in bringing foreigners.
"He said he was sorry he had to actually put in his resignation. But I think he is amenable, he is prepared to rescind it provided we don't force foreign technical partners on him. And I think once we allow him and give him the team to manage, we should give him the free hand to manage the team. Whatever way he goes to get the result that should not be our problem because once we begin to meddle in the way he is going to run and manage the team, once we give him the task we should give him a free hand to accomplish the task and bring the result.
"I think this Senate must be unanimous in that. I think part of the prayers should be for us to prevail on him not to resign and also that the Sports Ministry or the administrators must give him a free hand to bring us the result that we want. I think also that the prayer warriors did their part. ''They were on their knees in the various mosques and churches and prayer grounds and we must thank the prayer warriors.
Acceptable motion
Speaking further, he said, "I think this is one motion that all the senators appended their signature and it shows how important and how acceptable the motion is. We have all addressed virtually all the points that we can in sports ranging from our desire to let the sports in this country grow to a level where it used be in those days. Whether it is football or athletics or basketball or hockey or golf or table tennis or lawn tennis or squash. And we have also addressed the issue of grassroots training because I think that is really where the problem is. Unless we train our boys and our girls at a very early age, there is no way in which we are going to reach the level we want to reach.
"Training facilities of course have become so scientific now that it is no more like what it used I be those days. I think we also need to ensure that we have sporting facilities at the local level to be able to train our boys and our girls. Funding is an important aspect and we have all addressed it adequately. As long as you depend on government to fund sporting activities we are never going to make progress.
"First, the government's procedure of getting funds out is not easy, it is not straightforward. Whilst government gives you funds, it would not be administered by the sports administrators. There will be middle men who will administer the fund and all those are issues that will negate progress. We need to have faith in ourselves, obviously that is the most important thing because if we don't believe in ourselves we cannot even make progress.
"And Stephen Keshi has rekindled this that we must have faith in ourselves. Both in our coaches and in our players. It was very clear that if we didn't win that match on Sunday, my fear was how Nigerians were going to get out of that stadium. Having won the Nation's Cup is an indication that we go places and I think it should spur us to win the Confederation Cup which is coming up in Brazil in June this year. But more importantly the World Cup. I remember that in 1994, we went as far as we could but then we not get there and I think we have the talents in this county if we harness those talents to be able to take ourselves o win even the World Cup."
Earlier in his contribution, Deputy Senate Leader, Abdul Ningi who congratulated all Nigerians especially President Goodluck Jonathan whose tenure he noted, won the tournament, said, "I am proud to be a Nigerian especially the confidence displayed by Nigerians in South Africa made me a proud Nigerian.
"We should try to re-invigorate the spirit of Nigerians in any tournament. He said victory was for the leadership of the country to know that issues of ethnicity, religion and politics were secondary to the country."