By Helen Ovbiagele
Many months ago, some of our senators proposed a leisure centre for elderly citizens.  The move was applauded by some people, but in the piece I wrote on it, I said it was a good thing that the senators thought of something to put more zest in the lives of the elderly, but that in a country with dismal healthcare like ours, and where the majority of the  elderly  are poor, it wasn't a leisure centre that the majority of them need, but rather, qualitative care in all areas of their lives.
I added that such leisure centres would normally be sited in the cities and they would cater mostly for the middle and upper classes; in short, the elite. Some readers  wrote in to say that I'm a spoilsport and that the idea of a leisure centre for elderly people was  good and should be encouraged.  Maybe.  However, I haven't heard anything more about the proposed project since then.  I probably missed further news on it.
Now, since it's the desire of most human beings to live as long as possible, and this would certainly involve becoming old enough to be regarded an elderly person at a point, it makes sense for our rulers, who I assume would like to live long and become elderly people themselves,    to take a good look at the lives of all categories of the elderly people in Nigeria, and do things about their welfare to give them qualitative lives.
The elderly we're talking about here are not those in the upper class of the society who have stashed away enough money and property to have a comfortable evening.  Rather, we're talking about the old people who are poor, and whose children are too poor themselves to take adequate care of  their old parents.  With the population explosion and hard economic times come high unemployment.
So, parents who had staked their all, and even borrowed money to give their wards university education, not only for a better future for them, but as insurance for their own old age as they expect those children to land good jobs when they graduate, and come look after their parents, find to their utter dismay that they have to continue looking after their graduate children because these ones can't find jobs.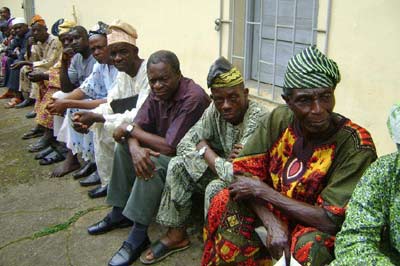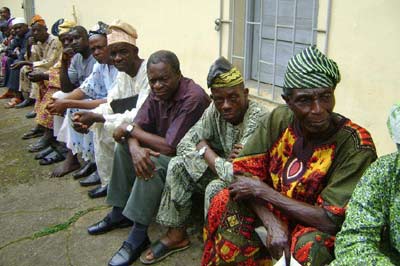 This is a very distressing situation for both parties, as the young people who had thought that a higher education would remove them from the rank of the poor, find themselves still wallowing in the poverty they were trying to escape from. As for their parents, the situation is a nightmare as they continue toiling for the welfare of their graduate adult children.  Their distressing state could bring on some serious health problems; further compounding an already bad state of affairs.  With prolonged  unemployment, a few of them  may even die before realizing their dream of seeing their wards  land good jobs and come help improve their lives.
In a chat with Vista Woman the other week, Dr. Iyabode Cole, a medical doctor who specialized in Geriatric Medicine, and who runs Khadijat Home Care For the Elderly, urged people to give their elderly parents adequate attention and  take good care of them; stressing that catering to their needs while they're alive is of more benefit to them than giving them expensive burials.  This is very true, and there could indeed be people who have the means to give their elderly parents a good life, but don't do so.  However, for many Nigerians, their conscience would not permit them to neglect their parents whatever their circumstances, as they have grown up with the notion that one takes care of one's parents.
Migration to the urban areas by young people and high costs of living may be obstacles in the proper care of parents.  Unlike before when there were family houses for many people to occupy all the days of their lives, these days, many people can be permanent tenants, especially those working and living away from their home towns, and it's difficult for many low-income earners in one room to invite their elderly parents to come share it with them and their own family.  Besides, they may not be able to provide adequate health care that the elderly may need.  Many elderly people may be dying before their time because of  inadequate healthcare, and a lack of nutrition.
Which is the way forward?  Government at the three levels of governance should pay more attention to the care of the elderly.  Wherever there's a State General Hospital or a Federal Specialist Hospital, there should be a department for elderly people, where trained personnel would attend to them.  Apart from adequate medical attention which should be free, of course, there should be a nutritionist who would advise them and their relatives on adequate diet for them, which would suit their health conditions.
Physiotherapists should advise/help with their exercise routine.   Staff there should be professionals who are trained in Geriatric Medicine, and who would treat their patients with respect.  Some medical personnel in government hospitals are very rude to their patients, particularly to the poor, the elderly, and also to pregnant women.  To the latter, some nurses are particularly vitriolic in their utterances.  The elderly need respect, no matter their social status, and the hospital authorities should see that they get this.
Also, the local government areas should know the elderly in their wards, through the councillors.  Local government is supposed to be close to the grassroots, so, ward by ward, the councillors should know the residents in their area, or, at least the houseowners/chairpersons of the various street associations, and once in a while, they should attend the monthly meetings of these associations in order to know what's going on in the area.
The residents should know where their councillors' offices are, and his office hours.  If things are organized this way, it would be easy to locate the elderly residents and render help when needed.  In developped countries, the member of  Parliament is very close to the residents in his/her area, and is usually the first to be contacted when there's a general or even personal problem which needs government's attention.
Regular talks on health and ageing, should be given at the local government headquarters for the elderly and their relations, so that they can be adequately looked after by their families at home, and there should be visits from government health personnel to see how they're doing. With good cooperation between the government and families, the elderly in our society would feel loved, wanted and well-cared for, irrespective of their social status, and their dusk would be peaceful in spite of the state of their bodies and health.