BY OUR REPORTERS
LAGOS—AFTER 42 months of ceaseless attacks during which it killed about 3000 Nigerians, the Jama'atul Ahalis Sunna Lida'awati Wal Jihad, also known as Boko Haram Islamic sect, yesterday, agreed to lay down its arms for peace to prevail in the country.
The cease-fire was reached after a marathon meeting between some leaders of the group, which has been terrorizing some states in the North, particularly Borno since July 2009, and the Borno State Government.
The peace deal came after unknown gunmen killed 13 people in Gajigana town, a remote part of Borno State.
Those killed included three JTF operatives at the weekend. Also, a security man attached to AIT/Raypower in Bauchi State was shot dead Sunday night by a gang of suspected armed robbers.
The agreement between the Borno State government and the sect was reached after a closed-door meeting between suspected members of Boko Haram and Governor Kashim Shettima with other top government officials and religious leaders from the state in attendance.
Spokesman for the Joint Military and Police Forces in Maiduguri, which is the epicentre of Boko Haram's campaign, Lt. Col. Sagir Musa, confirmed the attack on Gajigana town but did not give further details.
Meanwhile, an official of the Federal Government said last night that the government would critically study the group's cease-fire terms before responding.
I saw eight bodies –Eye witness
Modu Bukar, a trader in the town, saw the bodies after the attack, which sent panicky residents fleeing, adding that he had heard gunshots during the attack.
"I saw eight bodies afterwards – three of them young men, and another five who were heads of households," he said, adding that he did not know who was behind it.
Borno State, which shares porous borders with Cameroon, Niger and Chad, on the threshold of the Sahara, has suffered increasing lawlessness since Boko Haram launched an uprising against the government in 2009.
A general breakdown of law and order in the areas where the sect operates has also created space for armed criminal networks and ethnic militias with scores to settle, both of which sometimes kill dozens in overnight attacks.
Why we're sheathing our sword – Boko Haram commander
Briefing newsmen after the marathon meeting in Maiduguri, Sheikh Abu Mohammad Abdulazeez Ibn Idris a commander of Boko Haram in-charge of North and Central Borno, said after due consultation with the leader of the sect, Shiekh Abubakar Shekau, as well as intervention and pleadings from respected individuals and groups in the state, we "have all come to terms and agreed to lay down our arms."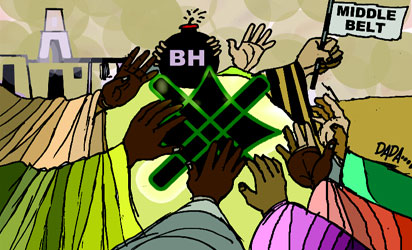 The Boko Haram Commander, however, insisted that government should immediately release all their members from custody unconditionally, re-build their places of worship and compensate them among other demands.
Sheikh Abdulazeez said that, the sect observed that during the lingering insurgency, a lot of Muslim women and children had suffered untold hardship, adding that, they also decided to lay down their arms for peace to reign in Borno and the country at large.
"I am appealing and calling on all our members through this medium to lay down their arms henceforth, till further notice," Abdulazeez stated.
On the wanton killings, especially the slaughtering of eight people in Gajigana town of Magumeri Local Council of Borno State on Sunday and burning of public buildings, he disassociated Boko Haram from the acts, insisting that the atrocities were committed by criminals hiding under the guise of Boko Haram.
Abdulazeez's comments read in part: "I am Sheikh Muhammed Abdulazeez Ibn Idris, the second Commander in-charge of Southern and Northern Borno after Imam Abubakar Shekau of Jamaatul Ahjlil Sunna lidawati wal Jihad, otherwise known as Boko Haram.
We the members of Jamaatul ahlil sunna lidawati wal jihad otherwise known as Boko Haram recently had a meeting and dialogue with the government of Borno State where we resolved that giving the prevailing situation, there is the need for us to cease fire.
We, on our own, in the top hierarchy of our movement under the leadership of Imam Abubakar Shekau, as well as some of our notable followers agreed that our brethren in Islam, both women and children are suffering unnecessarily; hence we resolved that we should bring this crisis to an end.
"We therefore call on all those that identify themselves with us and our cause, to from today lay down their arms. Let every member who hears this announcement relay it to the next member who hasn't heard.
"We have met with the Borno State Government on two occasions and the fallout of the meeting is to cease-fire.
Presently, we are going to comply with the cease-fire order and by the time we are done with that, then government security agencies can go ahead to arrest whoever they find carrying arms or killing under our names.
We are very much aware of the fact that some criminals have infiltrated our movement and continued attacking and killing people using our names.
"We have also told the government to try to live up to our demands that our members in detention should be released.
We hope the government will not betray us this time around because we all know that it was because of the continued detention of our members that this crisis continued for this long. And if government fails to do as it has promised, then this conflict will never have an end.
"Of course there is a faction within us, but the larger faction of our movement is the one in support of this cease-fire moves. Moreover, once top members of our group including Imam Abubakar Shekau are in support of the need for ceasing fire, other smaller factions can be dealt with easily.
This message, by the Grace of Allah, comes directly from the office of Imam Abubakar Shekau, the supreme leader of Jamaatul ahlil Sunna lidawati wal Jihad."
It's a welcome devt – Borno State govt
Reacting to the development, Special Adviser to Governor Kashim Shettima on Communication, Alhaji Isa Umar Gusau, said it was a welcome development, noting that the state government under the leadership of Shettima, since inception, had opened its doors for dialogue to end the hostilities which had disrupted economic activities and peaceful co-existence in the state.
Contacted, Borno State Commissioner for Information, Inuwa Bwala, said he was just arriving from the burial of his first cousin who was killed last Thursday and did not have details of the meeting.
FG to study their conditions
The Federal Government is to critically study the conditions given by the Boko Haram sect while announcing its unilateral cease-fire before making a pronouncement.
A highly placed government official told Vanguard in Abuja, yesterday, that government was not in a hurry to jump at the offer being made by the sect.
The official who pleaded anonymity because government has not taken a formal position on the matter noted that "from our experience, the sect is not reliable and their words cannot be taken at face value. All facets of governmental apparatus would be consulted before a final decision would be taken on the matter. We are not in a hurry to jump at their offer."
The official noted that while government was committed to dialogue, it was not going to negotiate with any group on a position of weakness and proactive security measures would continue to be taken to safe-guard the lives and properties of Nigerians.
How AIT man was killed
Meanwhile, Vanguard gathered that the AIT/Raypower security man identified as Malam Idris Yusuf was reportedly killed sometime between 10 and 11pm when he had closed from duty and was going home.
The robbers who were said to have stolen a car asked him to help them with petrol as their tank  was empty and they were without money.
It was learnt that when the owners of the stolen car who were trailing the robbers sighted them and raised an alarm, late Idris held the arms of one of the suspects as he was about to escape with his colleagues not knowing that the suspect had a gun.
He was said to have been shot in the abdomen by the robber in the ensuing scuffle but he died on the way to the Abubakar Tafawa Balewa Teaching Hospital, ATBTH, where he was being rushed to by good Samaritans around 4am.
The Head of station of the AIT/Raypower Mr. Terver Tsav who was at the hospital described the deceased as "a good Samaritan who wanted to use his money to buy the fuel for the stranded men not knowing that they had stolen the car."
Deputy Police Public Relation Officer, Muhammad Auyo denied any knowledge of the incident, pointing out that the state Police Commissioner, Mohammed Ladan, was in the best position to speak on it.
Origin of Boko Haram
Boko Haram, which figuratively means 'Western education is sin' was founded in 2002 in Maiduguri by Ustaz Mohammed Yusuf. The sect opposes not only Western education, but Western culture and modern science as well.
In a 2009 BBC interview, Yusuf stated that the belief that the world is a sphere is contrary to Islam and should be rejected, along with Darwinism and the theory that rain comes from water evaporated through the atmosphere.
In 2004, it moved to Kanamma, Yobe State, where it set up a base called "Afghanistan", used to attack nearby police outposts, killing police officers. Yusuf was hostile to democracy and the secular education system, vowing that "this war that is yet to start would continue for long" if the political and educational system was not changed.
In Bauchi, the group, which includes members who come from neighbouring Chad and speak only in Arabic was reported as refusing to mix with local people.
Clash with the state

In July 2009 the Nigerian police started investigating Boko Haram, following reports that the group was arming itself. Yusuf, the leader and others were arrested and on July 30, 2009 allegations were made that Yusuf himself was killed by Nigerian security forces after being taken into custody.
The development invigorated deadly clashes with Nigerian security forces and attacks on churches, public institutions and military facilities among others which led to the deaths of an estimated 3000 people, according to Chief of Army Staff (COAS), Lieutenant General Azubuike Ihejirika.
The Attacks
Prior to the clashes, many Muslim leaders and at least one military official had warned the authorities about Boko Haram. Those warnings were reportedly ignored.
According to Human Rights Watch, between July and December 2010, at least 85 people were killed in some 35 separate attacks in four states in northern and, as well as in Abuja, the nation's capital. Attacks attributed to Boko Haram in 2011 left at least 550 people dead in some 115 separate incidents.
In the first nine months of 2012 alone, more than 815 people died in some 275 separate attacks in 12 northern and central states, and Abuja.
Among the litany of attacks include those of the United Nations Office, Abuja, Police Headquarters, Abuja, the building housing ThisDay Newspapers, Sun Newspapers and Daily Trust in Abuja, St Theresa's Catholic Church, Madalla, Niger State, Deeper Life Church, Okene; Military Cantonment Jaji, Special Anti-Robbery Squad (SAS) office and other numerous security facilities especially police stations.
The security agencies also went on counter-offensive arresting, detaining and in many instances killing Boko Haram members and leaders.
Disturbed by the escalating violence, many northern leaders and groups including the Arewa Consultative Forum (ACF) urged government to dialogue with the group to end the killings.
Last November, the group gave the government conditions for ending the hostilities
The acclaimed spokesman of the group, Abu Mohammed Ibn Abdulazeez  in a tele-conference with journalists in Maiduguri stated that if the state and the Federal Government want the group to cease-fire completely, then former Borno state governor Ali Modu Sheriff must be arrested and prosecuted according to the laws of the land.
He also said that the government should compensate the group and rebuild their places of worship which were destroyed during the 2009 uprising.
He pointed out that for a dialogue to take place, it must be through the following elders: Dr. Shettima Ali Monguno; Former Head of State General Muhammadu Buhari; former Yobe State Governor, Bukar Abba Ibrahim; Ambassador Gaji Galtimari and Barr Aisha Alkali Wakil and her husband, Barr, Alkali Wakil, insisting that the dialogue must not take place in Saudi Arabia.
Abu Abdulazeez also said that the group has mandated five members who are to mediate on their behalf; they include himself (Abu Mohammed Abdulazeez), Abu Abbas, Sheikh Ibrahim Yusuf, Sheikh Sani Kontogora and Mamman Nur.
Buhari later distanced himself from the group and the Federal Government said it could not negotiate with pre-conditions, thus the crisis was allowed to fester.
With the latest decision of the group to sheathe their sword, it is hoped that all stakeholders will play their required roles for normalcy to return to the country.