Following the 1-1 draw earned against star-studded Catalonia in Wednesday's friendly international, Nigeria coach Stephen Keshi has said his side will be better prepared before the Africa Cup of Nations starts in a fortnight.
Bright Dike's second half strike cancelled out Sergio Gonzalez's early penalty goal to give the visitors a good draw in Barcelona. Ikechukwu Uche missed opportunities to increase the lead that would have seen the Nigerians grab an upset against the Catalonians as they looked confident with substitutions in the second half.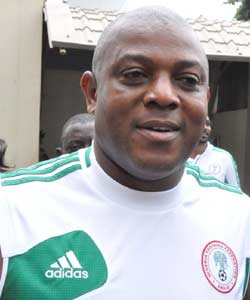 Keshi said he was happy at the display of the team but was not totally done yet with building a strong team.
"It was a great game. I must commend the players because they played to instructions. The purpose of this friendly was to try out some formations and tactics and not to win at all cost, but knowing the pedigree and quality of our opponents and so the boys gave their all and I must commend them for this and also Nigerians for their prayers," Keshi told MTNFootball.com
He said, "I needed to see that reaction from the players in a game like this and I must commend them because they lived up to expectation. It's a test and confidence-building game and the boys from back home needed this more."
He sounded confident that the team would be ready before the commencement of the tournament in South Africa."In the next two weeks we should have a stronger and more reliable team to defend our colours come South Africa 2013,".
Keshi is expected to announce his final squad for the tournament in coming days.
Nigeria will begin their campaign against Burkina Faso in Group C on January 21. They will also play against defending champions Zambia and Ethiopia.