By Tony Ubani
SUPER Eagles coach, Stephen Keshi is unruffled over the persistent rains in Nespruit, South Africa, where the Eagles will be playing their 2013 Africa Cup of Nations matches.
It has been raining even before the commencement of the soccer fiesta here and the Confederation of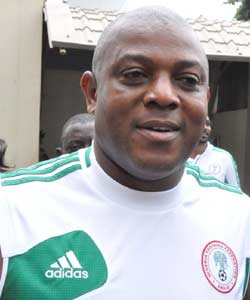 African Football has been forced to issue a directive to participating teams not to have pre-match practrice sessions on the turfs. Teams are only allowed to have a feel of the turf during pre-match warm ups.
"I am not bothered about the directive," Keshi quipped, pointing out that the directive was applicable to all the teams. "It affects all the participating teams and not peculiar to Nigeria."
Asked if he was under any pressure because he brought an inexperienced squad to South Africa. Keshi said, "experience is got from playing. It is from inexperience that they will get the experience.
They will get the experience from this tournament and will build from here."
Exuding confidence and sounding optimistic the Super Eagles chief coach was bullish when asked about the chances of his youthful side. "We have equal chances with all other participating teams.
We respect our opponents but it will be good we start with a win," Keshi said, as spoke on Eagles opening match against Burkina Faso today.