By Johnson Omomadia
Today we begin a new series titled "It came to pass". The Holy Spirit through God's word will illuminate your heart and birth life in you once again. So many people are saying if it is true, why is it then that what God promised he has not made well. So many who has hope are giving up and are not willing to believe God or His word any longer. Some are comparing themselves with other people and wondering why those people are getting blessed.
Beloved, listen to me God's word can never die. Whatever God has promised you He will fulfill. Numbers 23:19, says "God is not a man, that he should lie: neither the son of man, that He should repent: hath He said, and shall He not do it? Or hath He spoken and shall He not make it good?
Whatever, God says it becomes. If God says you are blessed, know that you are blessed. No devil or power in the entire universe can stop it. God can never and will never lie. God said, instead of His word to pass away, heaven and earth shall pass away. God's word is true forever. The word has been tested over and over and yet it remaineth sure. No wonder the bible records in Ps. 119:89 that His word is forever settled in heaven. Beloved audience, don't be moved, God's word concerning you is settled. Just be obedient to His word.
Say it out loud to yourself "God's word for me is settled". No devil can change or alter it. God's word or promise to you will surely dominate your circumstances. In Gen. 1:2, the Bible says "and the earth was without form and void; and darkness was upon the face of the deep; and the Spirit of God moved upon the face of the waters.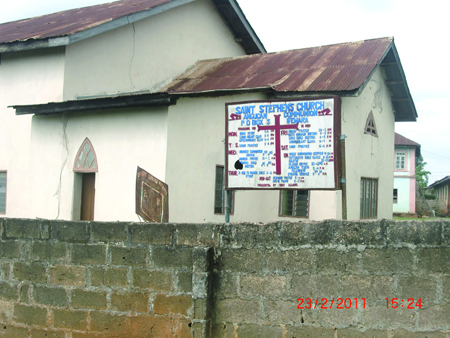 From this text we could see that darkness and confusion was dominating the earth. It appears as if nothing good could come out of it again. But when God said let there be light, there was light. Out of darkness came light. Out of the earth that was without form and void, came beauty. Listen, beauty will come out of that ugly situation in your life. For the Bible says that everything the Lord created was beautiful and good. Do you know that Satan would want you to doubt the reality of what God told you? But listen let God be true and let the devil and every man be a liar.
Believe the promise of God. He will surely fulfill it in your life. There will be performance of His word to everyone that believes. Do you know that after Satan made man to fall from the grace of God when he made Eve and Adam to eat from the forbidden tree. He (Satan) thought it was over for man (Gen.3). While the devil was busy rejoicing, God said in Gen. 3:15, "and I will put enmity between thee and the woman and between thy seed and her seed: it shall bruise
thy head and thou shall bruise his heel". The moment Satan heard God made this promise, he set out to destroy every seed that looked like the seed that would bruise his head. While he was busy doing this, God also was busy watching over His word so that it will come to pass.
From generation to generation this continued until finally the seed (Jesus) was born. Again Satan the devil did all possible to kill Jesus but he could not. To fulfill God's word, Jesus defeated the devil on the cross of Calvary where he openly declared that "it is finished" (John19:30). Thus  the power of Satan over man has been destroyed. And then he went to Satan's territory and spoiled principalities and powers, He made a shew of them openly, triumphing over them in it (Col. 2:15). And he took the key of hell and death from Satan (Rev. 1:18).
Beloved, you don't have to remain bound anymore. Jesus has set you free. The word of God in Gen. 3:15, came to pass. Believe also that God's word for you will also come to pass. Jesus is the truth.
Do you want to experience fulfillment of promises of God in your life? The starting point is you receiving Jesus Christ in your life as Lord and Saviour. If you have not already done so, please pray this simple prayer. Father, you said that whosoever shall call on the name of Jesus, shall be saved. I call on the name Jesus. Thank you for saving me and giving me the gift of eternal life. I praise you and give you all the glory. Fill me with the power of your Holy Spirit, to enable me live for you.