By Prisca Sam-Duru
Ogochukwu Promise (Phd) is a Fiction writer, playwright, poet and essayist. She is the founder and coordinator of The Lumina Foundation which instituted the Wole Soyinka Prize for Literature in Africa. She  also edits and publishes the literary magazine, The Lumina, as well as The Promise Magazine.
As a multiple Award winner, Ogochukwu who initiated the Get-Africa-Reading Project and runs a mobile library, expresses herself also in abstract painting. She is an Azikiwe Fellow as well as a Fellow of Stiftung Kulturfunds and the Iowa International Writing Program.
General assessment of the literature industry in 2012
We have witnessed the steady growth of literature, prodigious talents and the authors' use of appropriate genres to express themselves. I do not care much about the growth in quantity as I do about the quality of work produced. There has been a remarkable improvement in which we take pride.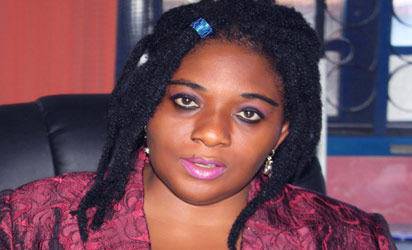 I am happy that our writers are not relenting in the pursuit of excellence. They appear quite ready to give their very best, to recreate life in its complex, yet striking forms. You could see that our writers are reading more, learning more, bringing their knowledge and experiences to bear in their work, thereby imbuing each work with courage and meaning.
Of course there is still a lot to be done in providing the enabling environment for the writer to enhancing her art, sharpen her skills, continue to learn and give nothing short of an excellent craft which truly rewards the reader handsomely. It is hoped also that there will be more book buyers and readers, that the writer gets appreciated in ways that truly support literature, to mirror the society, improve lifestyles and move the entire social system upward.
About quality of writing presently  coming out of Nigeria
I do not think those who won Wole Soyinka Prize for Literature last year did so because they were living abroad. Don't forget that those who live here have also won these prizes. Having said that, I think that paying attention to the overall quality of the book matters a great deal as well as the profundity and wealth of its content and the uniqueness and tidiness of its packaging. A shoddily written and published book would hardly appeal to anyone. Besides, it is  always good to put one's best foot forward in everything.
The  controversies  ignited by Prof Chinua Achebe's There was a Country.
I think it is a book that should be read carefully before drawing conclusions of any kind as it reflects very strong opinions and experiences; an account about a volatile period in the history of a people. It is a book that could be misread, misunderstood and mismanaged.
Scarcity of There Was A  Country and Nation's reading Culture.
One of the good things that can happen to a book is for it to generate constructive criticisms, reviews, very honest assessments which arguably help the book, its author and the readers. By becoming curious, going out there to buy and read the book and form personal opinions, people are generally becoming aware, minds are assiduously put to work as they get to determine what they accept or vehemently oppose. I wish a lot more books from our authors would get a lot more attention and rave reviews. In my opinion, critics are after all among the best friends and foes any author would wish for.
What is a great book.
Great books never fail to leave something of their greatness in the hearts and minds of people who read them. Books that are thoughtfully, painstakingly and skillfully written; books that tell poignant truths about the state of our affairs, motivating us, enlightening us with the depth of their meaning, wealth of their language – full of grace, candour and meaning are worthy of being pored over.