By Chris Ochayi
ABUJA – The Federal Government has promised to expedite action on the dualiastion of the East West road and other developmental projects ongoing in the Niger Delta region, so as to complete them.
Minister of Niger Delta Affairs, Elder Godsday Peter Orubebe who disclosed this in Abuja, assured the people of the region that the present administration is committed to the transformation of the area, especially, in  infrastructural development.
According to him, President Goodluck Jonathan is determined to see that after his tenure, the people of Niger Delta will beat their chest and say yes; ' government came, promised and delivered. ' And I think so far I can say that we are on track, and will deliver to the people of Niger Delta and Nigerians in general."
He said, "Mr. President has also approved a Council on Niger Delta which will formally meet very soon for the first time to discuss how far we have gone, where we are now and where we should be. That council is put in place."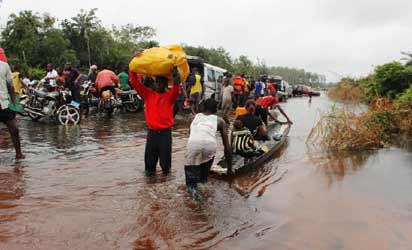 "We have also developed a kind of framework where all the stakeholders are coming together to put their resources in one basket to see what we can do.
"The essence of that is to ensure that projects are not duplicated, resources are managed very well and so the UNDP is acting on behalf of the donor agencies and other bodies that are interested in developing the Niger Delta. That frame work is ready and it will also be presented to the Council of Niger Delta.
"A number of things are being done and I think so far so good, we have started very well. We have laid a solid foundation and the Ministry of Niger Delta is on track, this government is on track."
On the East West road, the Minister recalled that, "four years ago, this ministry was created to fasttrack development in the Niger Delta  and the East-West Road has been one of the flagship projects of the ministry and ofcourse because of funding gaps, we have only done about fifty one percent (51%) .
When we came in, we took it over when it was less than ten percent (10%). Today we have made major attainment and we had hoped that what the contractors had done, we were going to continue from there after the floods."