By Tony Ubani
SUPER Eagles Skipper, Joseph Yobo has admitted that the Nigerians will be under pressure when they flag-off their Africa Cup of Nations campaign against Burkina Faso today at the Mbombela Stadium in Nelspruit.
The two-time former champions, who were absent at the last tourney jointly hosted by Equatorial Guinea and Gabon, return to the summit of African football at AFCON 2013and while speaking at a news conference held yesterday, the former Everton centre-back, said that the strong desire of Nigerians for the team to win in South Africa and the players' quest for success have put tremendous pressure on them.
"Everybody wants us to win in South Africa. The calls from home, the pleas and demands from officials and the general expectations of Nigerians are mounting pressure on us.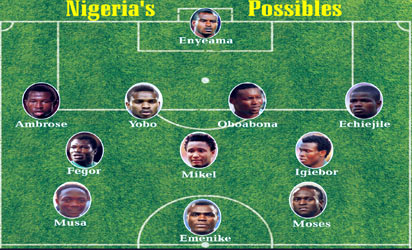 The pressure is within too as we all want to win here but we are going to take it one at a time. The pressure is on but we would take it easy. It's part of the game", said Yobo.
He added that the team was a great side, noting that the blend of experienced and the young players was going to work wonders for Nigeria at the competition.
"This is a great team, a blend of experienced and young ones and we are confident of success. I have played for so many teams of Nigeria.
This is a good team. We have worked hard and the coaches have been tremendous. We want to win for them and for Nigerians in general.", said Yobo, who is the most-capped Nigerian player of all time.
He plays his last Nations Cup and hopes to leave South Africa with "something." That could be the trophy, the silver or bronze.