…Okagbare to run in Sapele
Imagine what it could be like for the likes of Blessing Okagbare, Ogho Egwero and other big names in athletics competing in a local fiesta in Sapele,  Delta State.
Well, it will come to pass in February at the Awoturo Eleya Athletics Fiesta in Sapele as Delta begins to implement the report of the Sports Summit it held in Asaba October 30 last year.
The Fiesta would engage junior, intermediate and senior athletes who will compete for honours.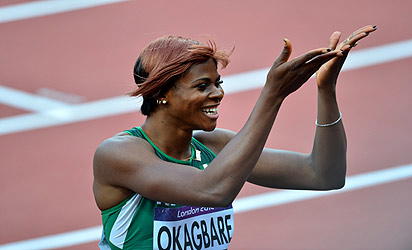 The senior category will be open and it is largely meant to add colour to the show and also inspire some local athletes who will enjoy the benefit of interacting and even competing with international stars.
Champions of the junior events will compete in the Africa's Athletics Under 17 Champiomships that Warri would host on behalf of Nigeria in March this year.
For the Junior events, athletes will compete from the ward levels to Local Government level. Two finalists in each event from a local government area will then represent their areas for the Senatorial final that will again produce two finalists in  each event from each Senatorial Districts.
The winners will then qualify to compete for the finals of each Senatorial Zone which will in turn produce two finalists from each event for t the Awoturo Eleya Fiesta in Sapele. It follows that six athletes  will qualify from each event for  the  grand finale in Sapele.