BY EJIKE ANYADUBA
AS the State prepares to go to the poll to usher in his successor, it is necessary that the people should guard against the mistakes of the past. If truth be told, the factors that engendered past political violence have not disappeared.
Pretending they have will only mean one thing – unwillingness to guard against possible relapse.
It takes a permissive society and one that honours no scruple in doing things to allow political profiteers take centre stage again. People may be tempted to presume upon the peace and therefore become indifferent to what happens in the run up to the election. That Obi was able to stanch the blood of hate through subtle leadership is not a guarantee his successor will do same, especially if he/she emerges via fraudulent process. It is a measure of the Governor's prudence, accommodating spirit, as well as service to the people, that there has been no violent eruption.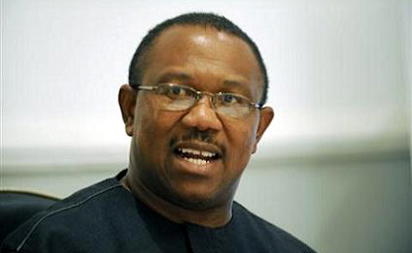 March 17, 2014 is without doubt a day of promise. What happens before and after then depends on how well the people are prepared to protect the new order. How well they value it and what sacrifices they are ready to make. Opportunistic succession, fuelled by money politics is not known to oil the works of governance. So far, there is nothing to suggest there won't be interference. What may be uncertain is to what extent the people will indulge it. If money, without which good effort sometimes comes in vain, is to play any role, it must be in the context of electing a popular candidate. If however, it is allowed to play the infernal nuisance, as was wont, the existing peace will be lost. There is no better way to depict the nuisance value of opportunistic succession than a study of a previous administration in the State. It is possible those who are quick to shrug off the existing peace as Obi's handiwork will never be able to tell the difference if there is a relapse.
Clearly this is no easy task, especially in a State as politically fractious as Anambra – where it will seem Igbo republican spirit is concentrated the most. But if, with the improved electoral system, votes are now declared as cast, there may be hope. Even if error occurs as a result of human frailty, a collective decision to do what is right will nip evil in the bud.  What this means is that people must ensure that jobbers who plumb the depths of political depravity do not have a say in who takes office early next year. Money influence must be played down to the extent that neither a pliant politician nor a swashbuckler is allowed office. Neither is good for the State and will upend the existing peace. As the former may necessarily encourage political profiteering, the latter may gamble away the future of the State.
So the would-be successor to Obi must not only show evidence of commitment to the Anambra project, but should be possessed of political will. He should be able to carry development to every nook and cranny of the State. There must be evidence of vision as to what he intends to do with power and not just to hobnob with godfathers, stake holders, moneybags  et al. This set of people has been known to be part of the problem of the State.
On the part of the people they must be awake. However clever a rat, it can only nibble the food of a man in deep slumber. It hardly dares the one who is wide awake. It takes either indifference or collusion for the kind of violence unleashed on the State in the past to happen at all. Recidivists will try to reoffend with just a wisp of a chance, but a collective resolve will thwart it. Since politics in the State is volatile, the fragile peace should be guarded jealously. The fight will not be easy, but as Alexander Pope, the English poet once said: "Our business in the field of fight is not to question, but to prove our might". The might of the people, if deployed successfully this time will make everybody proud to say it is well with Anambra State.
*Mr.  Anyaduba, a public affairs commentator, wrote from Abatete,  Anambra State.