By Tony Ubani
SHORTLY after the 1-1 draw against Burkina Faso here in South Africa Nigerians fumed over the last minute blunders that led to the stoppage time goal the Eagles conceded.
But their coach Stephen Keshi defended them in the post match media chat and he has continued to do so publicly. But we gathered that he was not happy with some of the things they did on the field.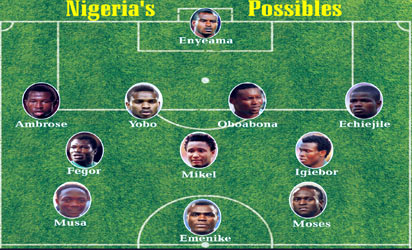 He has spoken with some of them individually and Tuesday evening he held a meeting with all the 23 players in South Africa.
The talk which was held at the training pitch of the Ingwenyama Sports and Leisure Club, where the team is camped was exclusively for players, technical officials and the team psychologist.
Other officials were at a shouting distance as Keshi and his warriors exchanged ideas on how best to deliver the goods at the Nations Cup.
At the end of the session which lasted over 30minutes, Keshi and the players went straight into the business of the day; training. The coach was to reveal later that the meeting was aimed at ensuring that the team excelled in South Africa.
He has been defending them publicly but in the meeting he bared his mind, pointing out flaws that denied them victory against Burkina Faso. Thereafter they started training to correct some of the flaws and how to beat defending champions Zambia.
As training progressed, NFF President, Alhaji Aminu Maigari arrived with, Vice President, Chief Mike Umeh, Media Committee Chairman, Chief Emeka Inyama, Finance Committee Chairman, Shehu Adamu, two other Executive Committee members and NFF Director, Technical, Dr Emmanuel Ikpeme to watch the session.
After training, Maigari took time off to address the players and assured them that the nation still expected them to do well at the championship, despite drawing the first game against Burkina Faso.
"We have confidence in the abilities of this team to do Nigeria proud here, so we must go ahead and not only win our next game but do so in style", he said.
Just as Maiagri was rounding off his address, Sports Minister and Chairman of the National Sports Commission, Hon Bolaji Abdulahi called in and spoke to the players on speaker phone.
Like a general addressing his troops, he told the players to forget the game against the Burkinabes and focus on their remaining group games as the tournament has proven to be one full of surprises.
"The entire country from President Goodluck Jonathan down to the pepper seller in the remotest part of Nigeria is solidly behind you", he said.
Keshi thanked the Minister and the NFF President for keeping faith in the team.