BY EDWIN EKENE
LIVING in a country where any critical     observation attracts negative or sometimes shadow chasing responses, a less courageous person may be cowed from expressing his views when it comes to ecclesiastical matters. But, since Nigeria is a fundamental member of our interconnected world, I will like to share some of the contents of a story I read some years ago with my fellow compatriots.
Actually, it was a debate between Erik Stanley, the head of the Pulpit Initiative for Alliance Defense Fund, a legal alliance of Christian attorneys in the United States, and Rev. Barry W. Lynn, the Executive Director of Americans United for the Separation of Church and State. The title of the debate, which was published in the Los Angeles Times of September 23, 2008, was, "Why Don't Churches Pay Taxes?" Since religions are charitable organisations that engaged in beneficial services, the two resource persons invited for the debate both agreed that, churches are tax exempt under the principle that, there is no surer way to destroy the exercise of religion than to tax it. Erik Stanley, been a proponent of an unconditional tax exemption for the church said: "The 1954 Federal Johnson Amendment prohibits a pastor from talking about candidates from the pulpit in light of scripture. Thus, based on what a pastor says about an election from the pulpit, the tax code allows the government to tax a church".
But, Mr. Stanley went further to state that, conditioning tax exemption for churches on refraining  from speaking about certain things is just as dangerous as taxing the churches outright… The conditions allow the state, through its discretion and power to punish disfavoured views and reward favoured ones. While countering Stanley's assertions, his opponent in the debate, Rev. Barry Lynn, said: "Sometimes when a camel sticks his nose in the tent, the camel smells unpleasant things… I see no evidence that restricting the ability of a pastor to convert his church in to a political action committee is intended to cause or has caused the destruction of religious enterprise."  "When any group accepts a tax exemption, it agrees  to play by certain rules and accepts a certain degree of oversight".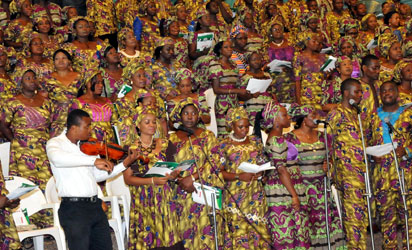 Can we give thoughts to the above debate here in Nigeria? However, I believe that our destinies were never determined before we were born, and that God Almighty has given us the free will to determine and shape our destinies, making man the direct recipient of his thoughts, words and actions. But, since nature still have some percentage of influence on man, some persons are more privileged and well positioned than others, and that is why some individuals are still living in poverty. Poverty according to Wikipedia is an economic condition of lacking both money and basic necessities needed to successfully live.
Such necessities includes; food, water, education health care and shelter. According to reports, over 112 million of Nigeria's populations of 167 million people are living in relative poverty, while the number of those in abject poverty is, 99.248 million. In 2008, the numbers of private jets in Nigeria were 20. But, between 2008 and 2012, the number of private jet owners have moved from 20 t0 150, making Nigeria, the second largest market for private jets in the world after China. This boom in the acquisition and ownership of private jets in the country is manifesting its effects on businesses that engage in aircraft charter operation. The increase in private jet ownership is now sending people whose means of livelihood is aircraft chatter operation out of business.
A critical look at the new crave for private jets  especially among the spiritual leaders, one is left wondering if the likes of the humanitarian nun of Calcutta, called Mother  Teresa, who became famous for humbly ministering to lepers, the homeless and the poor in the slums of Calcutta is still in our midst today! Similarly, while I believe that, too-much gap between the rich and the poor undermines democratic solidarity in the political circles, the faith based community whose desk lies the immediate challenge of being the voice for the voiceless, the eyes of the blind and the hope of the poor, should not compete for ostentatious recognition in the society where many doubts the possibility of living for another day, not because of Boko Haram nor MEND, but it is simply because of abject poverty. Hence, we should try to answer a very simple philosophical question of what is man? And what is the essence of human existence? If we are able to answer the above questions, I think we should know that a man's life does not consist in the abundance of his possessions, and thus, in the words of Winston Churchill, former British Prime Minister : "We make a living by what we get, but we make a life by what we give".
Mr.  Ekene, a public affairs commentator, from Achara Layout, Enugu State.