By VINCENT UJUMADU
AWKA — HUNDREDS of Okada riders of Ebonyi State extraction operating in Anambra State have threatened a showdown with authorities in Enugu State over the rumour making rounds that motorcycle operators would not be allowed to pass through the Coal city to their state during this Christmas.
Enugu State banned the use of commercial motorcycle known as Okada in Enugu sometime ago, which made most of them operating there who hailed from the neighbouring Ebonyi to shift their trade to Anambra State where Okada business is still making waves.
At this time of the year, the Okada riders are usually seen in convoys from Onitsha and other parts of Anambra State, through Awka to Enugu and heading to Ebonyi State with their loads, including bags of rice and household items tied on their motorcycles.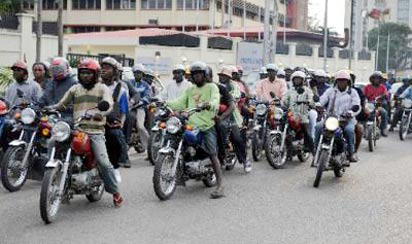 However, the worry of the Okada riders at present is how to pass through Enugu to their state for the Christmas and New Year celebrations as they usually do every year, following reports that Enugu State Government had planned to impound any Okada found on Enugu roads in line with the law banning the use of commercial motorcycle in the state.