*Insists nation has too many public officers
*Slams implementation of Federal Character
*70% of public funds used to service govt
By Babajide Komolafe
ABUJA — Governor, Central Bank of Nigeria (CBN), Mallam Sanusi Lamido Sanusi, yesterday, said  the Nigerian constitution makes it impossible for economic development in the country and  is responsible for the huge recurrent expenditure in the various tiers of government.
Meanwhile, the 18th edition of the Nigeria Economic Summit ended yesterday, identifying accelerated economic reforms as a critical condition for attaining the Vision 20:2020.
Speaking at the Summit during the Financial Regulators forum on Deregulation, Regulation, Cost of Governance and Financial Inclusion, Sanusi said: "We have a constitution that makes it impossible for us to develop and it is impossible for us to develop if we continue to spend 70 per cent of the budget on recurrent expenditure.
"This is a country where we have 774 local governments and in each council you have a chairman, deputy chairman and may be 10 councilors plus three aides. Take a state like Kano, Kano used to be one state, now it is two states, Kano and Jigawa. When it was one state, you had one governor, one deputy governor and nine commissioners, and this was a time the state had about four industrial estates.
Too many public offices
"Now what do you have, that one state has become two states, two governors, two deputy governors, 40 commissioners, may be 80 legislators, only God knows how many special advisers and special assistants. This is not about TUC or NLC or President, it is about us deciding as a country whether this constitution that we have chosen makes sense.
"The constitution says, there must be a minister from every state of the federation. Let me ask you as an intelligent human being, what is the connection between the number of ministries at the federal level and the number of states? We talk about federal character, so if we have 50 states today, we must have 50 ministries, and if we have 100 states, we must have 100 ministries.
"Now the South East say they want one state, so if we create one more state in the South East that means we will have one more minister, so we must create a ministry or an office for him even though we don't need it, because you have created a state, the federal government must have a minister from that state.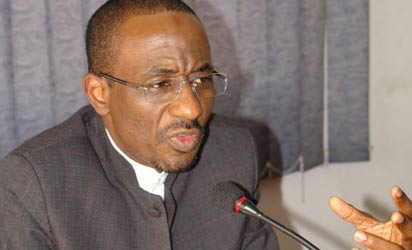 "Let's be realistic, between 1999 and now how many ministers have we had? You have 42; you do cabinet reshuffle and have another 42. I am sure between 1999 and now we have had nothing less than 200 ministers. You cannot even remember their names because they are so many, and their jobs are so poorly defined that you don't remember what they did because you remember a man when you remember what he did.
"Now these are issues that we need to address as a country because we have a constitution that makes it impossible for us to develop. By definition, the President must appoint a minister from every state. So you have 36 ministers, and because of federal character, you also have one per geopolitical zone, so you have 42 ministers.
Development not guaranteed if…
"We cannot, we cannot develop if we continue to spend so much of our resources on government. Why does government exist? Government exists to serve the people. Now if the government is spending 70 per cent of its revenue on itself and leaving 30 per cent for the people, is that a sensible situation?
"If you sack the Governor of the Central Bank, does it change the situation? No, it is not a solution, the solution is to face this reality. Now we are amending this constitution."
Slams federal character
The CBN Governor also criticised the implementation of the federal character law saying that it had been taken to the extreme and implemented at the expense of merit. He said while diversity is good, it should not be at the expense of merit. He said, for instance, a situation that people who are qualified for promotion in the civil service are denied promotion because of their states of origin is an extreme and abusive implementation of the federal character principle.
NESG urges FG to fast-track implementation of Oronsaye report
Meanwhile The Nigeria Economic Summit Group (NESG) has called on the Federal Government to implement the recommendations of Steve Oronsaye-led committee on the reforms of government agencies. Mr Kyar Bukar, Co-chairman, Joint Planning Committee of the 18th summit of NESG and Mr Lanre Akinbo, the Managing Director, Wizer Advisory, made this known in a  "summit-summary" presented at the end of the three-day summit.
In August, the Oronsaye-led presidential committee recommended the reduction of statutory agencies of government from 263 to 161; abolition of 32 government agencies and merger of 53 others.
President Goodluck Jonathan, thereafter, set up a committee led by the Attorney-General of the Federation to review the recommendations of the report and issue a white paper.
In apparent response to the committee's recommendation, Akinbo described the current cost and size of government as not sustainable at all three tiers of government. He said that the imbalance between recurrent and capital expenditure was "a drag on economic growth and does not create jobs".
According to him, NESG recommended that capital expenditure should be redefined as long-term development capital as opposed to fixed assets. He said that the group, made up of leading private sector players in the country, would want to see a "50-50 target relationship" between capital and recurrent expenditure. On deregulation, the group acknowledged the Federal government efforts at implementing the roadmap for power sector reform.
Bukar, however, called on the Bureau of Public Enterprises (BPE) and the Federal Government to conclude all outstanding negotiations with Labour on the power sector reform.
He also urged government to fast-track development of gas infrastructure to guarantee supply availability. He added that the summit also recommended the complete sale of Nigeria Independent Power Projects (NIPP) power plants. On agriculture, the group asked government to fast-track the implementation of the Abuja Commodities Exchange latest by the fourth quarter of 2013.
Commenting on the Petroleum Industry Bill (PIB), Bukar noted that NESG was committed to facilitating stakeholders fora to harmonise "divergent views" before the next public hearing scheduled for first quarter of 2013.
He said the group remained supportive of the removal of subsidy on petroleum products but advised government to engage in "wider public education." The theme of the three-day event, attended by private sector leaders, industry captains, top government officials and oil majors, was "Deregulation, Cost of Governance and Nigeria's Economic Prospects".