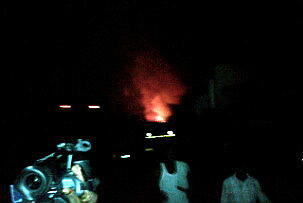 The fire at the NAFDAC Oshodi Lagos warehouse
By Sola Ogundipe & Chioma Obinna
Fire, Friday night, gutted the National Agency for Food Administration and Control, NAFDAC's warehouse located at its Oshodi laboratory office in Lagos.
According to an  eyewitness, the fire started about 7:45pm, Friday.
However, security officials refused journalists entrance into the premises, but eyewitnesses say no life was lost in the inferno.
Vanguard gathered that fire fighters arrived the scene at about 8:45pm.
The warehouse houses seized fake and unwholesome food, drug and pharmaceutical products.
Confirming the incident in a telephone chat with Vanguard, NAFDAC Director of Communication, Alhaji Abubakar Jimoh said the fire was caused by an electrical fault, adding that it was not the first time the Agency had experienced such. "It recently happened in Port Harcourt office."
He said the fire affected the section housing the fake drugs and other products. It is not the first time NAFDAC is experiencing this kind of electrical fire.
Jimoh further disclosed that the Agency is planning to carry out complete overhauling of all its electrical system in the warehouses across the country, starting with Lagos warehouse. "It is an old building inherited from Federal Ministry of Health. NAFDAC has been rehabilitating it, but we intend to do a complete overhauling."
Already we have contacted top level electrical engineer to start the rehabilitation immediately."