By VINCENT UJUMADU
AS he was great in life, so he was in death. The late Ikemba Nnewi, Dim Chukwuemeka Odumegwu Ojukwu, the defunct Biafran Warlord, has continued to make news even after over one year of his demise. Ojukwu got a befitting state burial witnessed by who is who in Nigeria, including President Goodluck Jonathan and after the weeklong burial ceremonies; the traditional one year mourning began. That mourning ended a forth night ago.
Barely five days after the mourning period which was concluded with a memorial service, a major controversy erupted in the Ojukwu family over Ikemba's Will. Since the reading of the Will at the Enugu High Court, missiles had continued to fly, with Ojukwu's widow, Bianca and Barrister Emeka Onyemelukwe, who prepared Ojukwu's Will, on one side and other members of Ojukwu's family on the other side.
Indications that controversy would trail the Will emerged at the Enugu High Court when most of the children of the late Ikemba Nnewi were conspicuously absent during the historical event as only Bianca and Ojukwu's lawyer, as well as  few other relations, were present. Expectedly, it was Emeka Ojukwu Jnr, the first son of Ikemba that first dismissed the Will, saying it was not his father's Will and vowed not to obey it.
However, Barrister Onyemelukwe went down memory lane to give graphic details of how he sat with Ikemba to painstakingly prepare the Will and how he made efforts to persuade the Biafran leader to ensure that all members of his family benefitted.
Backing his long standing relationship with the late Ojukwu family with documents, Onyemelukwe said he prepared Ojukwu's Will in July, 2005 and the CODICIL which gave details of the contents and corrections of what was missing on the original Will, with Ojukwu on 24th July, 2009. What perhaps angered him more was the statement credited to Ojukwu Jnr that he did not know him (Onyemelukwe).
He said: "It was a blatant lie for Emeka Ojukwu Jr to say that he did not know me and that I was not his father's lawyer, when I was the person that prepared the legal documents for Ojukwu's commercial property at No 26 Sokoto road, Onitsha yielding millions of naira, which Emeka Jr is managing and collecting rents and was the lawyer that handled Ojukwu's case against the federal government from the High Court to the Supreme Court.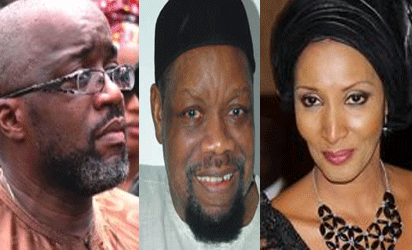 "I was also the master of ceremony, MC, when Emeka Jr. wedded at the Holy Ghost Cathedral, Enugu to the daughter of the late Chief Cyprian Ekwensi, the novelist, and the reception was held at Nike Lake Hotel, with Justice Iguh formerly of the Supreme Court as the chairman of that wedding.
"Before Ojukwu's Will was read last week, I was the one that sent text messages to all the parties concerned, including Emeka Jr. I got his two telephone numbers from Mr. Val Nwosu, Ojukwu's nephew. The text read: The Will of your late father will be read on Friday, 20th November, 2012 at the Probate Registry at the Enugu High Court. Kindly inform Okigbo and Mi Mi (Ojukwu's other children).
"I also sent the text to Ebele who is Ojukwu's daughter from Stella Onyeador, Mark Ezemba who was Ojukwu's best man during his wedding with Bianca. So the pretence by Emeka that he was not informed about the reading of the Will did not hold water.
"His claim that I was not his father's lawyer is also not true. On 24th July, 2009, I was the person that registered the power of attorney for Ojukwu for the property at No 7 Forest Crescent, Enugu. I am also in possession of the Certificate of Occupancy, C of O, of Ojukwu's landed property contained in the Will.
"There were even other documents which Ojukwu gave me. In the Will, which I prepared with Ojukwu, the following persons were named as Ojukwu's children. –  Tenni Hamman from North Eastern Nigeria (daughter), Chukwuemeka Odumegwu Ojukwu (son), Mmegha Odumegwu Ojukwu (daughter), Okigbo Odumegwu Ojukwu (son), Ebele Odumegwu Ojukwu (daughter) Chineme Odumegwu Ojukwu (son), Afam Odumegwu Ojukwu (son) and Nwachukwu Odumegwu Ojukwu (son)."
Onyemelukwe also debunked the insinuation that Bianca had a pre-knowledge of the contents of the Will before it was read, adding "what I knew was that Ojukwu asked Bianca to bring all the documents when I was going to prepare the Will and anytime we were writing the Will, I was doing it with Ojukwu in his library at the Forest Crescent in Enugu and we ensured that Bianca did not know what we were doing."
The lawyer also said that he was even taken aback by the decision of Ikemba to Will the mansion at Nnewi to Emeka Jr because that property was built due to much pressure mounted on Ojukwu by Binaca to build a house in Nnewi. That period, he said, was when Ojukwu was managing toll gates during the regime of the late General Abacha and the person managing it for Ojukwu was asked to design and build the house at Nnewi. Before then, Ojukwu's bungalow had burnt down and Ezeigbo had no place to stay whenever he came to Nnewi.
Onyemelukwe also spoke on the incident that happened at Nnewi a day before the one- year memorial service for Ojukwu. Bianca, according to the information, had sent some people to clean the house, only for them to meet a resistance from a group allegedly ordered by Emeka to chase them out of the compound.
He said that Emeka even benefitted so much from his father, adding that the Sokoto street lock up shops which had more than 30 lock up shops and was not contained in the Will is being managed by Emeka Jr and it yields millions of naira.
According to him, by appointing Bianca to represent his interest in the Ojukwu Transport Limited, OTL, which is a commercial outfit, shows how intelligent the Ikemba was, adding that his argument was that Bianca's children needed to be educated like his other children who were all trained abroad. Besides, he knew the capability of all his children and what each of them was capable of doing when he (Ojukwu) was no more.
But Emeka Ojukwu Jr. argued that with or without Will, his father's house naturally belongs to him according to Igbo tradition. Ikemba must have sensed the likely feud the ownership of the house might generate and so he gave it to Emeka Jr in the controversial Will.
Though Ojukwu's multi –million naira commercial property located at Sokoto road, Onitsha, which was given to him to manage while the Ikemba was still alive was not reflected in the Will, Emeka Jnr, however, insisted that the contents of the Will were subject to challenge at the law court as he was prepared to contact his own lawyer for any possible litigation on the issue.
He argued that his late father's wife, Bianca and Barrister Emeka Onyemelukwe, Ikemba's lawyer who prepared the controversial Will, were playing games with the wishes of his father. He also picked holes with the statement by Onyemelukwe that all Ojukwu family members were invited before Ikemba's Will was read, saying the lawyer was only trying to find an excuse for the absence of Ojukwu's children at the court when the Will was read.
He said: "The issue is not about struggling for my father's property. We, his children are all doing well. But there is need to point out attempt to subvert the wishes of my father. It is a matter of principle. I don't want to join issues with Onyemelukwe, but there is need to correct certain impressions.
"I did not say that I don't know him (Onyemelukwe) as a human being. I said he is not the lawyer that wrote Ezeigbo's Will. I know many people who are not all lawyers. I know many lawyers and all of them are not Ezeigbo's lawyer. I know several of Ezeigbo lawyers and all of them did not write Ezeigbo's Will. The lawyer that wrote Ezeigbo's Will is not Onyemelukwe.
"He claims to be the family lawyer, yet he is attacking a member of that family. When he claimed that I was laying about Ezeigbo's condition when my father was sick, the events of last year proved that I was right and that indeed Ezeigbo was not recovering and exercising and did not return in March last year as Onyemelukwe promised.
"He claims to be the family lawyer, yet he does not have our telephone numbers based on his own statements. It seems that the only number he didn't have to get from somebody- else is Bianca's number. Is it normal to invite people to the reading of a Will by a text message?
"If I did not receive the text message, what of other family members who were also absent during the reading of the Will? Did they also not receive their text messages or are they lying also? When he allegedly sent the text message, did he receive any acknowledgment that they were received by anybody?
"If he did not receive acknowledgment, what efforts did he make as the so called family lawyer to reach other family members? Did he send them registered letters? Did he visit them?
"When in court that morning, he did not see any of Ezeigbo's children or any of his direct family members, did he not have the option of adjourning and set another date to make sure that all who needed to be there have the opportunity to be there? They are obviously playing games."
Other members of the larger Ojukwu family have also joined in firing the missiles.  For instance, a director of OTL, Mr. Ifeukwu Ojukwu who is based in the United States of America, USA, said that the company owned by their late father and grandfather, Sir Louis Odumegwu Ojukwu is a different property from the private property of late Ikemba Nnewi, arguing that Bianca cannot claim the trustee of the company as conferred on her in the Will.
Describing the appointment of Bianca as a trustee member of OTL as improper, Ifeukwu Ojukwu said: "Bianca was neither a trustee member, nor a director of OTL and it is good to note that OTL is a different property from the things late Ikemba Nnewi had because the directorship cannot be transferred through a Will.
"I attended a meeting of OTL directors and Bianca was not there and she is not even a member of the board of directors and she cannot lay claim to that."
He explained that all the directors of OTL were in full support of Emeka Ojukwu (Jr.) as the head of the Dim Odumegwu Ojukwu's family, recalling that the late Ikemba told him that Emeka is his first son and the head of the family in the event of his death and added that members of the family would support him in whatever he decides to do over the matter.
Another member of the family, Chief Sunday Soto Ojukwu said it amounted to an injustice for Ojukwu's Will to be read without recourse to the interest of the larger members of the family, regretting that    he only read about the reading of the Will on the pages of newspapers.
His words: "How can one explain that the Will was read barely 24 hours after Ezeigbo's mourning clothe was removed? Is it not proper for the lawyers to call the family members to sit down and deliberate on reading of the Will? Did you see any of his sons there in the court?
"His children who came down to Nigeria for the removal of his mourning clothe had gone back overseas and you say you are reading his Will without informing anybody. Dr Ojukwu was not aware, Ikemba Jnr was not aware. What do you want me to say?"
As the missiles continue to fly, the question is, how would this issue of Ojukwu's Will be resolved? It was gathered that some concerned persons, especially from Nnewi, have started deliberating on the best way to resolve the matter. The outcome is being awaited.