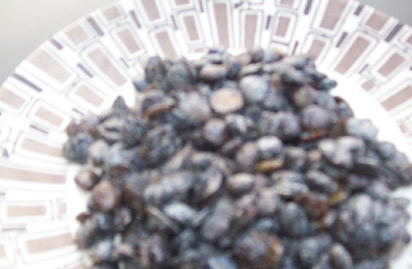 Locust bean
By Chioma Obinna
Have you eaten soup spiced with locust bean before? If your answer is no, then you are denying yourself a whole lots of health benefits.  It is not easy to look at, and the smell is unpleasant but consumers say it is at best when well fermented.
Locust bean is the single, most significant ingredient guaranteed to take soups, stews or mixed vegetables from being okay to the next level.
Locust bean also known as carob, Iru by the Yorubas and ogiri, dawa dawa by Igbos, is one of the common cooking condiments that is gradually disappearing from dinning table of many families. These names all refer to one and the same thing – this bean-like non-fleshy seed with a naturally sweet taste is widely used by Nigerians.
Local research has shown that locust bean helps to promote good sight and drives away hypertension and diseases conditions like stroke and diabetes.
It also contains tannins, astringent substances found in many plants. Foods rich in tannins are often recommended for treatment of diarrhoea.
The portion of carob that is made into locust bean gum contains soluble fibre in the galactomannan family. Like other forms of soluble fibre, it has shown potential benefit for enhancing weight loss and controlling blood sugar levels.
In another results published in Science Journal based in Dakar, Senegal, researchers tried out locust beans on rats to find out whether it actually has any impact on controlling blood pressure and the result obtained showed that adequate doses of locust beans helped to decrease arterial blood pressure.
The findings showed that the diastolic blood pressure measurement enjoyed more reduction than even the systolic blood pressure.  It also revealed the many wonders of African locust bean tree.  The pulverised bark of African locust bean tree, for instance, is employed in wound healing and serves as one of the ingredients that are used in treating leprosy.
Locust beans is added to everything – not only because it tastes good and can serve as a tastier alternative to other spices cubes, but also due to its health benefits among which are vision improvement, digestion aid and much more.