By THEODORE OPARA
THIS is good  news for Land Rover customers. The Land Rover Freelander 2 has been given a premium overhaul with improved power, comfort and efficiency. The renowned 4 X 4 maker finally dropped the six cylinder petrol engine, replacing it with a frugal, fast and efficient turbocharged Si4 four-cylinder powertrain.
The new lightweight Freelander 2 engine delivers amazing 177KW and an increase of seven per cent on torque to 340Nm, providing a broader spread of torque for relaxed cruising and strong low speed response. This engine is also more eco-friendly as its Co2 emission has been reduced by 14 per cent compared to the outgoing six-cylinder engine.
Presenting the new Land Rover Freelander 2 to auto journalists from across the sub-Saharan Africa in Pretoria last week before a two day test-drive that spanned over 600 kilometres, Rory Beattie, Technical Services Manager Jaguar Land Rover SA and SSA, explained that the Freelander 2 has joined the premium SUV category with even better comfort, convenience and driving enjoyment.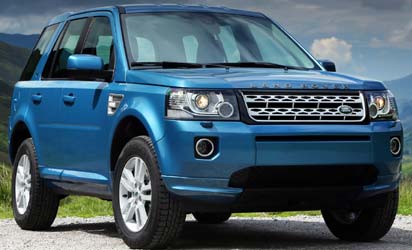 Apart from the new 2.0 litre petrol engine, the new Freelander is also available with two diesel engine both 2.2 litre delivering 110Kw at 420Nm and 140Kw at  420Nm respectively.
Also an all-new 17 inch alloy wheels is now available at the entry-level.
Land Rover engineers have brought their midas touch to bear on the Freelander 2 just as it did with the Range Rover Evoque models.
For instance, the Si4 GTDi powerplant in the newFreelander first appeared in the Range Rover Evogue and is packed with advanced technical features including high pressure direct injection and variable valve timing on both inlet exhaust. Also the Freelander 2's equipment levels have moved up to pure premium look and feel like the Range Rover models.
Available in HSE and Dynamic versions, the new Freelander looks good to earn Land Rover more share of the Compact SUV market.
The Freelander versions could easily be distinguished by their features. The Dynamic version has gloss black fender vents and grille bars with black grille surround, complemented on the interior with three colour way choices of Sport-themed electric leather seats.
The top-of the range version HSE with a grained leather and wood interior as standard is quite tempting. There is the option of 19-inch diamond turned wheels and grand black lacquer finisher and also windsor leather seats with premium carpet mats for extra special touch.
Also three stunning new colours have been added to the Freelander line up including aintree queen Havana and Mauritus blue. The improvement on the exterior are too many to be mentioned. Latest Xenon LED technology, the front and rear lamps have been revamped, giving the Freelander 2 a sportier yet purposeful new look, set off with a new signature graphic in the front running lights. The grille and fog lamp bazels now sport a bright finish and there are paint detailing changes to the front grille surround, insert bars and fender vent to harmonise the different elements.
Freelander 2's interior has been refreshed to the last detail. New features and more convenient equipment option abound inside the car.
Apart from the new instrument cluster, cabin space and safety have been improved with the introduction of an intelligent electric parking brake which adjusts brake force according to the slope the vehicle is parked on.
Rear view camera, premium meridian audio system with choice of 380w or 850w with 7-inch colour touch-screen with either 11 of 17 speaker system, equipped with subwoofers for a  deep, bass sound and andyssey mult-EQ audio system are some of the features you should expect in the Freelander 2.
In terms of safety, the Freelander 2 is a Land Rover. Intelligent four wheel drive system, in the Freelander responds to changes in grip in 150 milliseconds to adjust torque between front and rear axles. Terrain Response optimises the electronic systems for conditions and there are four settings, including: General Driving, Grass-Gravel-Snow, mud and sand.
Gradient release control ensures smooth hill start both ascending and descending for absolute safety and drivers confidence on any surface. When it comes to on-road handling dynamics,  Freelander 2 is on top. Anti-lock Braking system, Electronic Traction Control, Electronic Brake-Force Distribution, Concerning Brake Control, Emergency Brake Assist, Dynamic Stability Control, Roll Stability Control, and Engine Drag Control all add to ensure safety ride in the new Freelander.