By Onozure Dania
As the United Nations marked the world's day for persons with disabilities, Nigerians have been urged not to treat those with physical challenges as outcasts but to make the environment a friendly one for them. Speaking at a social dialogue whose aim was how to remove all barriers and create an inclusive and accessible society for all, Ms Abimbola Ajayi, an architect and who is the immediate past Chairman of the Nigeria Institute of Architects, NIA, said it was a shame that disabled people who struggle to get educated in spite of their challenges cannot get a job in the country.
She said that physically challenged people have the potential to excel in any field, even as businessmen and women with adequate motivation. Ajayi added that employers across the country are usually unfair to physically challenged people during recruitment processes.
She appealed that every organisation should employ at least three disabled person out of ten staff who are qualified to do the job in their companies. Ajayi, said that if they are employed, they too can become employers of labour. Continuing, she said the disability laws in Nigeria are disregarded because people don't get sanctioned for disobeying them, just as she condemned the attitude of Nigerians towards the existing laws on disabilities.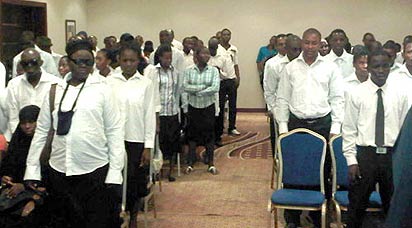 The disabled persons who participated at the event used the opportunity to appeal to government to address the shortcomings in the implementation of the disability laws in order to make life conducive for them. A visually impaired person, Mohammed Afegbua, said that the design of many public places precluded disabled persons from accessing social services in the society.
He said the environment is not friendly to us in many aspects as available road walks in the environment are poorly maintained and many of them have at many times fallen into ditches.
"Some of our colleagues who move with the assistance of wheel chairs face difficulties accessing banking halls due to the security doors placed at the entrance and these banks have failed to address these challenges," he said, adding: " Many people shun us at overcrowded bus stops, especially when we want to cross busy roads. This attitude makes life more difficult for us."
Another disabled person Adegoke Adeola, who is visually-challenged, said the unemployment situation in the country was taking a great toll on them. She said: "Many of us struggled to acquire education and skills in order to break away from the vicious circle of poverty but today our dreams and aspirations have been shattered as we can't find any suitable employment to sustain us.
"Accessing loans to set up small scale businesses is even a difficulty. Government at all levels needs to address this unemployment situation and make us heave a sigh of relief."
Mary Adedokun, a visually impaired student said the visually impaired persons usually have difficulties in getting the results of public examinations they sit for. She said, their results are usually delayed and that they also have difficulties in accessing their results in public examinations like JAMB, WAEC and NECO.
She also added that the materials they use, are very expensive and after which they will still not get their results, making them retake one exam for three to five years after which they will still not have complete result.
"As a result of this we wait many months after able bodied examination candidates might have accessed their results. This is usually very frustrating and I think it should be addressed."