*'I am Biafran leader's son'
It was an interview that had to be conducted. After the declaration that  the late Chief Emeka Odumegwu-Ojukwu, Ezigbo Gburugburu's Will had been announced and a lion share had gone to Bianca Odinaka Olivia Ojukwu, the deceased's wife, Sunday Vanguard set out to get all sides of the story, especially after the statements by Emeka Ojukwu, one of the children.
Last week, we published the CODCIL verbatim.
Today, we bring you an extensive interview with Chief Debe Ojukwu, the disinherited first child of the late Biafran warlord.  He spoke about the Ojukwu Nigerians and Igbos never knew, just as he spoke about Bianca, his father's wife, and her role as a small mother in the house.  This is a first part.
Excerpts:
By Charles Kumolu &  Gbenga Oke
How was it like growing up with you father,  Emeka Odumegwu Ojukwu, at the time when he was the leader of Biafra, particularly given that he had multitude of challenges to contend with as the leader of the Biafran nation?
My name is Chief Debe Ojukwu, I am the eldest child of the late Chief Emeka Odumegwu-Ojukwu. I am a lawyer. I am a community leader.
I did not stay with him during the war just like every other person.
Where were you at that time?  Because it was  reported that you had to change from the school you were attending in Lagos to Government College Afikpo?
That was not what happened. I schooled in Lagos.
I had gained admission into some elite school in Lagos at a very young age of nine. Then the war interrupted that progress and we all had to relocate to the East.
I am telling you about 1965. I was born on August 3, 1956. By 1965, I was nine years old and had taken the common entrance examination. Because of the crisis that broke in 1965, I could not carry on with that, we had to relocate to the East.
You would have lost some years
Yes.  Most of us lost three years because of the war.
Most of us did not go to school between 1968, 1969 and 1970.
Where were you all these while?
I was all the time with my mum in Enugu.
Why your mum?
Yes because it was safer to be with her. Being with her shielded me from my father's personality, because it would be easy to attack the son of my father during the war.
 After the war?
When the war ended in 1970, I got into Saint Mary's Uwani. After that, I entered Government Secondary School Afikpo. Then the school was temporarily quartered in Enugu at the Institute of Administration, which is now Enugu State University of Science and Technology, because  soldiers were living at the premises of Government Secondary School Afikpo. We were there until 1973  when the soldiers left there. I left and traveled to see my father, who was in exile in Ivory Coast. I visited him  a couple of times. He asked me what I wanted to do; I told him I wanted to go to Harvard. I applied and they said I met their criteria. I took my London GCE in class three because I had lost three years because of the war and I wanted to regain those three years. I was always the first in my class. When I took it (London GCE) in class three, I entered for only five papers, which were English, Physics, Maths, Chemistry and Biology. Then in Afikpo, our pride was reading the sciences. My father okayed my going to Afikpo, after spending some time with him in Ivory Coast, I came back to Nigeria and discovered that I made four papers out of five. That was what hindered my going to Harvard. Since I couldn't proceed along the line I'd wished for, I decided to join the Nigeria Police Force.
 Police Force?  How were your days  in the police?
The aim of joining the police was to make money and pay for my private tuition because I felt that one could make it by dint of hardwork, instead of the stereotyped way. It was an adventure. I trained at Police College, Ikeja, after which I was posted to Aba. From there, I was posted to Afikpo. After that, I was called back by the Force to do the Inspector course because my four credits qualified me to join as a cadet Inspector rather than constable. I went to the college and had people like Hafiz Ringim, Saleh Abubakar, Audu Abubakar, Abinu Shawa and others as course mates. I could have stayed back with the four credits, but I went to the University of Nigeria, Nsukka,UNN, to study law in 1981. I got my LLB after four years as the first known name to do that without troubles. I finished my studies at the appropriate time. I went back to the police after graduation and at the expiration of my study leave.
How did the Force treat you?  Were there prejudices?
The Force was very cagey, I lost promotions on certain occasions because certain interests felt I was there to finish what my father could not accomplish. Because of that I was drafted to go for cadet training, which I should not have gone for  because I was already an officer. However, I proceeded and graduated as the best student.  I was the first police officer that got a presidential commission because of my performance. We were the first set of the Police Academy.
I was in police until I was now invited to come and manage my grandfather's properties. Actually it is the management of the properties that is the cause of the whole hoopla.
Before we get to the issue of the hoopla, you just told us that you visited your dad in Ivory Coast on many occasions. Can we know how your father's family operated while he was in exile in that country?
When he went on exile, he had a woman who was with him.
That was Emeka's mum and people took her as the First Lady of Biafra. Her name is Njideka.
But while they were in exile, they fell apart and she came back to Nigeria.
She did not come back with her children. Emeka and his siblings remained with my father in Yamoussoukro, Ivory Coast.
It was when she left that Stella Onyedor stepped in.
He came back from exile with Stella.
He stayed with Stella and, after her, Bianca came in.
I had always stayed with my mum. And we occasionally visited dad.
Ideally, when a child is small, the custody is granted to the mother until the child becomes an adult. I always visited and stayed with my father in Ivory Coast, he stayed in Cocoordi and Benjaville. Then my grandmother was staying in Gwake. The family had always been there. It was like a war situation, the family was scattered like that until he came back in 1982 and started bringing the family together in Nigeria.
Coming back, can you recollect how it was for him in the early days of his return?
When he returned, he found out that most of his family things and issues were not well organised. You know what it means for a man to be away from home for thirteen years under those circumstances. That was why his children lived at variance – scattered.
 What was the relationship between you, your siblings and your father before Bianca came into the family?
It was a very cordial relationship. I did not suffer because my mother shielded me  and that is why I am very level headed. For the other children, my father started playing mother and father's role until Stella stepped in.
Stella will pretend to play mother but it could not be like their own mother.
There could  always be friction under such circumstance. But my father has always been overtly protective of his children. So, I can figure that when Bianca came in, I was too old to start expecting maternal care, because I was like a big brother to her. When she came in there was this war of attrition.
Please give an instance of this?
The first one happened with Emeka's younger sister.
I understood there was a day she and Bianca fought in the kitchen.
Fight! How?
Yes they fought in the kitchen, so I was made to understand.
Was your father not in?  How could that have happened?
He was in.
He came into the kitchen and took sides with Bianca and that was what made that girl to leave the house till date.
She was expecting her father to protect her, but the father turned and protected his wife. She could not understand that till date. That is the kind of attrition then, because all of them were age mates. Chukwuemeka was born in 1965, the sister Mimi, was born 1966 and Bianca was born in 1967, so it was easier for me to put in authority because I was much older than them.
This is a follow up to that question. Did Bianca's coming create any frosty relationship between your father and the larger Ojukwu family?
It did not. The larger family was not united then for certain reasons.
My own father was the first natural child of my grandfather. That was the bone of contention. They were not of full blood. Based on that, there had always been petty jealousy among them. My father had always argued that they were not his brothers, but he went on to make a name for himself outside my grandfather's name. That fame definitely attracted envy from some members of the larger family. So, during the war they could not talk to him.
But after the war, they started gaining their voices.
During the war, some of them were working with the Red Cross in Biafra.
He never betrayed his brothers because he was the Head of State. And that was the benevolent attitude he had.
But after the war, some felt that the giant had fallen and it was time they have their own pound of flesh. After the war, they did not make attempts to recover my grandfather's assets in most parts of the country. They were only concerned with the ones in the East which they were using for their immediate needs. My father was writing letters from Ivory Coast to them, telling them to go and recover the seized properties. Maybe some thought he would die in exile, but God,in His infinite mercies, made it possible for the Federal Government to grant him pardon and he came back to Nigeria.
If you check, you will discover that most people that fought civil wars in history died in exile. Robert Lee of the United States of America and others died. But if you check, you will discover that my father led with justice, equity and kindness. And that contributed to making the pardon he received from the Federal Government possible.
For instance, history has it that sometimes he would  come to share relief materials to the populace because he felt that the officials were not doing enough.
When he came back, the issue at stake was the properties, but the properties were abandoned properties. And nobody did anything about  them in his absence until 1993 when then President Babangida released the properties to him.
It was after the release that the litigation started. And they started laying claim to them. After the war they started arguing about who was going to be the executor. They had running battle for the properties. The same people, who are with me in court today, were the same people fighting him in  court then.
So, the larger Ojukwu family had always had friction about properties.
And when the properties were released to him, he refused to administer them with the family. It was based on that refusal that they approached me, and said they trusted me.
They said they were going to surrender the ones they were holding and begged that I manage all the properties.
That was how I started administering it to preserve my grandfather's legacy.
When I was doing it successfully, my dad was happy. They will come behind my father to instigate me against him, saying that he maltreated me and he did not pay my school fees, but I was not interested in that.
They will also go back to him to tell him that a child trained by a poor teacher could not be successful. Bianca was not instrumental to the quarrel in the larger Ojukwu family.
But when she now saw the problem brewing, she bought into it.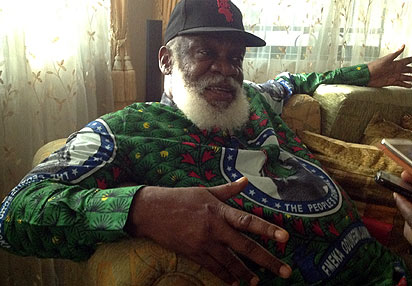 Could you expatiate on this issue of your father being a natural son of the late Sir Louis Odumegwu Ojukwu?
There is a way natural issue comes up. Natural one is when you meet a woman and copulate with her in order to produce a child. That is a natural child. There are children you adopt from the motherless babies home. There are children your wife may have had before marrying you and you automatically become their step dad. The one you adopted is your adopted son; the one from your wife is your step son. There is also another one called foster child. There is even the one they call professional son. So the natural son is the one you had through the natural means of coitus. Even if you have a child through artificial insemination, people might say he is not your natural son. So when I say natural, I know what I am saying and DNA can confirm that. But no matter any means you get a son, once he calls you father, you should treat him as a son. That was why in Chinua Achebe's Things Fall Apart, Okonkwo was told not to have a hand in the killing of Ikemefuna because the boy called him father.
What would you say Bianca brought to the family, having known your father as a  man who fought hard and survived and needed comfort?
She brought comfort, youth and vitality. But then it drove my dad, because I had always been of the opinion that if my father had a woman of my mother's age living with him, things would have been different and stablised.
But then when you marry  a woman of a certain age which is at variance with your age, the drive would be fast but it leads to accident.
 Accident, how?
For instance, the younger girl might want to go to a party and you will not have any option than putting on jeans and attending the party with her at the age of 60.
There was a day we went to Eko le Meridian Hotel. The hotel had a restaurant at the sixteenth floor. It was for  Valentine and other expensive dinners. I went with my wife, then she was my girlfriend and my father came in with Bianca. I hope you understand how I would feel in that situation. You know, ideally, I should not be running into my father with a young lady in a restaurant at that age.
On the issue of the Will, you will agree that since it was read in Enugu it has been generating a lot of controversies. Your younger brother, Emeka, does not also seem to reckon with the Will. Can we know if you have reservations on the contents of this Will?
I do not know why she conspired against me. The first reservation is that it is no Will.
That thing is a forged document.  I have already filed a caveat, so there is no Will.
It is when the caveat will go to trial and I give my voice alongside whomever that is championing it, then it would be tried.
On the surface, you will find out that it is a forged document.
In law, there is what we call Nemo dat quod non habet. It means that you don't give what you don't have.
But if Ojukwu shared his properties the way he wished, why should that be anybody's problem?
It is your right as an individual to acquire and dispose property. If that is how he has chosen to dispose his properties, there is no problem.
My only reservation is some of my properties were among those shared. There was the one my grandmother gave me when she was alive.
 Are these properties located in Enugu or where?
I am talking about the one at Nnewi.
She told the whole family that she had given the land to me. She took about eight of us to her village and introduced us to her family.
Emeka was also there. I am her eldest grandchild from Nnewi, but I am not her eldest grandchild. She had three children.  One daughter and two sons!
The daughter had one son and three daughters. And Tom Biggard, who died during the civil war, had one daughter and three sons. Then my father is in the middle. So being the eldest of the grandchildren in Nnewi, she gave me the land she bought at Nnewi and she told everybody.
You have dismissed the Will as a forged document. Can you really tell us your position on how the properties were distributed in the document viz a viz who got what?
It is a forgery.
In law, Will is called Volonte in French. It means wish.
This question would have been okay if I was satisfied that what is contained in that document was the wish of my late father. It is someone's Will, so it is left for that person to come and tell us how he acquired the property.
That is not my father's Will because he could not have devised my property. That was my first reaction before I discovered that it is a fraud, which the Economic and Financial Crimes Commission, EFCC, and the Police should investigate because anybody that does that is a petty criminal. And there are pre-conditions for occupying public office.
If someone has been proved to have contravened any of the pre-conditions, that person should be stripped of whatever has been given to the person.