President Mohamed Morsi has admitted that Egypt's economy faces serious problems after he enacted a new, bitterly contested constitution that is supposed to help end political unrest.
Aaccording to him, this could allow him to focus on the financial crisis in the country.
The president said the economy also had great opportunities to grow, but earlier the Egyptian pound tumbled to its weakest level in almost eight years as ever more people rushed to buy dollars and withdraw their savings from banks.
Morsi, catapulted into power by his Islamist allies this year, believes that adopting the constitution quickly and holding elections to a permanent new parliament soon will help to end the long period of turmoil that has wrecked the economy.
The presidency announced on Wednesday that Morsi had formally approved the constitution, which was drafted by his Islamist allies, the previous evening, shortly after results showed that Egyptians had backed it in a referendum.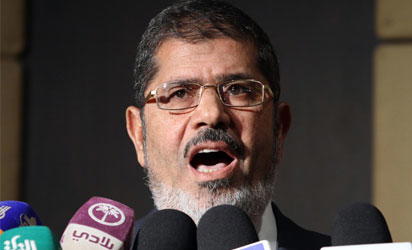 Keen to be seen as tough but fair, Morsi said it was time for all political forces to put aside their differences and start working together to bring economic stability.
"I will make all efforts, together with you, to push forward the economy which faces huge challenges and has great opportunities to grow,'' Morsi said in his first address to the nation since the adoption of the constitution.
The text won about 64 per cent in a two-stage referendum, paving the way for a new parliamentary vote in about two months.
The main opposition group, which has until now boycotted all rounds of national unity talks led by Morsi's office, said it had not changed its position.
"The ongoing talks are farcical and theatrical,'' Hussein Abdel Ghani, an opposition spokesman, told reporters. He called on Egyptians to demonstrate against the new constitution on Jan. 25, the second anniversary of Egypt's revolution.
He added that the opposition would stick to its policy of peaceful protest against Morsi's government, which he said sought to use religion as a tool to create an oppressive state.
The referendum result marked yet another electoral victory for the Islamists since veteran autocrat Hosni Mubarak was toppled in 2011, following parliamentary elections last year and the presidential vote that brought Morsi to power this year. (Reuters/NAN)