BY FEYI BANKOLE
•Lost dad at thirteen…Became teen-mother to shattered mum, siblings
Experience, they say, is the finest teacher. This statement  has literarily played out in the life of the Director-General of the Nigerian Chamber of Shipping, NCS, Mrs. Ify Anazonwu-Akerele, who cleverly made lemonade from the lemons life had thrown at her at a tender age.
Unknown to Ify, she was being acquainted with skills that would shape her destiny! Looking back now at how those organisational skills have contributed tremendously to her success as the pioneer DG of the NCS, transforming the chamber  from a one-room office into a key player in the maritime industry, Ify has got every reason to be grateful for those bitter childhood pills. She is our inspirational icon today.
Service employed
Ten years ago when she was entrusted with the task of setting-up an organisation that would facilitate indigenous participation in the Nigerian maritime industry following the passage of the Cabotage Law, Ify was mystified as she couldn't figure out why she had to be the 'chosen one'.
"I looked at the documents, studied them, but they were all Greek to me! I somehow got very interested and knew I would need a group of  dedicated hands. What helped me was my networking skill because I'm a very sociable person. So, I got a group of very solid Nigerians to be on the board, and that set the ball rolling", she humbly revealed.
Managerial background
Realising that she had always found herself in managerial capacities, Mrs.Akerele replayed how she had gone to study  international relations and corporate administration after obtaining a degree in sociology from the University of Lagos.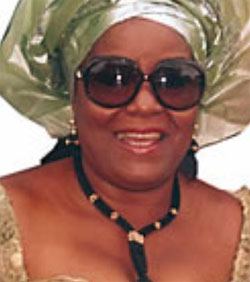 She had begun her career at the Nigeria Institute for International Affairs (NIIA) but left five years later when she got married, to set up the Institute of Directors along with some others. From there, she moved to the Nigerian Institute of Management, and then to the Presidential Liaison Office in the senate during Obasanjo administration.
Molded by childhood
Ify believes that this organisational flair stemmed from her childhood. As a thirteen-year-old  girl, she had lost her father who was a prominent medical practitioner. The death was a rude shock to the closely-knitted family and everyone found it difficult to cope with, including Ify's mum who was still quite young. As if that wasn't enough, one month later, the civil war broke!
"I automatically grew up fast and learnt to look after my siblings and mum who was quite shattered. I just found myself being strong for other people, hardly remembering my own self. That's a challenge now because I'm just beginning to learn how to let other people see my weakness. I don't know who gave me the mandate, but I felt I was the one to protect the family.
"During the war, we got separated from our mother, so, I and my siblings had to live with relations in England and France, until she came to join us. Before then, I had to be mother to my four siblings. We were living with an uncle, so, I grew up very fast because it wasn't really comfortable.
"Looking back, I would say we could have been worse-off!  Luckily, mummy had a twin sister and very nice siblings, so, they really rallied round her. She also had good in-laws who cushioned the pain. Anyway, she's also late now because she really could not get over it all.
Self-discipline
"All my life, I've always sort of stayed focus even when having fun. I must confess that I had a very happy youth. Returning for my university degree at University of Lagos was fun and I had a lot of friends, but I just always reminded myself that I must stay focused.  This was why when though the Nigerian Chamber of Shipping looked like impossibility when I came in, I wasn't scared", she explained.
"I love challenges, I love pioneering things, and,  in fact, I am one of such people that set up things, leave them, and then move on without looking back; knowing that they're working well. So, I guess that's what shaped me".
Coping in male-dominated terrain
However, aside her flairs, Mrs.Ify Anazonwu-Akerele was frank to reveal a salient factor that has also fuelled her success in the chamber since she assumed office as its pioneer Director-General in 2002.
"A major strategy was acknowledging that the maritime sector is a male-dominated industry and that typical men like to take the lead. One of the secrets was therefore to go in, bearing this in mind. I practically learnt a lot more that way. I found that even when I knew the solutions to issues, I always threw them open and let-in suggestions, and then,  in a very wise manner, I would then slip-in my decision.
That way, it really does not offend anybody. I however cannot negate the fact that I learn better by listening to them since they are the ones practically involved in the business; I'm more of an administrator. They've always been quite helpful, but when it comes to situations where I have to put my foot down, I do so", she revealed.
Subscribe for latest Videos