*Says I remain focussed on transforming Nigeria
*Mark, CAN, Govs, Sultan, others seek peace
Our Reporters
LAGOS— AS the country joins the rest of the world to celebrate the birth of Jesus Christ today, President Goodluck Jonathan has urged the citizenry to expect massive improvements in power supply, public infrastructure, healthcare, education and job creation among others next year.
In a Christmas message to the nation, President Jonathan said in spite of distractions occasioned by insecurity in some parts of the country, his administration remained focussed on recording appreciable mileage in the priority areas.
The president spoke as growing security concerns, which necessitated US diplomatic authorities to caution their citizens in Nigeria about travelling to certain areas of the country, dominated religious and political leaders' goodwill messages to the nation as Christians mark the birth of the progenitor of the Christian faith, Jesus Christ.
Since 2010,yuletide celebrations in Nigeria have been trailed by series of violence and bomb attacks, which have claimed hundreds of lives.
Among those who urged Nigerians to embrace peaceful celebrations were Senate President, David Mark; President of Christian Association of Nigeria, CAN, Pastor Ayo Oritsejafor; Catholic Archbishop of Lagos, Most Rev. Alfred Adewale Martins; Prelate of Methodist Church of Nigeria, Most Rev. Sunday Ola Makinde; Dean of the Church of Nigeria (Anglican Communion) and Archbishop of Lagos, Most Rev. Ephraim Ademowo; and Presiding Bishop of TREM, Dr. Mike Okonkwo.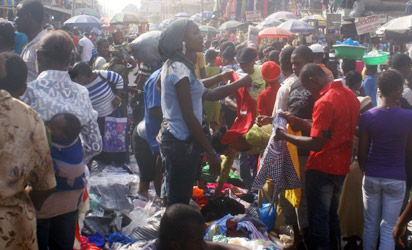 The rest include National Publicity Secretary of the Arewa Consultative Forum, ACF, Anthony Sani; President General of the Nigerian Supreme Council for Islamic Affairs (NSCIA)and Sultan of Sokoto, Alhaji Sa'ad Abubakar; Governors Theodore Orji (Abia), Jonah Jang (Plateau), Abdulfatah Ahmed (Kwara), Senator Bukola Saraki and All Nigeria Peoples Party (ANPP) Chairman, Dr. Ogbonnaya Onu.
I remain focussed on transforming Nigeria – Jonathan
President Jonathan said: "I greet and felicitate with you all as we join the rest of the world in celebrating the birth of Jesus Christ the Messiah many years ago in Bethlehem. Christmas and the lessons of Jesus Christ's mission on earth have great significance for us as a people and there can be no doubt that we all, irrespective of our religious beliefs, can draw immense strength and inspiration from the Messiah's enduring personification of selflessness, dedication to duty, and commitment to the well-being of others.
The virtues and ideals of peace, tolerance, faithfulness, honesty, justice, fairness, true wisdom, knowledge and understanding which He taught and exemplified also remain very relevant to us in Nigeria as we continue to grapple with the challenges of development and nation-building.
"My administration continues to do its best to give our beloved country effective leadership towards rapidly overcoming present challenges. As we celebrate Christmas, the ultimate significance of which is the fulfillment of God's promise of a Saviour for mankind, I urge you all to continue to trust in our unwavering commitment towards fully achieving  objectives of our Agenda for National Transformation for the benefit of all Nigerians. No one should doubt that we have the political will and determination to deliver on our promise of positive changes in the living conditions of our people in the shortest possible time.
"While we continue to deal with the regrettable distractions posed by threats to peace and security in parts of the country, the Federal Government remains very focussed on the primary objective of achieving significant improvements in priority areas such as public infrastructure, power supply, transportation, roads, health, education, job creation, agriculture and industrialization as quickly as possible.
"It is my hope and expectation that more of the efforts, actions and measures we are already undertaking in these areas will successfully come to fruition next year and make the results of the diligent project planning and execution being done under this administration more apparent to all Nigerians.
"I seize the opportunity of the Christmas celebrations to express my sincere appreciation, once again, to the vast majority of patriotic Nigerians who have kept faith with this administration since its inception. We will continue to count on your support and cooperation, as well as your prayers for peace, stability and progress of our beloved nation. I wish you all a very merry Christmas."
Oritsejafor harps on peaceful co-existence
In separate goodwill messages, religious leaders harped on the need for peaceful co-existence among all Nigerians to foster unity, which the nation's founding fathers fought for.
CAN President, Pastor Ayo Oritsejafor, enjoined all Nigerians to exemplify Jesus' virtues, admonishing Nigerians, irrespective of religious differences, to see the celebration as a period for peace, reconciliation and justice.
In his Christmas message, through his Special Assistant on Media and Public Affairs, Mr. Kenny Ashaka, Pastor Oritsejafor tasked Christians to seek to preserve the fundamentals and true spirit of reverence which, he noted, many displayed towards Christ in His days.
He noted: "Christmas is a season to construe our religions as Christ-like by shunning all forms of subterfuge, divisive tendencies and sensationalism while pondering on the gifts that come with the birth of Jesus Christ."
Pray for lasting peace —Martins
Catholic Archbishop of Lagos, Most Rev. Alfred Adewale Martins in his message, called on Nigerians to pray for lasting peace and unity of the country, even as he urged the political class to be more responsive to the yearnings of the masses.
In a message signed by the Director of Social Communications, Very Rev. Msgr. Gabriel Osu, the prelate also challenged all, irrespective of religious and tribal divide, to embrace the spirit of the yuletide by spreading joy, love, peace and sharing with the less privileged in the society.
While noting that no meaningful development can be achieved in an atmosphere of chaos and acrimony, Archbishop Martins pleaded with all dissenting voices in the affairs of the nation to embrace peace and meaningful dialogue, respect the sanctity of human life and avoid all forms of violence.
He said: "In this period of Christmas, there is need for us all, Christians, Muslims and adherents of traditional religion, to embrace peace and shun all forms of violence. Christmas stands for joy and hope for all humanity."
Citizenry are living below poverty line —Makinde
On his part, the Prelate of Methodist Church Nigeria, Most Rev. Sunday Ola Makinde said as we celebrate Christmas, "we need to hold in focus what the season represents. Christmas should be a time for us to remember that we as Christians have an obligation to leave the comforts of our everyday life to help those less fortunate just as Jesus did for all of us."
According to Makinde, "while God has so blessed us as a country, well over 90 per cent of the citizenry are living below the poverty line. Despite the enormous resources deposited in various states in our country, over concentration and over dependence on oil and gas have made us a one-sector economy, thereby making other sectors redundant or non-existent in some cases.
"Those saddled with the responsibility of bringing smiles to the faces of God's people and happiness to their minds by maximising the abundance of the resources He has bestowed on this nation are doing exactly the opposite. What should ordinarily be a blessing to us is seemingly becoming a curse which is further accentuated by the inability of Nigerians to enjoy quality education in a country that once gave scholarships to students to study abroad. Businesses are paralyzed owing to a power sector that is near comatose."
Ademowo bemoans myriad of challenges
Dean of the Church of Nigeria (Anglican Communion) and Archbishop of Lagos, Most Rev. Ephraim Ademowo, bemoaned the myriad of challenges currently facing the nation ranging from neglect, suffering, poverty, diseases, robbery, kidnapping, communal clashes, religious wars, political fracas, insurgency, militancy, violence, plane crashes and natural disasters, saying that such problems were fast becoming part of our daily lives.
He expressed worry that at 52, Nigeria was yet to stand on her feet in spite of the enormous resources the nation is blessed with, noting that the lessons of Christmas must, therefore, be geared towards overcoming the challenges that confront us.
Okonkwo urges Nigerians not to lose hope
Presiding Bishop of TREM, Dr. Mike Okonkwo urged Nigerians not to lose hope in our collective project called Nigeria, noting: "The key motivating factor that has kept my hope alive is God's finger upon our nation. Nigeria is heavily endowed with all the resources to make us a great nation and indeed become an envy among the comity of nations.
"Our value system must change more especially the insatiable lust for money that has driven us to all kinds of evil that was once anathema to our society. We can rise again. As a citizen of this nation, you must determine that you will do your part to help the nation rise again."
Let's live in peace – Mark
Senate President David Mark, on his part, urged Nigerians to continue to live in peace, love and harmony.
In his Christmas message, signed by his Special Adviser, Media and Publicity, Kola Ologbondiyan, Mark urged Christians to always imbibe the teachings of Christ, which preaches peace, cheerful-giving and above all love for one another.
He urged all Nigerians to continue to live in peace and harmony and to emulate the virtues and exemplary life bequeathed to us by Jesus Christ for the good of all.
Noting that "our democracy is waxing stronger as we stride in years, Mark further assured that the National Assembly would continue to work in the best interest of every Nigerian in making laws for the good governance of our country.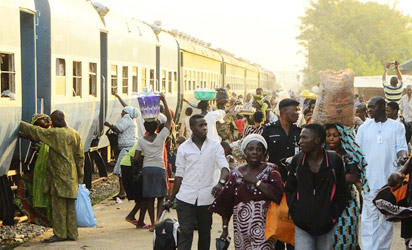 Govs Jang, Orji, Ahmed speak
Felicitating with Christians, Governor Theodore Orji in a statement by his Chief Press Secretary, Ugochukwu Emezue, urged them to use the period to pray for peace and unity in the country.
Orji also used the occasion to call on Nigerians to support the Federal Government's fight against insecurity and its development programme, assuring that Nigeria would soon become a great nation.
In like manner, Governor Abdulfatah Ahmed of Kwara State  urged Christians in the country to use the festive period to preach national rebirth and transformation and also pray for peace and unity in the country.
Ahmed, in his Christmas and New Year message to the people of Kwara State and Nigerians at large said the period should also be seen as a season of showing love, especially to the needy in the country. The statement was signed by his Chief Press Secretary, Alhaji Abdulwahab Oba.
Governor Jonah Jang of Plateau State preached forgiveness among Christians as they celebrate Christmas and urged them to repay evil with love.
In a message signed by Director of Press Affairs in his office, Mr. James Mannok, the governor said the occasion should also be used for sober reflection "on the essence of Christmas which is sacrifice through the birth of Christ to bring joy and salvation to mankind."
Sultan of Sokoto, ACF urge peace
In a message by its National Publicity Secretary, Anthony Sani , the Arewa Consultative Forum, ACF, asked Nigerians to use the birth of Jesus Christ which Christmas was all about to reconcile and love themselves by making no distinctions among each other.
He said: "ACF is happy to felicitate with Christians over the celebrations of Christmas which marks the arrival of Jesus Christ for the express purpose of reconciling humanity with God. Just as Jesus Christ came to save humanity from their sins and made no distinction between the Jews and the Gentiles, ACF prays the spirit of the celebrations would bring about improvement in tolerance and accommodation among individuals and among groups that often go with genuine reconciliation and true forgiveness."
On its part, the Nigerian Supreme Council for Islamic Affairs (NSCIA) urged Nigerians to support government in tackling the problems of corruption and insecurity in the country.
The President General of the Nigerian Supreme Council for Islamic Affairs (NSCIA) and Sultan of Sokoto, Alhaji Sa'ad Abubakar made the call in a Christmas message signed by the council's Director of Administration, Alhaji Amin Igwegbe.
He said: "Development cannot be achieved in a state of insecurity; therefore we should cooperate with the authorities to secure the nation. We should mobilise all our faithful to be security conscious, by reporting every suspicious movement to the nearest security outfit. A secured and corrupt-free Nigeria will earn the country greatness."
Onu, Saraki urge Christians to be good ambassadors
Also Abubakar Bukola Saraki (PDP, Kwara Central) said "as our Christian brothers and sisters celebrate Christmas which commemorates the fulfillment of God's promise of the birth of a Messiah, we must imbibe the teachings and the central message of Christ not only in our thoughts but also in our deeds."
Saraki assured Nigerians that the National Assembly would continue to consolidate on the various developments witnessed in the last couple of months to ensure that more visible and significant needs are prioritized.
ANPP National Chairman, Dr Ogbonnaya Onu, urged Christians to be good ambassadors where ever they found themselves.
"We join the rest of the global Christian family to urge that in the joyful spirit of the season, we rededicate ourselves to the enduring attributes of love of neighbour and country. With peaceful co-existence and harmony as well as clutching firmly to those bonds that bind and releasing the lever of those gaps that divide us as one people with a common destiny," Onu said in a statement.
He said the joy of Christmas would not be complete without Christians being their brothers' keepers and embracing people belonging to other faiths in the search for a better world. "
In a related development, the National Orientation Agency (NOA) has called on Nigerians, irrespective of religious persuasions, to use the Yuletide for sober reflection on the affairs of the nation.
A statement in Abuja by its Director General, Mr. Mike Omeri, also called on Nigerians to use the period to show love to fellow citizens.
Tambuwal urges faith
Speaker of the House of Representatives, Hon Aminu Tambuwal, in his message signed by his Special Adviser on Media and Public Affairs, Malam Imam Imam, enjoined Nigerians to renew their faith in their country and work towards building a nation of their dreams.
Tambuwal urged leaders at all levels of governance to make the interest of the people their priority at all times, adding that despite the challenges of development confronting the country, progress was being made in some critical sectors.
Oshiomhole, Obi task Christians
Governor Adams Oshiomhole of Edo State urged Christian faithful to follow in the footsteps of Christ by doing good to all men, saying  "the faithful should use the Christmas season to show love and do good to all men, even as the progenitor of the faith did over 2000 years ago.
In his message signed by his Chief Press Secretary, Mr Peter Okhiria, Oshiomhole said: "As a state, this is the unique opportunity for us to sober-reflect on our journey thus far."
Also Governor Peter Obi of Anambra State in his message said: "As we march towards the end of 2012, I appeal to all those in leadership positions to resolve to go into the New Year with a new commitment to make sacrifices for our country. I enjoin the followership to believe in our country and exhibit the spirit of patriotism that will be in tune with the transformation agenda of President Goodluck Jonathan."