By Dapo Akinrefon
Chief Victor Umeh, the National Chairman of the All Progressive Grand Alliance, APGA, in this interview,  opens up on the crisis in his party. Excerpts:
You were alleged to have shunned a stakeholders meeting summoned  to resolve the crisis in APGA. Is this true?
My attention was drawn to newspaper publications, where it was reported that Governor Rochas Okorocha and I shunned the peace meeting convened at Awka on November 6, 2012. It was reported that a text message was sent to me, notifying me of the meeting, but I deliberately shunned the meeting.
I wish to state unequivocally that nobody sent me any text inviting me to any meeting at Government House, Awka for the purpose of pursuing reconciliation in APGA. On November 2, a Friday, I travelled to London to attend the APGA UK chapter convention, scheduled to hold on November 3, and also to honour an invitation of Igbo Union in Oxford for Ojukwu's birthday, where I was one of the guest speakers.
Before my departure on November 2, there was no indication that there would be a meeting anywhere where reconciliation in APGA would be discussed. Because I had planned to make this trip on November 2, I had concluded my travel plans to leave Nigeria that day and to return on Wednesday, November 7. I was therefore shocked wh
en I returned to Nigeria and read in the papers that I was invited to a reconciliation meeting and I shunned it. Nothing can be farther from the truth.
Are you saying that the entire episode was a set-up?
If Governor Obi wanted to hold a peace meeting, is it through text message that he should invite the National Chairman of his party? It is curious that I was said to have been sent a text message instead of a letter, which any of his aides could have dropped in my house or even putting a call to me either by himself or through any of his aides that there would be a meeting that I was expected to attend. None of these happened. It was, therefore, clear to me that I was not wanted in the meeting.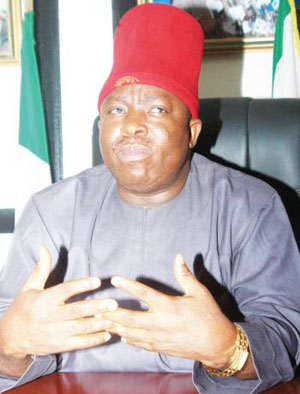 Each camp is tackling the other over crisis in the party. This makes one wonder who is at fault
All kinds of things have been done to remove me as the National Chairman of APGA, starting from last year when they sponsored a petition against me to the Economic and Financial Crimes Commission (EFCC). The EFCC thoroughly investigated me, my bank account, everything I had, my transactions as an estate surveyor and valuer.
At that time, I was accused of embezzling party funds and living in opulence. The EFCC, after going through records of my income and after justifying all that they found that I had, cleared me of any wrongdoing. The auditors appointed by the party at the convention that held at Awka, last year, also audited the APGA accounts and returned a verdict of transparent running of the accounts.
The INEC appointed auditor that audited the accounts of APGA for 2011 returned the same verdict of the transparent handling of the financial affairs of the party. That is why they no longer talk about my embezzling party funds.
What are the issues being canvassed in this crisis?
In all the suits against me and sometimes with the National Secretary of the party and sometimes with other national officers of the party, the sole issue that they have been canvassing is that there was no convention that elected me as the National Chairman of APGA and also the other officers of the party.
But Nigerians know that on  February 10, 2011, at Awka, APGA held a national convention where all the national officers were elected for another four years. At that same convention, APGA adopted President Goodluck Jonathan as our presidential candidate.
That convention was monitored by INEC which also produced a report for the convention, approving the convention and election of new officers of the party. The INEC report is available and it has been tendered in court. That same convention was attended by Governor Obi, Mrs. Bianca Ojukwu, Dr Menakaya.
All the people who are now launching attacks against the elected leadership of the party were at that convention, but what they are claiming now is that there was no secret ballot in electing us at that election as enshrined in the party's constitution.
You do secret ballot when two people are contesting for one position. The officers of the party were elected unopposed at the convention. Therefore, there was no need for secret ballot.
They are also claiming that we ought to have resigned from office at least two months before the election. Our constitution provides that an officer is eligible for re-election for another four-year term, but if anybody wants to contest for another office, that person will be required to resign from his present office, two months before the convention. In other words, if the National Secretary wants to run for the office of National Chairman, he will resign as National Secretary to be able to contest as National Chairman at the convention. These were the issues.
Are your opponents not aware of these issues you are raising to be the facts?
They are aware of all the frivolous actions they are filing in court, but all the efforts are aimed at destroying the party and keeping the party in a manner that it can no longer function. These are actions that they can never win in any court in Nigeria.
Why I have taken time to elaborate on this is to show that the people who are destroying the party are the people who are now crying wolf that they want to make peace in APGA. I read in the papers where somebody said I must leave office two months from now; that he had perfected it; that, in two months time, it will be certain that I am no longer the Chairman of APGA.
I don't know whether he will kill me or whether their case will progress from High Court to Court of Appeal, to Supreme Court, within two months, to be able to get rid of me as Chairman of our party. I want to use this opportunity to assure Nigerians, members of our party, both in Nigeria and Diaspora and the Igbo people, that I have devoted all my efforts towards making this party, APGA, succeed.
You recall that it was when APGA won the governorship election in Imo and also won majority of the seats in Imo and Anambra State Houses of Assembly, producing House of Representatives members and a senator, that it suddenly occurred to them that I am incompetent.
You are sounding so confident. What gives you this confidence?
I have not seen anything they can do to achieve their wild goose chase in dismantling the leadership of the party because they were part of the creation of the leadership. And I have never as Chairman of APGA worked against the party or any member in any manner whatsoever.
Instead, I have devoted my energy to building this party. In 2011, because of our desire to get this party going, I reduced myself to a local government party agent in the governorship election in Imo State to ensure that APGA succeeded.
When Chekwas Okorie came to register UPGA, but for my strident efforts in opposing that application, he may have registered UPGA and you would have had APGA and UPGA. All of them would have been hiding their faces in shame. None of them contributed in mounting that challenge to preserve the recognition of APGA.
I had to do this. Even when our litigation ended in February 2012, I prepared a position paper on how to rebuild APGA after the end of seven years of litigation with Chekwas Okorie, which I gave to Obi. I gave to Bianca Ojukwu; I gave to Menakaya.
All the suggestions that I made on how to rebuild APGA, including the reconstitution of the BOT, are there with them. Because of the war mounted by Okorie, it was impossible to constitute the board. All efforts by our late leader, Dim Chukwuemeka Odumegwu-Ojukwu, to reconstitute it failed because people failed to join because of the war.
Has anything been done on the recommendations?
They have refused to do what is reasonable, claiming to be the people promoting APGA when they are, in fact, by their actions, sabotaging the party. They have instead been clamouring for the restructuring of the party, whatever that means. They want actions outside the provisions of the party.
In my position paper, I stated the constitutional constraints that  will make dissolution of the party structure impossible; the reason being that these officers have to serve out their four-year terms. So, I take no blame for what is happening. If there is any reconciliation meeting where the progress of APGA would be discussed, it should be properly convened.
People who should attend, should be properly notified and I would be the first person to be there because, one by one, I would look at their faces and tell them what they have been doing which I have refused to tell the public.
But, from what we gathered from the grapevines, those in opposition to you seem to be at the vanguard of restoring peace to APGA. Why do you see them in a different light?
How can people who are crippling the party with multiple litigations now claim to be looking for peace in the party?  I think what is important is that what somebody can do in the dark, he should own up in the daylight. There is no point hiding in the dark and sponsoring evil in the day just to tarnish other people's image.  It is very clear that they don't want the party to survive anymore, but I  assure them that  none of their evil plots against this party will succeed because we are united in what we are doing.