By Olasunkanmi Akoni
GOVERNOR Babatunde Fashola of Lagos State, weekend, in the United States, attributed the lack of adequate information and data system by the Federal Government to the raging tension and controversy being generated in the wake of Professor Chinua Achebe's latest book titled: There was a country – a personal history of Biafra.
Fashola made the remarks in his keynote address at this year's Achebe Colloquium on Africa, held at Brown University, Providence, Rhode Island USA..
Speaking on the theme "The Role of Statecraft in the African Renaissance amidst Regime Change and Ethno-Religious Insurgency – A West African Case Study,"Fashola noted that some commentators suggested that the work had contributed to restoring old tensions and brewing new hostilities, prefacing possible inter-ethnic conflict.
Fashola said: "Wherever your (Achebe) personal views may lie, we cannot but observe, from the tone of the commentary, that our national governments continue to fail us in the crucial duty of being repositories of information, data, records and archives as historical records are indispensable tools for policy development. Certainly the discourse would have been richer, less acrimonious and not predestined for tension if institutional national archiving and information disclosure was responsibly discharged by the Federal Government of Nigeria.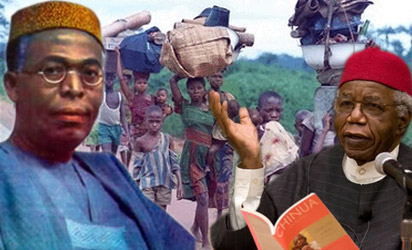 "I am sure there are other examples across the West African sub-region. States must begin to see the connection between information management and inter-religious, ethnic and sectional tension across Africa. I speak here today not in person but by virtue of my office as governor of Lagos State."
The governor who said he would have declined to attend the event because of the raging controversy surrounding the book, because some leaders of his ethnic group had very strong views about parts of the book, added:  "Professor Achebe is from the Igbo ethnic group. As you can also expect, there were spirited responses from leaders of opinion from his own ethnic group.
Generational disagreement
"My thoughts were to write to Professor Achebe to decline the invitation and proffer some excuse. I wonder if it crossed his mind to find a reason to ask me not to bother to come. But I resolved that a commitment I had made in honour to attend was more important than what anybody might say or feel. Those were the values on which I was raised.
"More importantly, this was a generational disagreement between the principal parties of the events that took place when I was barely four years old. As I said, the management of the National Archives and the publication of what really happened at that time will certainly help to ensure that nobody creates his own facts.
"But beyond that, my own generation has moved on. We see our country differently. It also seems to me that many years after the conflict, that some of the principal actors in the conflict such as Chief Obafemi Awolowo, the Yoruba leader and Chief Odumegwu Ojukwu had decided to move on."
Fashola recalled what Ojukwu said when Chief Awolowo passed on in the late 1980s: as "the best President that Nigeria never had."  He said: "Interestingly, it is only in Yoruba land, and I stand to be corrected, where the problem of abandoned property did not afflict the Igbos.
"They returned after the war to rightfully claim property they had deserted in flight in the aftermath of the crisis. It is instructive to also re-call that, when Lagos State Military Government many decades after the war tried to expropriate Ojukwu's property in Lagos, it was a Yoruba lawyer who prosecuted the case successfully on his behalf.
Lifelong friends
"In my own home, Ojukwu was most welcome. He and my uncle started primary school the same day and remained lifelong friends until he passed. It was, therefore, a duty to honour him as I did at his funeral when I said: "Ikemba, as he was fondly called was an illustrious Nigerian, a dogged fighter and an accomplished individual, whose footprints and legacies on Nigeria's political landscape have earned him a secure place in its Hall of Fame.
"We salute the men and women who kept our nation together, especially those who paid the supreme price to do so. The only way we can honour their memory is not to re-open the old wounds, but to resolve that never again will our people's blood be spilled by their own people in order to harness the diversity of our people and make our union more perfect."
Fashola posited that by making such resolve that Nigerians can gain from that conflict and use the lessons to surmount the challenges that stand in the way of the collective journey to the promise land  of the nation.