By Helen Ovbiagele
Travails and trials around the world this year has made 2012 a most unpopular year for many.  If it  were within the power of some to cut its tenure short, they would readily do so.  Poor 2012!
"Auntie, mum, 2012 has been quite a hell of a year," said a cousin's son, when we were all discussing current events.  "Let it just pack up its packages of tears, woes and fears, and get out of our lives.  What a year!"
"How come?" I asked in surprise.  "I think we should consider this a very good year for your family.  I know there's been some challenges like in other families, but right from the beginning of the year, members have been recording successes and pleasant events. Glory be to God.  I wouldn't have expected you to regard this year a bad year.  God has been kind and gracious to us all.  Let's be grateful."
"Coz, that's what I keep telling him.  We have a lot to be thankful for in our little corner – for life, health and food.  But he seems to consider himself the general manager of the entire world, and he takes very personally, whatever distress there is out there.
I think that's wrong.  Why carry the burden of the whole world on your shoulder when you're not the Creator?  I don't know why he thinks this is the worst year ever.  I agree that there's been many tragedies for quite a while now, but is the year to blame?  Good things have happened too.  We have to be thankful."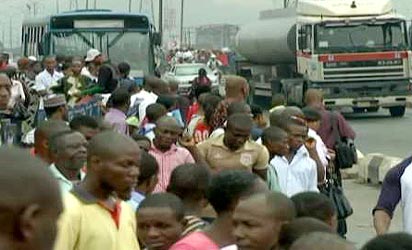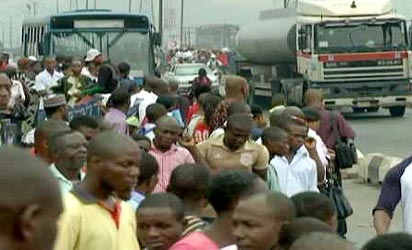 "Mum, I sure am grateful for all the good things God has put in the way of this family, but that doesn't mean that we should omit to feel the tears and woes out there.  I know that leap years are supposed to bring more bad news than other years, but 2012 has been exceptionally vicious in dishing out woes all over the world, particularly in Nigeria.  This no longer seems the Nigeria that I was born into.  It's been woes after woes in all areas of life.  This year can't end too soon for me. It's like living in a dark tunnel."
I'm sure many people share this young man's view of our current life. Still this year has not been all gloom.  It has brought great joy to many too, but since bad news tend to  have a bigger impact on our emotions, we're overwhelmed by them. Nigeria has had its share of this year's woes.
Things we never expected to happen to us in this country, have been happening at an alarming regularity, and citizens and the government are completely helpless! God has immensely blessed Nigeria, but what has been happening this year is beyond our understanding.
The rich keep getting richer, while the poor keep getting poorer. This alone has brought on huge problems.  Then the destruction of lives!  Even if one's family has been spared, news of calamities has a way of  taking the joy out of living as you begin to fear for your own security and survival.
This year collapsed buildings have taken people's lives and rendered many homeless.  This is in addition to the destruction/loss of their property and belongings; many of which can never be replaced.
In several States across the country, terrible floods have wreaked havoc and whole families have become refugees, living on handouts of food and clothing from the government, NGOs, private companies and helpful citizens and some foreigners.  Erosion has deprived some communities of their means of livelihood.  These natural disasters have always been there, but they have been more intense this year.  Still, we thank God for survivors.
That unfortunate plane crash mid-year which took all the lives on board, and some lives on the ground plunged the nation into mourning. Numerous fatal road and boat accidents occurred almost every month throughout the year.  Hospitals in the cities are full of  accident victims, and with the dismal healthcare at the disposal of the masses, many may suffer permanent disability.
In a country where there's no social security system to take care of the poor, the unemployable and the unemployed, you can imagine what future awaits such people, as some will have to be heavily dependent on their families for life!
Violent attacks and escalated heinous criminal activities have brought much sorrow.  Security and peace are  so fragile these days that anything can tip the country overboard. We're believing God to come to our aid.
But then, there have been worse and more frightening misfortunes around the world – suicide bombings, earthquakes, mudslide, blasts in mines, violent hurricanes, air, sea, mountain and land accidents, crimes which shocked humanity, etc.
God, in His mercy, spreads these things around and no country is immune from them.  There's no longer a safe haven in the world that you can run to, in order to feel safe and at peace.  We can't blame the year 2012 for all these happenings.  Neither can we commend any year for being good to us.
Years are just periods and what happens in them are either God ordered, or human ordered.  Most of the evil on earth is perpetrated by human beings.  I'm sure that if the year 2012 can feel and talk, it would express great anger at all the horrible things we've done during its tenure to defile it and tarnish its image.
We should blame ourselves for most of the evil in the land.  God has put in us the notion of what is right and what is wrong, what pleases Him and what doesn't; but He has also given us tremendous freedom of choice.  Barring natural disasters, wrong choices are what are turning the world upside down and making it hell for everyone.
That young man was right to be concerned about the misfortunes in the world, because even if we live in opulence and in fortified residences, our hearts would tremble whenever we hear of blasts and violence.  We should not only feel concerned about victims, we should do all in our power to help.  But most of all, we should ask ourselves what can be done to avert these occurrences and make life more pleasant and peaceful in our country once more.
On the part of  our rulers, there should be alertness and  preparedness, and a great ability to manage crisis.  We shouldn't be caught napping when turbulence comes.
When hurricane Sandy swept the West Indies and the eastern part of the U.S., recently, notably the State of New York and its environs, causing devastating floods that took lives and property, the government swung into action at once, sending help by land, water and air.
In earth-quake-prone areas over there, families are advised to pack emergency bags in readiness in case one occurs, and they have to head for shelters.  I know of a family who has been in this state of readiness for over thirty years and they've had no need for those bags. Still, they remain  in their garage, anyway.
As we wait for 2012 to end, let's all sincerely ask God to save Nigeria and give us better times with more good news than bad.  This is the only country most of us can confidently call our own.