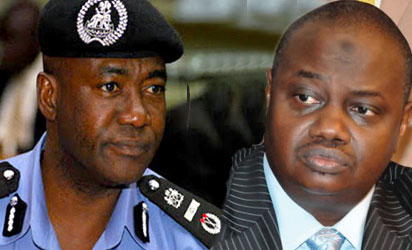 IG Abubakar and Ibrahim Lamorde, EFCC chairman
By Henry Umoru
ABUJA — CHAIRMAN, Economic and Financial Crimes Commission, EFCC, Ibrahim Lamorde, Thursday , told the Senate that the commission finds it difficult to convict those it termed high profile thieves who have looted the nation's wealth because they have huge sums of money and resources to delay court processes.
Speaking when he appeared before the Senate Committee on Drugs, Narcotics and Financial Crimes to defend the 2013 budget, Lamorde, who expressed dismay with the development, said  it was against this backdrop that the commission established a strong assets forfeiture unit that would seize their property leaving those arrested with no money to spend.
Lamorde said: "Unfortunately, these are people who have the resources to drag these cases indefinitely and perpetually. That is why we have established a very strong assets forfeiture unit.
"The first thing we do now is that we try to recover and confiscate the assets of individuals that we are investigating because it is only when you deprive them of their resources that you will be able to force them to stand trial. Once they have access to their resources and assets, they will use it to continue to delay and drag some of these trials."
Senate queries N500m spent on cases
Meanwhile, the Senate Committee Chairman, Senator Victor Lar, Plateau South having x-rayed the 2013 budget and what has been spent this year, however queried why the EFCC had to spend N500 million to prosecute cases, just as Lamorde was asked to go and return today with receipts of how the money was spent.
Speaking further, the EFCC boss who noted that the commission recorded no less than 200 convictions this year alone, however, admitted that most of the convicts were advance fee fraudsters, adding: "The truth is no case has been concluded. I don't think it is correct to say that whether the charges framed are not properly done or the prosecution is not putting the case properly. Of course the fact on ground is that no case has been concluded."
In fact it will be working with us to say you have concluded the case, the man is discharged and acquitted but the man is discharged or whatever it is but what we have is that the trial is on-going.
"We have example of a case we charged to court in 2006; for this very case, we have gone to the Supreme Court twice on just interlocutory applications. They will file this, the judge will overrule them, they will go to Court of Appeal and lose there, but they will still go to the Supreme Court. At Supreme Court when they lose, they will be asked to go to the trial judge for the case to continue.
"They will come with another application and certainly for lawyers among us we know how long it takes for a trial to go to Court of Appeal and get listed, then go to the Supreme Court get it listed and decided upon. This is the fate of most of the cases we have in court.
"This year alone we recorded over two hundred convictions in various courts across the country but they are mostly advance fee fraud, we have the yahoo yahoo, we have the commercial cases, we have the executives of financial institutions that are involved in currency trafficking. The cases that most people are interested in its conclusion are those before the Supreme Court.
"It is important to note that for 2013, we requested for N6,514,525,127 for personnel cost and only N5,804,294,192 was appropriated by the Budget office of the federation leaving a short fall of N710,230,935 due to this short fall, the commission would not be able to meet its personnel cost fully in 2013."
According to him, 85 percent of the commission's allocation had been released by the Ministry of Finance, just as he stressed that only 1.5billion representing 15 percent of the appropriation was still outstanding and may be released before the end of the year. Only 57 percent of capital projects was realized in the year 2012, personnel cost 97.68 percent, 92.02 percent overhead cost."
In a related development, Chairman of the Senate Committee on Navy,  Senator Chris Anyanwu yesterday said that crude oil theft in the Niger Delta was a hemorrhage on the nation's economy.
Speaking yesterday when the Chief of Naval Staff, Vice Admiral Dele Joseph Ezeoba led Naval top brass to defend the 2013 budget, Senator Anyanwu said, "On the issue of oil theft,Nigeriahas never had it this bad. It's unprecedented. There's a hemorrhage on the country's projected revenue and I believe the Navy can do very well if they are supported."