*Tough sanctions await implicated monarchs, phone operators, landlords
By Emma Amaize
BEFORE the Delta State House of Assembly passed afresh, on Wednesday, November 7, the Bill stipulating death sentence for terrorists and kidnappers, Governor Emmanuel Uduaghan had come under pressure to sign the Bill into law.
The pressure has burgeoned since then because of the significance of the legislation, christened, "A Bill for a Law to Prohibit Terrorism, Kidnapping, Cultism and the Use of Bombs and Other Explosives and for Other Matters Connected Thereto", to the well-being of the people of the state, who literally die every day, as they drive and move about.
Uduaghan declined to give his assent when the House passed a similar Bill between 2010 and 2011 on the grounds that death sentence has never staved off the perpetuation of capital crimes since it was introduced in the statute books, and, this time around, his utterances and body language do not point to the contrary.
Observers, who thought that the governor would have modified his position between then and now, are taken aback by his doctrinaire position, given the bloody escapades of kidnappers in Delta.
Wishful thinking
In fact, earlier in the year, when the Chair of the Police Service Commission, PSC, Mr. Parry Osayande, visited the state, the Deputy Governor, Prof Amos Utuama, SAN, who played host to him on behalf of Uduaghan at Government House, Asaba, hinted that the Bill might be signed into law.
His words, "We are challenging the police by the passage of a law to amend our Criminal Code in relation to kidnapping.
"Very soon, His Excellency, the governor, will assent to the Bill and it will be a criminal offence carrying death penalty for anybody to attempt or even kidnap another. This is a very big challenge to all of those who are enforcers of law because we must stamp out kidnapping in any form, in any shape, in order to a have a very peaceful Delta State".
Uduaghan unwavering
Uduaghan, however, maintains that his not supporting death penalty was because it has never stopped any crime. He believes that death sentence makes the criminals more desperate.
Oshiomhole differs
While he is dragging his feet, his Edo State colleague, Comrade Adams Oshiomhole, in a meeting with the Christian Association of Nigeria, CAN, and Edo North traditional rulers at the Government House, Benin City, in June, last year,  said, "I am proposing an amendment to the House of Assembly to impose the death penalty on those convicted for kidnapping."
The governor said the offence of kidnapping was as serious as that of armed robbery, adding that the instruments of armed robbery are present in every act of kidnapping.
What the law says
Besides death sentence for kidnappers and terrorists, a traditional ruler in the state in whose domain, hostages are held to his knowledge will be deposed or his kingship withdrawn, under the radical Bill.
Also, a telecommunications company, which refuses to make available to security agencies, within 24 hours of request, information on the communication made by a suspected kidnapper or terrorist, will pay a fine of N20 million for every request not granted.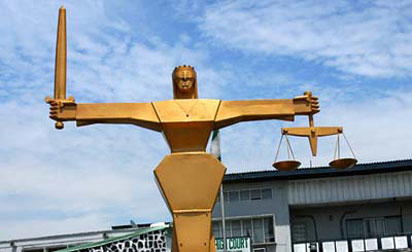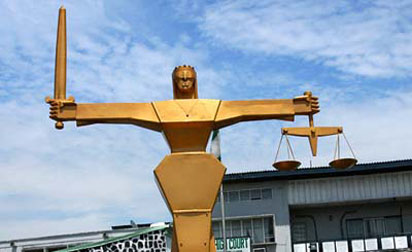 Other highlights of the Bill are that the governor, or his authorized representative, shall have power to sign an order authorizing the sealing up of premises used to harbor persons kidnapped or held hostage, with or without the demand of ransom.
The Bill states that the sealing of the premises shall remain in place until a competent court decides on the forfeiture.
It is an offence under the Act, for a person, who, not being a member of the armed forces, unlawfully receives or has in his possession bombs and other explosives with intent to cause harm. Such a person is liable, on conviction, to 14 years imprisonment. The same goes for those that manufacture the explosives.
It also forbids a person or group of persons from threatening the life of anybody through letters, phone calls or other electronic methods and gadgets, as any person found guilty is liable, upon conviction, to 14 years imprisonment.
For a person in authority who receives information on operations of kidnappers and terrorists and fails to take proper action, he is liable on conviction to three years imprisonment.
Community ruling organs, including executives of town, trust members and youth leaders, in whose domain people are held hostage with their knowledge, are liable on conviction to be jailed for five years without option of fine.
Besides, those who aid and assist kidnappers to escape will face 21 years imprisonment on conviction.
The governor's grouse is the death sentence for offenders, not the intent of the Bill, but not many share his opinion on the matter. However, he has some supporters.
Intriguing support
Fascinatingly, Warri-based human rights group, Forum for Justice and Human Rights Defence, FJHD, is completely behind Uduaghan. National Coordinator of the group, Oghenejabor Ikimi, told Sunday Vanguard, "We, members of the Forum for Justice and Human Rights Defence, wish to begin a campaign for the total eradication of the death penalty from our statute books nationwide".
"And to this end, all our state coordinators have been enjoined to mobilise their members to
attend the House of Representatives constitutional review process in their various constituencies to press for the abolishment of the death sentence from our laws.
"It is on record that the death penalty as a mode of punishment for capital offences nationwide has not in any way reduced violent crimes in our society as the population of perpetrators of violent crimes are increasing and are even getting more and more desperate, daring and violent as opposed to climes that have abolished death penalties as a mode of punishment.
" We make bold to say that even with the Armed Robbery & Firearm Act,  which was first promulgated as a Decree in the early 70s by the General Yakubu Gowon administration which said Act prescribed death sentences for persons convicted of Armed Robbery, did not reduce armed robbery,  despite the execution of hundreds of persons convicted for the said offence since its inception".
Law serves as a deterrent – Olorogun Gbagi
However, armies of citizens, including criminologists, ex-militants and clergymen, who believe that the law is the best in recent history by the House of Assembly, have pooh-poohed the anti-death penalty campaigners.
They called on Uduaghan to jettison his opposition to death penalty and sign into law without further delay the Delta State Anti-Kidnapping/Terrorism Bill.
Throwing his weight behind the lawmakers, former Minister of State for Education, industrialist and criminologist, Olorogun Kenneth Gbagi, said: "Law is not necessarily borne for evil, it is put in place as a deterrent, to warn on the consequences of an act.
"That is exactly what the Anti-Kidnapping, Terrorism, Cultism, Use of Bombs and Explosives and Other Matters Thereto, recently passed by the House of Assembly, seeks to achieve. As it is, it will deter criminals and would-be criminals from carrying out activities that are heinous in nature.
"Where a man goes to rape a 90-year-old woman or a five-year-old girl or kidnaps a fellow human being, brutalizes and subjects her to indignities and, in many cases, that we have seen, kill the person in the process, are you saying that it is wrong to stipulate a death sentence?.
Gbagi urged Uduaghan to sign the bill into law and he  would be surprised at the drastic manner kidnapping will reduce in Delta, saying majority of those in the business were hiding under the cover that it was not punishable by death to abduct persons.
I do not know about human rights for kidnappers/terrorists – Abufua
Another criminologist, who also supported death penalty, Dr. John Abufua, said, "It is wrong to bring the issue of human rights into criminal offences and this is what most human rights activists are doing. Is the person who is kidnapped not entitled to human rights? How can you be talking about human rights for a person that kidnapped a fellow human being and even killed him or other persons in the process?"
Poser
"Let me ask a simple question. Delta State Commissioner for Higher Education, Prof Hope Eghagha was kidnapped on September 29 along Abraka/Agbor expressway by kidnappers, who shot dead his police orderly and injured his driver and  released about 16 days after. Nobody knows what the kidnappers collected at ransom. At least, neither the commissioner nor the police have told us what exactly transpired,   but that is not the issue now. The question is if these kidnappers are caught, tomorrow, are you saying that because of human rights, the governor should not sign into law a Bill prescribing death sentence for them?
"Why should they be sentenced to life imprisonment after killing a policeman, shooting and injuring the driver to the commissioner and depriving the commissioner of his rights for 16 days?"
Ex-militants stand
Ex-militants under the aegis of the Niger-Delta Liberation Force, NDLF, urged the governor to sign the Bill into law..
The group's spokesperson, "Captain" Mark Anthony, said: "It (Anti-Kidnapping/Terrorism Bill) has to be speedily signed into law to curb the high menace of terrorism/kidnapping in the nation, particularly kidnapping in Delta State."
He said the group had offered, some few months ago, when the situation was getting out of hand in the state, to assist the state government to with its sharp shooters to fight kidnappers and terrorists, but it received no response.
Kidnappers should die- Rev Akhineme
Edo State – based pastor of Eagles' Faith Church, Benin –City, Rev Emmanuel Akhineme, told Sunday Vanguard that he had been following the debate on the anti-kidnapping/terrorism bill adding, "In my opinion, it is a menace that needs to be looked into by the government. Just as armed robbery is considered a punishable offence, so also is kidnapping."
"Kidnapping is human theft for moneymaking, which is an offence in the Holy Bible. Any one caught in such a battered act should be put to death… Exodus 21: 16. Most of the time, some of the victims are not alive to tell their story after extorting money from the victims' family. A criminal act requires capital punishment to curb; it is considered a new venture for both young and middle age men," Akhineme said.
"Take a look at this story of the 20 year old girl, who was kidnapped by her boyfriend, both students of Federal Polythenic, Auchi, Edo State. She was taken to an uncompleted building in Benin City and raped to death by three members of the gang.
"The victim was buried and the kidnappers, in turn, began to demand for ransom of N1 million from the family. What will you say to that? That young woman would have been a senator or doctor tomorrow, but she met her premature death in the hands of kidnappers. Should such persons be allowed to live, while the girl is in the grave.
"From the scriptures, kidnapping started in the Old Testament. There was the case of Joseph and his brothers, who sold him into slavery. After that act, God Almighty enacted a law that anyone caught in human stealing for money should be put to death in order to remove evil from the land.
It is a devilish act, both on the side of God and man( Exodus 21: 16; Deuteronomy,  24: 7)"
The pastor added: "When a people refuse to act on the law to check the menace of these evil persons, they are sharing in their sins. Government must eradicate this evil. God is the one who has put it there. There is no government anywhere that God has not placed in power, so those who refused to obey the laws of the land, including the mighty and the low, are refusing to obey God.
"When a government enacts a decree, it is backed by God. When a citizen of a nation disobeys the rule of law, he or she disobeys the authority of heaven and must face the music. I counsel our leaders to do everything possible to curb this evil in our land and among our people."