By Azuka Onwuka
With the recent publication of my first novel, Wings of the Night, on the Amazon website, I developed more interest in the Amazon Best Sellers Rank, an automated system that ranks every book sold through the website according to the volume of sale.
I wanted to see how my novel ranked against other great African books. Wings of the Night was ranked 1,130,256 initially. The next week it ranked 363,980. A few days later, it was ranked 104,273. I found that impressive when I discovered that some recent award-winning novels by some Nigerians were ranked over 800,000.
With that, I sought to know what Chinua Achebe's Things Fall Apart was ranked. I saw that it was ranked 207 and had over 600 reviews. That was impressive, given that it was a novel written 54 years ago, though it was only published on Amazon in 1994. That made me to seek the ranking of the books of other great African writers.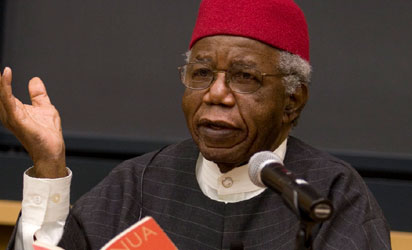 I checked the works of the four African winners of the Nobel Prize for Literature – Wole Soyinka (1986 – Nigeria); Naguib Mahfouz (1988 – Egypt); Nadine Godimer (1991 -South Africa); and John Maxwell Coetzee (2003 – South Africa). I checked the works of notable African writers like Ngugi wa Thiong'o, author of Weep Not Child; Ayi Kwei Amah, author of The Beautyful Ones Are not Born; Peter Abrahams, author of the Mine Boy; and younger award-winning writers like Chimamanda Ngozi Adichie, the author of  Purple Hibiscus, and Ben Okri, the author of The Famished Road.
One thing was clear. The second-highest ranked African author on the Amazon Best Sellers Rank stood around 4,000th position. And this was before the controversy over Achebe's most recent book, There Was a Country; so the interest in Things Fall Apart was not helped by the buzz from his latest work.
Talking about Things Fall Apart, Wikipedia, the online encyclopaedia, wrote: "Selling over 8 million copies around the world, it has been translated into 50 languages, making Achebe the most translated African writer of all time."
Why should Achebe's novel elicit this amount of interest from both Africans and non-Africans? Different people will give different reasons for this, some out of love, some out of jealousy. But whatever the reason, his books sure make a thoroughly exciting read. Yet, I have a grouse against him.
Whether by coincidence or by whatever reason, I see some similarities between Achebe and me. He rebelled against studying medicine and changed to English, history and theology; I rebelled against studying medicine and studied English. We are both from Anambra State and our towns share similar cultures, folktales and proverbs.
Rather than this being an advantage, I have discovered that it is a disadvantage because there are so many common proverbs and traditions that I cannot use in my creative writing for fear of being accused of plagiarizing Achebe. Meanwhile, such sayings like "proverbs are the palm oil with which words are eaten" and "the toad does not jump about in broad daylight in vain" are common Igbo sayings that Achebe, being an early bird in literary writing, translated poignantly to English and they now look like his property. So novelists with similar background will have to work extra hard to find proverbs or sayings to use in their stories that Achebe has not used. And that is not an easy task.
We also share the same university: the University of Nigeria, Nsukka. Even though he did not study there, he taught there. And even if he did not teach me, he taught the lecturers who taught me.
That is not where my links with Achebe ends. He worked as a journalist (a broadcaster) earlier in life. I also worked as a journalist (earlier in life) and still work partially as a journalist: a columnist.
Now hear this: Achebe shares the same year of birth with my father: 1930. So I never forget how old Achebe is. That may also be because just like my year of birth, his year of birth ends with a zero. Since my childhood, figures ending with zeros have been the easiest for me to calculate. In addition, he shares the same birthday with my younger sister Ebele: November 16. So I never forget his birthday.
And finally, just like Achebe, even though Things Fall Apart is his most popular novel, his novel that I find most engaging and compact is Arrow of God. Achebe said that if he would ever be caught reading any of his novels again, it would be Arrow of God.
Given that Achebe published his first novel and magnum opus Things Fall Apart in 1958, it means that he has been writing for 54 years. Even though he has written poems, essays, non-fiction, Achebe's fame springs from his novels. His novels are Things Fall Apart, Arrow of God, No Longer at Ease, A Man of the People, and Anthills of the Savannah. Five novels in all.
Can you now see my grouse against Achebe? Given the depth of love people like us have for his writing, especially his novels, the number of novels he has never quenches our thirst. Some would argue that it is good he wrote only when he was inspired by the Muse. But I disagree. I know Achebe. Achebe is a master storyteller. Any story he tells would be a good read. And there are a lot of stories from Nigeria to tell.