Chief Olusola Dada, an Economist, a qualified Stock broker, attended University of Ibadan and graduated in 1970. He did his MBA at  the University of Lagos in 1975. He is a native of Ayede local government of Ekiti State.
He was born in Osogbo local government area of Osun State, where his parents settled. His late father, Chief Moses Dada was a carpenter, his late mother Mrs Juliana Adeoti Dada  was a teacher who later became a trader when she tied the knot with her husband.
His father helped in building many houses in Oshogbo. Chief Olusola Dada was born on June 6, 1941.
Challenges of life
I found myself in a situation where  my parents were unable to pay my school fees.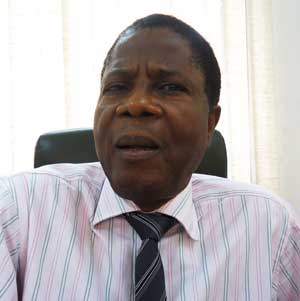 Although both of them loved education, their financial contraint  was deep . But, I was optmistic. I tried hard to  secure a scholarship into Federal Government Colleges including King's College but I was not lucky. As well, I could't graduate with my mates in the primary school.
Other challenges came when my parents had to integrate  me into our State of origin in Ayede area of Ekiti State. I grew up in Oshogbo, Osun state. I never knew I was not from Oshogbo until 18 years when my father's relations revealed that to me .
So, intergrating me back to my hometown was a challenge. Right now, I find it difficult to speak the local dialect of  Ekiti because I didn't grow up there and my parents never spoke to me in that dialect.
Notwithstanding, I was absorbed into my parents' hometown. As  the only child, I was highly accepted and respected to the extent that I took the challenge of championing  the development of Ayede especially when I was in the Federal Civil Service. I try to use every opportunity at my disposal to help my people. All my cousins, nephews, nieces were always around me. We grew up together under the same roof. I grew up in an environment where I was loved by my parents' relations.
I started going to Ayede when I was in  college.  And I used to go there  during Christian festivals. My uncle who was my father's younger brother was always looking forward to receiving me. I was loved by everybody including the girls and many of them always wanted me around them.
So, picking up a close friend among them was not difficult. And I was always looking forward to going home. They gave me a decription which was "behold the boy from a big village". So, at the time I was wearing shoes, my friends were not. So, they always admired  me.
So, what happened when your parents couldn't pay your school fees?
Ordinarily, there shouldn't be any reason why my parents would  not be able to pay my school fees but my father found it difficult because of his generosity. As a carpenter, he was busy working without having any monetary rewards for his labour.
He couldn't collect money from the people he worked for and if he was going to collect at all, he would  still under- charge them at his own detriment. Otherwise, he would have been a rich man and lived in his affluence. But, he was loved by his people. I liked  him for his kind gestures but the truth is that life is not always like that.
You must always put yourself into consideration and that is what I have learnt from him. I am always ready to assist people but not at my detriment and God has always been on my side.  I look younger than my age because I don't allow anything to bother me.
The challenges of starting your  own business
The money I raised as a teacher was only sufficient for me to pay my university fees for one year. So, the remaining years were difficult but God paved way for me. I got a scholarship before I finished my first year.
I left the University when the civil war in Nigeria was about to come  to an end in 1970. There was no job available for graduates and so many of us picked up the teaching profession again. I taught for another one year between 1970 and 1971.
And at that time, I was planning to travel abroad for my Masters degree in 1971 because I was able to secure admission into an Amercian University.  I had another opportunity at the Federal Civil Service where I was shortlisted for an interview but I forfeited the American School because I wasn't financially bouyant.
During that time, my wife's father had  stroke which kept him in bed for ten years. She is the first child of thirteen children. That was why I decided to take up  employment at the Federal Civil Service .
The decision to do that was very challenging but I thank God that I made the right decision. If not, maybe I wouldn't be a successful man in life. And I would have ended up being a University teacher.
God is always on my side to make the right choice. Even in the Federal Civil Service, I made the choice of becoming an administrative officer. As an economist, I was posted to the Exchange Control Department in Ministry of Finance that was relevant to my profession.
The secret of my success came through faithfulness and hardwork such that I built a name for myself. What I  lost in terms of financial benefits, I gained through friendship . And when I crossed into the private sector, I was able to integrate that exposure in my business.
Life as a child
I was born 71 years ago and I started my secondary school education in 1947, seven years after my birth. Before anyone would be admitted in the primary school then, he  would be asked to put his hand across the head to touch the other side his or her ear. But my father used his influence in the Anglican church where he served to push my course. Even though, my hand didn't reach the other ear, I was  admitted.
In those days, the first two years would be spent in the pre-school before moving to what was called standard education where the child would have to spend another six years. But I repeated a class because I was ill for some months and I couldn't go to school and that was a major setback  in my education.
I had to repeat a class but that experience made me a better person. If not, I would have been an average person by now.  My parents were dedicated in the works of God. They advised me to take up the teaching profession and I went to teacher's college. I was qualified as a trained teacher.
After my degree, I taught for one year at a town called Agbowa Ikosi area of Ikorodu in Lagos State  before I was employed into the Federal Service Civil where I became an Administrative Officer.
As an Economist, I was posted to the Federal Ministry of Finance and that was where I started my civil service career until I rose to the  position of Director. From there, I moved to the private sector.
I was appointed an Executive Director in the then, Bank PHB which has been transformed to Sterling Bank as an executive Director in Investment Banking and there, I developed interest in what I am doing today.
I was trained as an authorised dealing clerk on the floor of the Nigerian Stock Exchange and in 1994, I got the license as an authorised dealer on the floor of the exchange under the name Anchoria Investment and Securities Limited which is the company I am running today.
I have traveled to  all the parts of the world and there is hardly any country I have not traveled to in the course of my career.
Subscribe for latest Videos