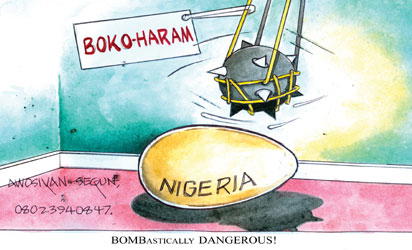 By  Our Reporters
LAGOS—The Federal Government said, yesterday, that it will not negotiate with Islamic sect, Boko Haram under conditions, even as mixed reactions have trailed the declaration by the sect of its readiness for dialogue to end series of suicide bomb attacks in many parts of the north.
While some urged government to go ahead with the dialogue, others cautioned against the idea saying it would be counter-productive. However, the Presidency said it would discuss with the group without preconditions as  demanded by the sect.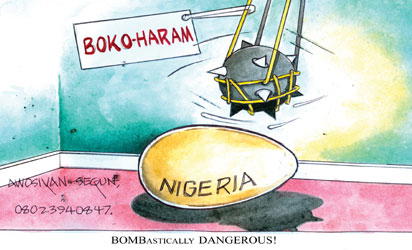 This came as the group denied killing General Mohammed Shuwa and others who were killed in Maiduguri, weekend.
Among those who okayed dialogue with Boko Haram are House of Representatives Speaker, Hon Aminu Tambuwal; Second Republic Governor of old Kaduna State, Alhaji Balarabe Musa; Member of the House of Representatives, Mr. Daniel Reyenieju; Arewa Youths and Founder of the Oodua Peoples Congress, OPC, Dr. Frederick Fasehun, who however, cautioned President Goodluck Jonathan against involving former Military Head of State and Presidential candidate of the Congress for Progressive Change (CPC), General Buhari in the negotiation.
Those opposed to the move include Second Republic Governor of Plateau State, Chief Solomon Lar and National Leader of National Action Council, NAC, Dr Olopade Agoro.
We've had enough of bloodshed – Tambuwal
Speaking with newsmen at the funeral ceremony of father-in-law of the member representing Esan North East/Esan South East of Edo State, Mr Fridai Itulah, at Uromi, Speaker Tambuwal said government should not hesitate to go for the talks, if that would bring peace.
Said Tambuwal, who insisted that the outcome of the constitutional review by the National Assembly would not be subjected to a referendum, because a referendum is unconstitutional: "I will encourage our leadership to engage the leaders of the sect (Boko Haram) in the dialogue; if that will bring peace, we should go for it.
We have had more than enough bloodshed of innocent Nigerians and government should do everything possible, including dialogue with Boko Haram, to bring this to an end."
He said the decision of the leadership of Congress for Progressive Change to reject proposal by Boko Haram appointing its presidential candidate in the last election, General Muhammadu Buhari, as  the sect's representative in the proposed dialogue with the Federal Government, should be that of the retired Army General and not the party.
It's wrong to talk with faceless people – Lar
However, pioneer National Chairman of the ruling People's Democratic Party (PDP), Chief Solomon Lar, opposed the move, saying it was wrong to negotiate with a violent group, whose leaders are still anonymous
Fielding questions from reporters in Kaduna, Lar said: "I disagree completely to dialogue with Boko Haram, unless they show their identity that Mr. X, Y, Z is Boko Haram and this is his rank. For them to name some people to be their representatives, who are they? They are faceless people, let them come out and reveal their identity. It is not enough for the sect members to nominate some people to negotiate on their behalf . Let us know who is who among them. Let  them come out in the open and identify themselves rather than being faceless.
"Again, has  Mohammadu Buhari , Alhaji Ali Mungonu and others nominated by the sect members agreed to represent them in the dialogue with the Federal Government?
"During the Niger Delta militantancy, some people came out and said they were the leaders of the militants. That was very reasonable and that was how the late President Musa Yar'Adua was able to tackle the problem of militancy in the Niger Delta. The Niger Delta militants were not faceless like Boko Haram. Why didn't Boko Haram follow the example of the militants by showing their faces?"
We didn't kill General Shuwa – Boko Haram
However,  Boko Haram  has denied the killings of Major-General Mamman Shuwa (rtd) and other politicians and elders in Borno State, saying it had no hands in the alleged assassinations in Maiduguri, the Borno State capital.
The denials were made, yesterday, in a tele-conference by the sect'sacclaimed spokesman, Abu Mohammed Abdulaziz with newsmen in Maiduguri.
He said: "People are saying that we have hands in the killing of Major General Shuwa. We don't have any problem with this elder statesman. He is a responsible person and he had not said anything wrong against Boko Haram Sect.
This is why I am stating clearly that we have no hands in the killing of this man. The same also applies to the killings of Mustapha Flawama, an associate of Senator Modu Ali Sheriff; and other politicians and elders recently in the state."
Abdulaziz also warned those who allegedly spread the rumours that the Boko Haram sect killed Gen. Mamman Shuwa last Friday at his Gwange residence in Maiduguri.
He reiterated that the six personalities appointed by the Boko Haram to mediate with the Federal Government still stands, insisting that "these are the elder statesmen and personalities that we trust and will become witnesses, in case of any betrayals on the part of government at the state and federal levels."
He listed the mediators to include Dr Shettima Ali Monguno, Maj-Gen. Muhammadu Buhari, Shiekh Ibrahim Yusuf, Shiekh Ibrahim Salisu, Mamman Nur, Shiekh Abu Abass and himself (Abdulaziz).
Govt to negotiate without preconditions – Presidency
If the Boko Haram sect is genuinely ready for dialogue to end the spate of suicide bomb attacks in many parts of Northern Nigeria, the Federal Government will oblige the group but not with unjust preconditions.
According to Special Adviser to President Goodluck Jonathan on Inter-Party Affairs, Senator Ben Obi, Boko Haram's demand for the release of their detained members as a precondition for the negotiation is not proper.
Obi, who spoke, weekend, after an award ceremony organised by the Association of Anambra State Development Unions (AASDU) for distinguished Anambra citizens in Apapa, Lagos, said the government had been calling for dialogue and would engage Boko Haram in dialogue if the group was serious about it.
"We have been calling for dialogue. In a situation where you have uprising there is need to jaw-jaw. I think if they are truly and seriously interested in picking dialogue, we should engage them in dialogue."
Asked if the government would meet some of Boko Haram's precondition for dialogue like releasing all their members being held in detention, he said: "You don't place conditions before security agencies. If a man is a criminal and has been arrested for criminality you don't tell people to release him, it is not their duty. You go to court and let the court release him. But they want to engage in dialogue, yes they should be engaged in dialogue not with any precondition."
Don't involve Buhari in mediation – Fasehun
Welcoming the move, OPC Founder, Dr Fredrick Fasehun, however, cautioned President Jonathan against involving Buhari in the negotiation.
Fielding questions from newsmen in Ile-Ife, Osun State during the maiden edition of Ooni of Ife, Oba Okunade Sijuwade annual lecture series organized by the Ife Business School in honour of the Ooni, Fasehun stressed that Buhari could not negotiate on behalf of Nigerians or the Federal Government because the personality of Buhari in the negotiating team would further aggravate the problem in the country.
He said Buhari could not represent the interest of the government and Nigerians well in the committee as he has a grouse with the Federal Government over his defeat by President Goodluck Jonathan in the 2011 presidential election. He opined that the dialogue between the federal government and the sect, if achieved, would bring about peace in the country.
It's condemnable arm-twist —Agoro
On his part, Dr Olopade Agoro picked holes in the sect asking the Federal Government for a peace parley in Saudi Arabia.
His words: "Mention must be made of the fact that Boko Haram insurgents have continued waging deadly war against Nigeria in the past two years with loss of well over 2000 innocent lives of Muslims, Christians and the uncommitted; thousands more badly injured and or incapacitated and with loss of valuables worth billions of Naira.
"The most pertinent questions therefore to be asked at this stage are: Why was Saudi Arabia the suggested venue and all those mentioned as mediators being Muslims?
Dialogue is necessary – Balarabe Musa
Also speaking, Alhaji Balarabe Musa said a dialogue with the sect would help to solve the problem. He said: "The thing is this, let the dialogue take place so that we can know who the Boko Haram really are and also know what they stand for. Before now, we don't know anything. We know that there is Boko Haram and that it is an Islamic sect but there is no proof of it. The dialogue will prove that there is an organisation that is aggrieved and that will be a step towards solving the problem. So, the dialogue is absolutely necessary. At the moment now, we have seen unnecessary killings, we don't know who actually is responsible for that, we don't know their objectives or grievances. It is a dialogue that will enable us know how to tackle it."
It's a welcome devt— Arewa Youths
Concurring, The Arewa Youth Consultative Forum, AYCF described the move as a step in the right direction.
National President of the group, Alhaji Yerima Shetimma said "it is welcome development if only the Federal Government has the political will. We have been calling on government to arrest the former governor of Borno State, since the group was formed."
Dialogue is necessary– Reyenieju
In like manner, Rep Reyenieju urged the government to explore the 'dialogue option'  irrespective of the reservations expressed in certain quarters. He said it would amount to act of courage and statesmanship for Mr. President to go for dialogue, adding that wars that were won through dialogue always result into lasting peace.