As the controversy created by Chinua Achebe's new book, "THERE WAS A COUNTRY", rages, social critic and poet, Odia Ofeimun – who has been thrown in the eye of the storm because of his first reaction which sought to exonerate Pa Obafemi Awolowo, who served as Vice Chairman to the ruling body of the Nigerian government and whom Achebe accused of war crimes because of the Nigerian government's war-time policy which allegedly led to the starving of Igbos – presents in this piece never-before-revealed perspectives. This is the first part.
The most comprehensive and almost cover-all organization of the documents of the Nigerian Civil War remains AHM Kirk-Greene's CRISIS AND CONFLICT IN NIGERIA, A Documentary Sourcebook 1966-1970 Volume 1, and Volume 2, published by Oxford University Press London, New York and Ibadan in 1971. Volume One, according to the blurb, "describes the prelude to the war and the succession of coups from that of 15 January1966 which initially brought a military regime to power in Nigeria".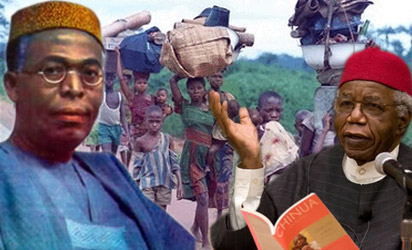 The volume takes the story up to July 1967 when the war began. Volume Two covers July 1967 to January 1970, that is, between the beginning of hostilities, and when, as testified by the last entry in the volume, General Yakubu Gowon made a Victory broadcast, The Dawn of National Reconciliation,  on January 15, 1970. No other collection of civil war documents, to my knowledge, exists that compares with these two volumes. And none, as far as I know, has attempted to update or complement the publications so as to include or make public, other documents that are absent from Kirk-Greene's yeoman's job. Yet, as my title pointedly insists, there have been some truly 'forgotten' documents of the Nigerian Civil War which ought to be added and without which much of the history being narrated will continue to suffer gaps that empower enormous misinterpretations, if not falsehoods.
In my view, the most forgotten documents of the Nigerian civil war, which deserved to be, but were not included in the original compilation by Kirk-Greene – are two. The first is the much talked-about, but never seen, Ifeajuna Manuscript. It was written by Major Emmanuel Ifeajuna, the leader of the January 15 1966 Coup that opened the floodgates to other untoward events leading to the civil war. The author poured it all down in the "white hot heat" of the first few weeks after the failed adventure that ushered in the era of military regimes in Nigeria's history. Not, as many would have wished, the story of how the five majors carried out the coup. It is more of an apologia, a statement of why they carried out the coup, and what they meant to achieve by it. It is still unpublished so many decades after it was written. The Manuscript had begun to circulate, very early, in what may now be seen as samizdat editions.
Read the full text of Ofeimun's piece in tomorrow's edition of Sunday Vanguard (28 Oct. 2012)