By Hugo Odiogor, Foreign Affairs Editor
…Monarch cries: We are Nigeria's sacrificial lamb
The Etiyen of Bakassi, Dr. Etim Okon Edet, is not only the paramount ruler of Bakassi but also the Chairman of Cross River State Council of Chiefs. A product of the University of Calabar where he studied political science, the traditional ruler  was forced out of his  palace in Atabong by the intrigues of concession of his land, which is part of Efik Kingdom, to Cameroon by the Federal Government based on the war time policy of appeasement entered into by Gen. Yakubu Gowon and the late Alhaji Ahmoudu Ahiidjo of Cameroon and Sealed by Gen. Olusegun Obasanjo and Mr. Koffi Ananah, who accepted the ICJ verdict and rushed into implementation of the verdict with the endorsement of the controversial Green Tree Agreement.
Five days to the dead-line of October  9, 2012 to appeal for the review of the ICJ judgment, the Federal Government moved to do the needful on Thursday when it raised a panel to  look into the possibility of the review. In this interview, Edet tells Sunday Vanguard that those who ceded Bakassi and threw over three hundred thousand people into destitution should face trial for crimes against humanity.
Can you give us an insight into what is happening in Bakassi?
I think we have done quite a lot on the Bakassi issue, right from the onset of the judgment.  We have condemned the judgment. I don't know what we should do and where should go from here. We are approaching the final day of the decision and the country is  not doing anything.
What I want to say is that Nigeria should release us, Bakassi, technically, is included in Nigeria, but it is not in Nigeria. People say, technically, that it is included in Nigeria because we are listed as a  local government in Nigeria, so,  any action we want to take now would be mean a violation of the constitution of Nigeria.
But, for sure, I, as the  paramount ruler of Bakassi land that is in existence in this planet earth, we would take back our land. Just as the nation of Israel went back to their land in a miraculous way, I am so convinced that, with or without an appeal to the ICJ, there is another court that is beyond us all, we are all awaiting the judgment of that court.
So, Nigeria should be kind enough to release us. Some people went to the National Assembly to say that Bakassi is not part of Nigeria and therefore it should be deleted from the constitution. I support that call. We now know that we are not legally in Nigeria. We want to be free to confront whoever handed us illegally to anybody unknown to us. We will confront them and then we will be free to do so.
May be at that point, the entire world would then look at us as a crazy people. I don't want a situation where by  any cobweb is still moving around us and nobody cares to say anything. But we are assuring everybody that the Bakassi issue is going to be a serious case study of injustice done to people on this earth, and it is going to affect  those who are pretending now as if the matter does not concern them.
When you don't want to do something, He (God) does it in a very wonderful and miraculous way. God cannot begin a project that He cannot end. God created us and put  us where we are just like all of us.
For instance, if you were born in Maidugri, Borno  State, perhaps you would have been a Muslim; not by our choice, not by our making but God wanted us to be there (Bakassi). We are here and we are Christians because that is where we came to be. So God placed us there, gave us the land, named  all those areas, the trees, the villages, the shrines, the food, etc,  and, after several years,  people are coming to make adjustments, people are beginning to be displaced from what God originally made it to be. So God will not start a project, and leave it like that. He has to complete it.
So, I'm assuring, from the bottom of my heart, that we are taking back our Bakassi, I'm not worried. I don't know the year, I don't know the method, but I'm telling our people that we are going to get our land back, we will pray to the Almighty.
Whatever the president is doing, or whatever Nigeria is doing, the president should know that he is from the Niger Delta region, the president should know that we voted for him. When the president came, I received him, I campaigned for him,  today he is not listening to what we are saying. God is going to judge.
We are not looking at any man again; we are not looking at the president again. I think in the past years, people have died, people have suffered, nobody is going to school; their schools have been abandoned there.This is a grave injustice to a people that was denied education by the colonial powers, a people who are in a hurry to produce educated people to catch up with their kiths and kins.
How do you react to the claim that the National Assembly does not border about  sovereignty, lives and security of the country?
I am even surprised that after their long vacation, the Bakassi issue, which they  condemned over a period of time, is not seen as a serious issue to deserve their attention. This is a matter they condemned and they said that the treaty had not been domesticated by them.
I personally witnessed two motions, moved in the House of Representatives stopping proceeding and another  asking government to go to the ICJ to ask for a review of the judgment because of the overwhelming  things that they had seen.
In other areas of  the world, such resolutions  will not be taken lightly. So, when they returned from their vacation and the matter was not on the front burner, I felt disappointed. They are talking about something else like moving motion for the printing of new naira notes, moving motion on allowances and other issues. Nobody is talking about Bakassi.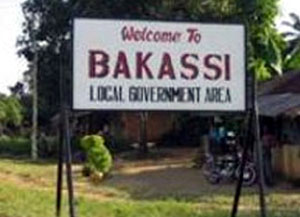 They will see the truth and turn over it, a brother will not help a  brother, such a situation brings anarchy. I am surprised  that a people are even playing politics with this matter, some want  to play safe because of the politics of 2O15, they want to be careful with some national issues.
You will know a leader in times of crisis not when things are smooth. I am talking as a leader of Bakassi; I don't mind whatever it will lead to because I am hurt. Nigerians too should be hurt that a part of this country has been lost. I have never seen a nation giving out a territory instead of extending  their territory.
The National Assembly is not doing well. Why didn't they impeach former President  Obasanjo for breaching the constitution? Why are they talking now? I have received so many visits on Bakassi. They just come around to collect money and play with us. I had to stop some of them from coming to me because I was not ready to receive them. The information they are seeking is all over the internet.
They know that the people of Bakassi went to court  in this country. Judgment was given, injunction was placed that the Green Tree should not be implemented but they went ahead to do it. So, what are we talking about? Where would we get justice?
I am completely disappointed in the National Assembly that they are not using their powers. The  National Assembly cannot fail Jonathan, yet they took an oath to correct many errors, to do justice.
Look at the power project, corrections are being made at all levels. Look at our constitution, reviews are being made and yet they cannot review a judgment that was made. Why can't they make an attempt on the ICJ verdict review and let it be on record?
The Federal Government said if they ask for a review, the world would laugh at them. Do you agree?
You can even see that Gowon is silent on this issue up till today. Obasanjo joined; the two former military leaders have not made any statement about the mistakes they  made.
Like I said, I will continue to pray to God to prolong  their lives to see the end so that they can tell the story. Now, we have heard that Nigeria will be a laughing stock if we  go back  to ask for the review of the judgment by the ICJ. Is it that Bakassi is now made a sacrificial lamb?
They swore an oath to protect the destiny and integrity of this land. They have not done so. But they should understand that the lives of people are involved. Both Gowon and Obasanjo should be tried for war time and peace time atrocities visited on Bakassi land. Our oil and land they have given to Cameroon and made us refugees.
Americans should know that the lives of people are involved. All those who witnessed the signing of the Green Tree Agreement should know that the lives of people are involved and, when you joke with the lives of people, you are joking with God.
If we are the sacrificial lamb for Nigeria to be one, are we not entitled to compensations, are we not entitled to other good things of life? If I am giving out my life for you to be free, I am also entitled to any other thing that you are taking out of my land, but you have not done so. You have not given me another life to live, I am still roving around, and you think it would be well with such people.
When Bakassi people talk about resettlement, what is it that comes to their mind?
We want back our land. At the initial point, we were deceived; we were told that we had to be obedient servants, we had to obey our president. For the president of your country to call you one on one and plead  with you:' There are other implications that you are not aware of now. Please you guys should leave the place, we are going to put you somewhere and almost a similar place that you were before.'
We believed him and we moved. First year, second year, what they did was to go and give account and I told them it was not our kind of resettlement. They thought it was an emergency situation.
We have lived in a particular where most of the people are fisher men, they have waited and they continued to wait, now we know that they are not serious, we know that our president lied to us, lied to me in particular. He called me, held me by the hand, the president of my own country held my hand and we discussed.
I told my people to be calm, but, up till this moment, we don't even need resettlement, we don't need anything called resettlement because we don't know what they are going to do. Like you rightly said that money was given but, up till now, this country has not called on the person who collected the  money. Is getting people to stay in a camp resettlement? You are talking about putting people in camp, these were people who had their own tradition, everything was fine, they did not complain. Now you are coming to build a camp and you want to put them there.
I told Donald Duke (former governor of Cross River State) who started this process that 'if you want to take these people to another populated area; it means that you want to displace  those people who are the original owners who will not allow you to change  their name'. So he compounded the issue.
You mentioned Donald Duke that  was in government. You also mentioned that the president at  that time spoke to you, but why is it that since this problem came up, Cross River State government has kept quiet?
They are playing politics with the lives of people but God himself will visit all those who took part in the Bakassi problem one after the other.
Today nobody is saying  he/she did this and it was done wrongly and that he was sorry and nobody is asking any question which means there was coherence from top to bottom.
If you are a minister and you gave out a job and the job was not properly done and the people are complaining and whatever the decision they write to the minister, he suppresses, the minister that did not take part in it would want to know if  the job was not properly done if at all it was done.
You spoke about the N4 billion set aside for resettlement, well I don't know about that. And let me say it clearly, it is Bakassi today, tomorrow it may be Bekwara, the day after tomorrow it may be Bayelsa. And it would go on like that. When you become a refugee you become an immigrant in your land.
There is nothing we have not done. We have even written to the United Nations General Assembly. The world today is a global village. Going to court is a serious matter and taking judgment is a very serious matter. Nobody can say he is ignorant of the Bakassi problem and that injustice has been done to a community in Nigeria.
Well, maybe the ICJ  was thinking that if justice was done …… or the  area that was given out was a no man's land, whatever they were looking at.  But we never participated in the (civil) war. We never knew what was going on at the ICJ. It was in 2001 that I started hearing about the case in the ICJ because we never took part in it; we were not carried  along.
But I will tell you that our area is not going over to Cameroon. The ICJ has finished their work; the Attorney General of the Federation recently said so to the president and the foreign affairs minister that they are not going back to the  ICJ.
He said they should not revisit the matter. But God will visit all those who are part of this wrong done to us.
Why is the issue of Bakassi only centered on oil and its resources and not the people?
That is the question we should ask the people and the entire world. You know people are just looking at where they can make money even when they steal the money but the money they are already making in Bakassi is blood money. Whoever is making money there now or is trying to make money there in the nearest future is making blood money except the proper thing is done, except justice is done and except the people are no more dying. People are no more interested in the human factor but the oil money. They are looking for blood money.
Nigeria is holding us hostage
We built about three secondary schools in Abana and several primary schools. But these schools are no more there. Each time I attend May 1 Children's Day and October 1 Independence Day celebrations, I kept telling the political leaders that I would not attend the ceremonies again if I don't see the primary schools at Abana and children passing.
The schools are no more, the people are scattered. The people you only see there are the councilors and  chairman without a local government. The largest local government has just five councilors and above all I am the only man standing. Iam just standing on the law. I want that law to be taken away so that I can stand firmly on the ground.
Apart from that law in the constitution, there is nothing else. It just exists by name. But must human beings continue to exist just as names and there is nothing to fall back to on ground?
The allocation given to Bakassi is not a hidden thing. It is on the internet. Bakassi still exists in law and the allocation Bakassi is getting is because of that law. That is why I said the law must be removed for us to be able to conduct issues because we existed before Nigeria, we existed before Cameroon and we existed before the local government.
We have been there before the local government was attached to Bakassi. We were known as the Bakassi people and not Bakassi local government. So why have they refused to leave us alone with their laws and allow us to stand how we used to stand? Cameroon had never entered there before. They know they can never enter there ordinarily. We are riverine people and, in that time, to leave Bakassi for Calabar was a long journey that took days.
Nigeria is saying no going back on the issue, 'Bakassi is gone'. Then let them leave us alone. Nigeria is still keeping Bakassi because of the oil. You say these people are not there but you are using them to collect money and to take their resources. Because Bakassi is still in the constitution, we cannot act but if Nigeria removes Bakassi from the constitution, the Republic of Bakassi cannot be in Nigeria or in Republic of Cameroon.
Bakassi cannot be in Cameroon because the ICJ cannot give the land of Bakassi to Cameroon, because they don't know anything about the land. So we need freedom. We need to be left alone. Nigeria, please leave us alone. You don't need the people but you need their resources. Let them release us. If they release us, Cross River will be willing to release us.
So what is your message for Bakassi people?
The message is that very soon, the problem will be over. We have only a few days to go but God will perform His miracle. He can use one day to change an  event. He would allow you to flourish in your stupidity and ignorance and just like He told that rich man in the Bible that today was the end.
I am assuring all our people that this whole situation will come to an end and  that they should be constant in their prayers that He should do for them just like He did for the children of Israel. Today, Bakassi people are living with enemies surrounding them. So they should pray constantly.