The storm generated by renown novelist, Prof Chinua Achebe, over his claim that war-time Head of State, General Yakubu Gowon, and the late Chief Obafemi Awolowo formulated the policy of genocide against Igbo during the civil war continued, yesterday.
Awolowo's daughter, Dr (Mrs) Tokunbo Awolowo-Dosunmu, said she was disappointed about Achebe's claim.
She also hinted that the Awolowo family may issue a formal response on the controversial claim by the novelist in his latest  memoir on Biafra, 'There was a country'.
But a former governor of Anambra State, Dr Chinwoke Mbadinuju, said whatever Achebe said about the civil war should be taken seriously.
Mbadinuju cited the novelist's antecedents.
Awolowo was the vice chairman of the Federal Executive Council (FEC), equivalent of deputy to Gowon, during the civil war.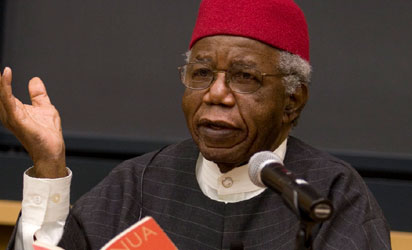 Dr Awolowo-Dosunmu told Sunday Vanguard, yesterday, while responding to the Achebe claim: "One is still trying to come to terms with the sense of disappointment  about the person who wrote what is now  a brewing controversy in the  country.
"While a formal statement responding to the offensive comments of the writer is being prepared by the family all I can say for now is that I feel so disappointed".
But, Mbadinuju, defending Achebe, said: "I have not read the book. I don't want to speculate. During the civil war, I was studying in the United States of America. However, I have absolute confidence in Prof Chinua Achebe. He is an acclaimed international scholar and figure; whatever he says about the civil war should be taken seriously."