By Esther Onyegbula
In order to address the disparity between women and men folks to basic ICT services and transform women through technologically -driven programs that will help them attain self independence and fulfillment, Women in Technology in Nigeria, a non governmental organization run by Martha Omoekpen Alade has decided to make a difference.
Mrs. Alade is an Information and technology graduate of Harvard University. She is currently the Vice President ,  Nigerian Swedish Chamber of Commerce , and President  Women in Technology in Nigeria (WITIN), an organization that is dedicated to the socio-economic empowerment of the Nigerian woman, youth and child.
She has a mission to provide an avenue for the advancement, transformation and development of women, youth and children through the use of technology. Recently Esther Onyegbula, spoke with this woman of purpose and she tells us about why she is focused on economically empowering women to become technologically proficient womae with better participation in the administration of the society.
For the purpose of our readers, can you tell us about Women in Technology in Nigeria (WITIN)?
Women in Technology in Nigeria was established in May 2009 as a result of the skills gap noticed in women empowerment, to address existing  problems like limited access of women to technology so as to help them increase their potentials and input towards national development and better family sustenance. There is no telling of how far they can go in terms of opportunities and achievements especially the marginalized and underserved, when women are empowered.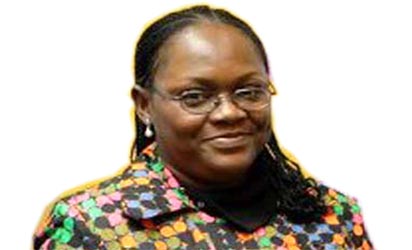 How has the organization been able to do this, are there activities put in place to achieve this vision?
Apart from advocating and  empowerment related policies at the National level, our activities include organizing quiz competitions, career fairs and enlightenment campaigns for secondary schools. We also create awareness to encourage young girls to be technologically savvy and provide training of young women on entrepreneurship and offer basic business skills training for rural women and promotion of their products online.
What recent activities  have your association embarked on and how has it improved the lots of women and girls in the Nigerian society with ICT?
Our association essentially seeks to transform women through technologically driven programs so as to encourage them to attain self independence and fulfillment. We have embarked on diverse programs at different times. The recent ones  include our Round Table Conference.
At this event, WITIN addressed women especially the marginalized and exploited on how to key into global competition, rapid changes, information technology etc to improve their business so as to increase revenue brought to the home-front. Rural women were also taught basic business skills and how to promote their products online and via SMS.
We also provided training on Web 2.0 to enable young women keep abreast with emerging and rapidly evolving web 2.0 all through the year. Young corps members were given the opportunity to be equipped with these tools to help them secure jobs.
The women in the grassroots are not left out as we have the Grassroots Women Empowerment through ICT (GWEIT). This caters for women especially those living in rural and marginalized communities. It provides an opportunity to show case  their products to the elitist community.
GWEIT was designed to provide online presence through the creation of websites for women businesses and to create a business directory for women who have exportable products; from the peasant women to the low  income earners to illiterate business women and entrepreneurs.
Quite a lot of women have been empowered through this project, as their businesses were brought to limelight, their prospective clients could locate their remote businesses online, and they enjoyed increased patronage from the elitist community.
What about the Career Fair, what is it all about?
The Career Fair is a program organized to visit schools and give career talk to students. This we believe will guide their choice of career and open their minds to existing career opportunities especially in the ICT field; to support youths in becoming leaders to venture  into a world of new possibilities and let  their outlook  be defined by personal career goals and talents.
Our presence and career talk achieved significant impact in the students as they were exposed to different careers in this ICT. In the course of the career fair, some of them were worried about "Mathematics" which they perceived as obstacle in ICT, we had to allay their fears and give them strategies on studying the subject and that not all ICT courses required in depth knowledge of Mathematics. This year, we have had two career fairs in two schools.
What do you think is responsible for the great disparity between women and men folks to basic ICT services?
In the real sense, gender issues bordering on ICT have conveyed awareness of the fact that few women have access to ICT services owing to exposure, occupation and others. This is indeed a disadvantage. Seeming factors responsible for these comprise the following:  ignorance of how resourceful ICT could be  to our daily lives and activities, lack of understanding of  the basics of the use of technology like computers, phones and separation of women from their immediate environment, where religious practices have posed a barrier, judging ICT to be extremely theoretical, strictly ordered and uninteresting, and inadequate access to ICT facilities to enhance women getting familiar with its use.
How can this disparity be addressed?
To address this disparity, women should be enlightened on a regular basis on the resourcefulness of ICT. A typical example of this is how giving a woman online presence to promote  patronage of her product could actually boost her income. Providing access to ICT services, through organizing technology -driven programs will help women in disadvantaged groups get exposed to these services.
Also engaging them with the use of these services at every available opportunity will make a huge difference. By tackling this disparity, the women and the society at large will benefit to the fullest.
What are the challenges  repelling young girls from pursuing careers in ICT?
By and large, several reasons are  liable for young girls being repelled from pursuing ICT careers. Some of them include the lack of interest on the part of young ladies to take up careers in ICT, stereotyped and erroneous thoughts of ICT field being for the men folk, lack of support  from female role models in the ICT field and the feeling that  ICT  is extremely abstract, severely structured and monotonous. These factors have also posed a bane to the  development of ICT in this part of the world.
Young ladies and girls should be encouraged to choose careers in the ICT field by mentoring them, giving them positive orientation that could help to allay their fears in every way and also showcasing female ICT models who have distinguished themselves in the field.
Organizing competitions like ICT Quiz contest for girls, publicity given to this contest and the winners can go a long way in stimulating their interest in the ICT field and as result they may well envision themselves as superstars in the ICT field. These can promote ICT to a large extent and secure girls' interest in a subtle but strong way.
What is the ICT contest for young girls and the Grassroots Women Empowerment through ICT (GWEIT) all about? Has it recorded anticipated results?
The ICT contest for young girls is a Quiz Competition held to mark the International Girls in ICT Day which is celebrated on the fourth Thursday in April every year. It is a period when girls get acquainted with the opportunities for education and work in the ICT field.
So we organizes the ICT contest during that period to expose girls to the many interesting areas in ICT like: graphics, animations, cartoons web development etc. This will in the long run motivate them to opt for a career related to these technologies. As par the results, the turn out of schools that was expected to respond by registering their girls was not quite encouraging.
The GWEIT is a WITIN initiative to empower Nigerian Women by  giving their businesses a web presence, thus bringing their (remote) enterprises to lime-light as well as giving them access to a larger target audience;  thereby increasing their revenues. Right now we have over 350 websites up and running, the women whose businesses have been promoted via these websites have had many smiles and testimonials as they have gained reach to more customers while their sales has increased. WITIN needs funds to enable these initiatives be of benefit to more women.