By Kingsley Omose
Last week, this column carried an article titled "CBN currency redesign move is self seeking, no foreseeable gain". There were several reactions. Today, we bring you one of those reactions. We believe the reading public has right of reply.
The announcement by Sanusi Lamido Sanusi that the Central Bank is to introduce a new N5,000 note and make changes to the security features in all the existing denominations, has been attracting a lot of negative comments with the Senate Committee on Banking coming out with a directive to the CBN to halt the policy, while the House of Representatives has summoned Sanusi to come and brief it further on the move.
However, to introduce a cashless policy limiting individual cash withdrawal or lodgement in banks to N150, 000 and then initiate changes in features of all currencies in circulation while introducing a new N5,000 note, means a deadline will be given within which hoarders of cash outside the banking system have to trade their old currencies for the new ones, which they can only do through banks and the cashless policy will be waiting for them.
SLS's objective in using the intending changes to be made in the features of all our existing currencies and using the introduction of the N5, 000 as a sweetener, is to bring all the cash outside the banking system to the deposit money banks thus effectively forcing the informal sector of the Nigerian economy to embrace banking and merging the formal and informal economies.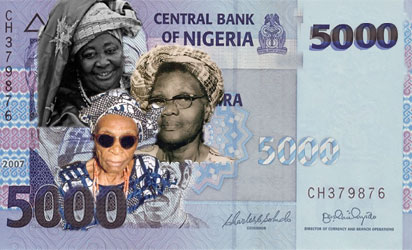 To be mostly affected will be hoarders and dealers of huge cash outside the banking system who will now be forced to bring their cash to the deposit money banks, and when they are restricted by the cashless policy to depositing N150,000 a day, we are going to witness a mad dash to the banks by holders of huge cash, that will be more chaotic than when Buhari and Idiagbon effected a currency change policy in 1984.
The changes in the national currencies implemented by Buhari and Idiagbon, and the short time frame given for the exchange of the old notes for new ones caused massive disruptions to the economy as companies and Nigerians rushed to banks to beat the deadline, and we witnessed massive Naira flowing into Nigeria from different parts of the world, including briefcases from Saudi Arabia.
Also to be severely affected by  the new policy on changes to the Naira will be millions of Nigerians in the informal sector, which is over 60 per cent of the Nigerian economy, who do not have bank accounts or have never done any banking transactions before, whose fates will be sealed unless conscious and deliberate efforts are made by the Central Bank and deposit money banks to mobilize them to embrace banking to avoid being cut off from the new singular Nigerian economy that is soon to emerge.
With the massive inflow of cash into the deposit money banks that the trading of old currencies for new ones will engender, the introduction of a new N5,000 note is to ensure that the banks are not buried under mountain loads of cash and moderate the cost of handling cash so as not to introduce another demon that will shackle the banks while attempting to solve an existing problem.
It is not difficult to imagine what changes the cashless policy and the new policy on changing all our currencies and introducing a N5,000 note will make, especially when the formal and informal sectors of the economy have been merged. All the cash outside the banking system have been deposited with the banks, Nigerians of 18 years and above now having bank accounts, and the cashless policy is fully implemented across Nigeria.
Guess who already has access to view banking transactions and details of bank customers? You guessed right, CBN, EFCC and ICPC, meaning that it will now be easy to track down those with huge bank deposits who cannot explain why they have such huge funds in their accounts (elected politicians and public/civil servants), it will also be easy to track banking transactions of dubious nature and to have records of financial infractions making it easy to prosecute wrong doers.
Federal, state and local government tax authorities and agencies will also have access to the banking records and transactions of Nigerians and their businesses, effectively making it easier to access their true net worth for taxing and other purposes that will in turn generate trillions of Naira for government at all levels which explains why the policy on issuing tax identification numbers to all eligible tax payers is already in place.
My counsel to those who are sitting on mountains of cash in their respective homes or offices is to begin immediately to pay in these monies into their various bank accounts so as not to be caught with their pants down when this new policy is implemented despite the protestations and the best efforts of the National Assembly to halt, limit or slow down this train that has already left the train station.
My admonition to the tens of millions of Nigerians in the informal sector of our economy is to begin immediately to open bank accounts with deposit money banks, and even better, register business names and incorporate companies to give recognition and identity to their businesses and make them more compliant for the inevitable changes that are coming.
Ultimately, the gains of these new policies being implemented by Sanusi Lamido Sanusi outweigh the pains as increased accountability and transparency is injected into the Nigerian economy.
That signals our desire to be key players on the world stage, but great effort must be made to carry all stakeholders along, especially Nigerians in the informal sector to reduce to the barest minimum, the pains of transiting to the formal economy.
*Kingsley Omose, a Public Affairs analyst, writes from 25 Warehouse Road Apapa.