BENJAMIN NJOKU
Remember Tosin Jegede, the child star who bestrode the Nigerian music scene like a colossus in the 80s. Renowned for persuasive lyrics,  'urging parents to listen to their children and pay their school fees' among other hit tracks, today, she is real matured beautiful girl,radiating with life.
The highly talented kid-singer, Tosin relocated to the UK, to further her studies after releasing two albums.
In her days, her music videos enjoyed generous air play on NTA Channel 5, 7 and 10.She left the shores of the country about 16 years ago, with three albums to her credit and then returned briefly in 2005, to stage a visual arts exhibition of her some of her works.
In the same year, Jegede launched a limited edition of the biography of Cardinal Okojie, titled in the Eyes of Children. At the moment, she has completed writing a book based on the life and times of the late icon, Chief Obafemi Awolowo.
After bagging a degree in Business Decision and Analysis from the University of Bristol, London, she returned to Nigeria in 2008.  She also worked briefly in the UK as a Pension Adviser.
Now in her early 30s, the chubby singer who recently lost her mother, Mrs. Martha Jegede is disturbed about the future of the Nigerian child. This explains the reason behind the setting up of her recent pet project, "One Child one Book"an  initiative  of her foundation better known as Tosin Jegede Foundation.
Showtime  Celebrity, ran into her  during the week, where she talks about the future of her music, laudable book project to encourage the culture of reading among the Nigerian child as well as the  circumstances that led to her decision to relocate to London in the 80s.
This is her  story…
Why did you decide to disappear from the scene, especially when the ovation was loud for you as a child star?
When I was between 5 and 13 years, there was a threat handed down to my dad by some students of University of Ibadan that should I be found on their campus, I would be kidnapped. They also threatened to publish on campus any "love letter" written to me by my boy friend and all that. I had different horrible stories.
As a child then, I was quite reflective. But drawing inspiration  from Michael Jackson and other child celebrities across the world who later grew into adulthood, I ensured that whatever decision I take in life stands.  So, I took a decision to rest my musical career awhile.
While I was studying in London, I had the opportunity to continue with my musical career there. But I decided to put it on hold to enable me concentrate on my studies.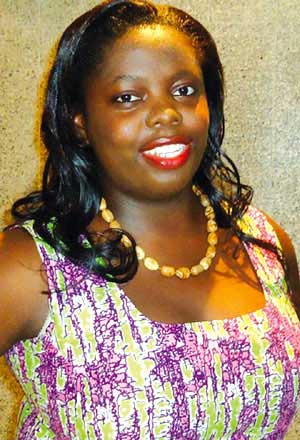 At a point, I tried to escape from it but I realised that it's irresistible, especially now that I'm embarking on this kind of book project. I'm actually  coming in contact with the likes of Banky W, and other notable Nigerian musicians. If I want to stage a comeback to music, I will have the backing of many Nigerian musicians.
Was the experience memorable as a child star?
It was quite memorable. I had         friends     and my family was there for me  It wasn't a bad experience in as much as I was able to go out there and meet with people who appreciated my music and shared experiences with them. But at the end of the day, I was still a child. My family members were my friends then.
Between when you hit the limelight as a child star and now, what would you say have changed about you?
A lot of things have changed about me. I have been able to do things that not many children of my age  had the opportunity to accomplish then. I think I was  'fortunate' in a way because I started singing at a very tender age.
But I'm no longer the little Tosin  that people used to know in the 80s. I'm now a big girl who is in my early 30s. You can see that I have grown into adulthood.
When you left the country to study abroad, what was uppermost in your mind?
I actually travelled abroad to better my life. Then, security in Nigeria was not all that tight. As a result, I saw the need to travel to the United Kingdom in order to improve on my lifestyle. And again, the  threat to kidnap me hastened my decision to do so. In any case, I'm happy that I left the shores of this country to further my education abroad.
Why  did you dump singing?
I wanted  to take some time to grow into adulthood and gain more experience in life. I just wanted to be a normal person and also, to enjoy my freedom.
I realised that I wasn't 'a normal person' though I was fortunate and gifted. I travelled to the UK, to live out my dreams and learn a lot of things which I didn't have the opportunity to learn while I was in Nigeria. I don't regret my decision to put my career in music on hold. Everything happened for a reason, I couldn't have stopped singing but it's something that  I consider inevitable at a time. I still have the passion to sing.
When did you  return to the country?
I returned in 2008. But before then,I was visiting the country and returning back to the United Kingdom. Upon my return, I set up a charity organization: The 'Tosin Jegede Foundation.' which focuses on Children and Education. The foundation creates awareness for the importance of education,  and its affordability. In 2005, I did an exhibition to raise money for the foundation and now, I'm embarking on a project to improve the literacy level of the Nigerian child.
Any knowledge of the kind of music you want to play?
I don't even know.
Did you compose those songs you sang in those days?
No, I didn't. My dad wrote most of my songs. Then, he was my manager. I was only about 5 when I recorded my first album. But as time went on, my dad ceased to be my manager. For my second album, I had a manager, my dad wrote the songs but then he worked with some other people as well.
Let's talk about Tosin Jegede Foundation
Tosin Jegede Foundation is an organisation started in 2001. We had our first project in November, 2005, an art exhibition basically to educate the Nigerian people including royal fathers. Then we came back again in 2010 and organised children's programme in Amuwo Odofin local council. Basically, we are trying to empower the less privileged Nigerians. But when we look back again, the passion is always being with children. So, we worked with children first and we are now building a foundation that focuses on education.
We are a registered organisation. We sponsored 'one child one book' in a primary school. The 'one child one book' project is meant to improve the reading culture among children in primary schools.
Studies show that low level of literacy can hinder the economic development of a country in this rapid changing world. I want to see a Nigeria with no illiteracy; expression and communication skills which are vital to development have diminished due to a disconnect with literacy and creative thinking at the basic education  level.
The project seeks to get the children reading again. I want them to learn how to express themselves and write their own stories. I benefitted from  this culture of reading while I was growing up. And this,   informed my decision to embark on this kind of project.
I believe it will help to stimulate and build an early foundation for the love of reading books to acquire knowledge to improve the future of our country. From Monday, September 24, through Friday, October 5 and 22nd,  we will be visiting and distributing books to three public schools in Lagos State. In addition to this, we will be marking UNESCO World Literacy day on 8th of September, by launching a reading workshop.
Don't you think music can be a veritable tool to garnering support for your pet-project?
Music is very powerful. I think it will.
Are you not considering the need to go back to work?
I might go back to work.  I will surely go back to the work . I'm not really walking away from the name. I think, I've done that for quite a few years but I'm involved also  in the arts. I feel more like I need to push this forward before I can go back to my first love-music. Because there's so much happening in the nation's music scene. But I just can't rush into it now.
What are the challenges you have faced so far?
The problem of gathering data as well as getting sponsors. We want organisations and private individuals to partner with us to ensure the success of this noble project.