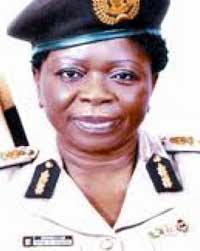 Comptroller-General, Nigeria Immigration Service, Mrs. Rose Uzoma
By Vera Samuel Anyagafu
Possession of a Nigeria passport is undoubtedly imperative for every Nigeria citizen, either in readiness for an intended travel outside the Country or as proof to show that he/she is a bonafide citizen of Nigeria.
For the fact that a passport gives an individual full identification, and being the only universal identification document which is globally accepted as proof of nationality, it becomes important for every Nigeria citizen to own one.
Aside the fact that the passport identifies you as a Nigeria nationality; it also gives you the full right to return to Nigeria from any part of the world.
Note that Nigeria now offers only electronic passport for new passport applications and also that the electronic passport, known also as the e-passport is classified as either Standard or Official e-passport, depending on intended use.
Applying for Nigeria e-passport
You can apply to get your e-passport either at the physical location of the Nigeria Immigration Services or by making submission through its online website, and if you are living in other Countries, contact the nearest Nigeria embassy or consulate nearest you for guidelines on how to go about renewing or getting a new passport.
Nigeria standard e-passport guidelines
An applicant who wishes to obtain the Nigeria standard e-passport is expected to come for the e-passport interview with a Local Government letter of identification, birth certificate or age declaration and a recently taken color passport sized photographs, which must show applicants full face down to the neck without any discoloration.
The applicant is also expected to come along with a guarantor's form, sworn to before a Commission of Oats/Magistrate/High Court Judge, a parents' letter of consent is required in the case of a minor, below the age of 16, and also, a marriage certificate where applicable.
In a case where by the intention is for a replacement of lost or stolen passport, the applicant should come with a Police report, which is also the case if an Official passport applicant seeks to recover a stolen, damaged or lost passport.
Official passport
The official e-passport, which is primarily reserved for certain class of government officials and Nigeria diplomats is also obtainable through same processes as the Standard and seekers are to come for collection with a letter of identification issued from the appropriate State Government, Federal Government, Ministry/organization, a marriage certificate where applicable, a letter of appointment and a letter showing a new designation/promotion.
Both passport and application form, with supporting documents are to be submitted at the passport office for further processing.
Whether it is a Standard or Official passport type, an application form, acknowledgement slip, payment receipt and two recent photographs are required and if it is done online, the applicant should print out a copy of the duly completed and signed application form to the application office for further processing.
The applicant should package together with application form, photocopy of the guarantor's Data page of Nigeria Standard Passport, driving license or National Identity Card, before submission.
Receiving the new e-passport
With your e-passport, you are sure of acquiring a visa to visit any country of choice for various intended purposes; bearing in mind that visa will not be issued if you fail to meet the mandatory visa requirements as stipulated by the Consulate of desired Country of visit.
Nationals are also advised to ensure the validity if their passports exceeds the period of stay they intend to spend in a foreign Country, since some Countries mandate that a passport must be valid for six months beyond date of entry.
To avoid any unwarranted embarrassment, you should, prior to your journey, verify if your destination requires the six months rule to make sure your passport validity is in line with intended period of stay, and as you embark on the trip, make a photocopy of the identification page in your new passport and keep it separately from your passport while abroad.
Owing to the importance of your passport, it is advised that you leave the passport photocopy at home, Note that the passport must contain empty pages to accommodate your visa.
If the pages in your passport are filled with either visas or entry and exit stamps, then you need to apply for a new passport, even if the passport has not expired.
Permission to land in Nigeria
A foreign national is permitted entry into Nigeria when he/she has been able to show that he is credible having met the entire basic mandatory prerequisites needed for visa issuance under due processes.
Just like every other embassy across the globe, all categories of Nigeria visas are made available to applicants who wish to travel to Nigeria for various intended reasons, and as in all cases, the pricing information concerning various visa fees, requirements and processing times vary, depending on the type you need.
Applicants can apply to get a Nigeria visa from Countries where they are domiciled or at any Nigeria mission nearest to Countries of residence.
Basic visa requirements
Foreign nationals visiting Nigeria should get themselves equipped to meet the Consular officers with original Formal Invitation Letter, Copy of Applicant's International Passport Data Page, online visa application form which should be attached with a recently taken specified passport photograph, showing clearly applicant's face without any discolorations.
The applicant is expected also to provide a documentary evidence of online payment, return air tickets and his itinerary to Nigeria, including evidence of hotel reservation and or accommodation.|
Intended applicants are advised to note that the above mentioned requirements are not complete list of requirements needed for any particular category of visa to permit entry into Nigeria. The above mentioned are just the basic list of requirements that is common to all Nigeria visa categories and vary as applied to specific cases.