Jacob Akinyemi Johnson, a.k.a JAJ Da Meccadon  is the General Manager, Creative Development and Vice Chairman Editorial Board, Silverbird Group. The ace presenter is our guest in this edition of Celebrity Tummy Talk. He speaks on his healthy living and how he has been able to overcome health challenges.
Growing up, what is your food in-take like?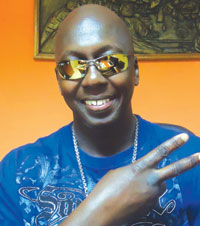 Like everyone else grows in phases, my first phase was breast-milk which is very healthy. Although, no one ever remembers except he or she is being told. And then, what I can early recall is having cereal in the morning and a light food in the evening. As a child, one is not bordered with the food in-take except it becomes necessary. But an average person would not be bothered about the food she or he takes.
And as you grow older, you are exposed to healthy lifestyle and so, it becomes necessary to change your diet.
I remember my father would always say some people live to eat while some others eat to live. I have learnt how to eat to live and not live to eat,which means, you eat what you think is necessary for good health, growth and maintenance of physical and mental body. I am someone who is not crazy about food. I eat whenever it is necessary and most especially put my health into consideration. I do lots of exercises, body building, boxing and jogging to keep fit. My salt in-take is zero. I like sugar but I try to avoid it. I insist many a time that my food be cooked with lots of garlic to burn out the cholesterol. As much as food is very important, it could be very dangerous, if not properly assimilated in the body.
As one who is on the big side, how do you manage yourself when it comes to food?
I engage in body building and lifting. I am endowed with big bones but I am not obese. I work out with weight six times in a week. I have a gym at home.
What has changed in your food in-take as an adult?
I can do without salt and sugar. As one grows old, it is necessary to know the danger in consuming those foods. So, what I do now is healthy diet and lifestyle.
Tell us your special food?
I don't think, I have anything that is called special food or favourite dish. But, I can say, I like chicken and moisturised foods.
Do you know how to cook?
I am a good cook. My mother imbibed the cooking culture in me as a child.
So, your wife cannot compete with you?
Maybe with certain diet but I think she has an edge.
What about fruits…
I like the citrus fruits like oranges, grapes. I also like apples. I don't eat cucumber or watermelon but my wife does.