BY JACOB AJOM
Captain of the national male basketball team D'Tigers, Olumide Oyedeji has defended the performance of the team at the just concluded London 2012 Olympics, insisting that the team should be commended for standing up among the best in the world.
Speaking Thursday in Lagos, Olumide said that D'Tigers, as the national team is called was just a six week old, hurriedly assembled team. "We did our best under the circumstances. You do not expect a team that was assembled under six weeks to outplay a team like Lithuania, the 5th ranked team in the world."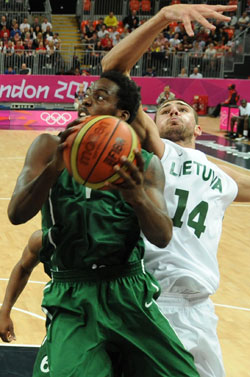 The Nigerian captain dismissed insinuations that D'Tigers fell in their second game because they underrated Lithuania whom they beat  in Venezuela during the Olympic qualifiers.  "We didn't underrate them," he started, questioning, "how can you underrate number 5 in the world? Olympics is a different ball game."
Although he admitted their qualification for the Olympics gave them confidence, he said they did not allow that get into their heads. "Our qualification for the Olympics gave us hope and the confidence that we could do it. But people should not forget the fact that we only prepared for six weeks. The Spanish team that contested the gold medal with the USA has been together since the World Junior championship in 1999. You can't toy with such a team,"Olumide said.
Against the US, Olumide said the team suffered from the absence of their point guard a situation he  likened to "a car without a driver," saying, "everybody knew we could not beat them but injuries and the absence of our point guard worsened our quest for any meaningful performance."
He called for continuity and urged the Nigeria Basketball Federation to ensure the present squad is kept together because he foresaw a bright future for the team.
"It's the duty of the NBBF to ensure the players are jealously kept together. Most of them are still young and can still serve the country for another five or more years. The boys are good and with adequate preparation, the sky will be their limit," Olumide said.