By Favour Nnabugwu
ACTING Chairman of the  Independent Corrupt Practices Commission, ICPC, Mr. Ekpo Nta has said the commission is set to purge the Nigerian university system of the menace of corruption with the cooperation and collaboration of the National Universities Commission, NUC.
ICPC said in the face of petitions from students, members of staff, unions and other stakeholders alleging all manners of corrupt practices and abuses in most of the tertiary institutions, it could no longer afford to fold its arms and watch the system sink deeper into rot.
Nta said some of the abuses were in admission processes, conduct of examinations, appointments and promotion of staff and manipulation and falsification of academic records such as transcripts.
Also reported are sexual harassment and victimisation of applicants, syndicated plagiarism by students and staff, delay or non-payment of gratuities and pension to pensioners, non-adherence to bidding processes in the award of contracts.
Others are illegal accreditation processes through deception, running unapproved study centres, affiliating programmes to accredited schools, establishing and operating unapproved and consequently, illegal universities.
Ekpo said preliminary investigations by the commission point towards utter disregard and failure of regulatory systems within the academic institutions which paved the way for many forms of corruption.
He said that the commission will undertake a comprehensive system study and review of the country's institutions and identify which of the systems was facilitating fraud and corruption.
He said: "Fighting corruption should be seen as a collective responsibility especially in the Nigerian university system which is why we are here to brainstorm and come up with various measures of curbing corruption in our campuses. As a matter of fact, it is imperative to note that corruption exists in all spheres of our economy including the education sub-sector. "
For the avoidance of doubt, examination malpractice, cultism, sorting, impersonation, indecent dressing, intimidation, lateness, running illegal programmes, plagiarism, suppression of information, absenteeism amongst others, are elements of corrupt practices."
Worried by what the universities have turned into, NUC's Executive Secretary, Professor Julius Okojie said the university system, being an integral part of the society, cannot be insulated from the menace.
"The system must therefore strive at all times to uphold those values that make for civility and positive development. It is in this light that the commission, ICPC and other relevant agencies of government are striving to institute functional anti-corruption units in all the universities in Nigeria.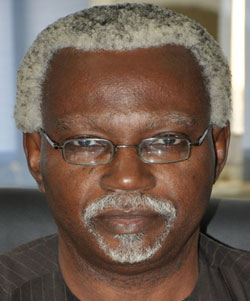 "We must, therefore, be vigilant to nip in the bud all corrupt practices in teaching, research and community development programmes in order to maintain the required academic standards that will guarantee national development and global competitiveness."
He said: "The trace of corruption in the education sector dates back to the colonial era when heads of institutions opened sealed packages in their possession to copy out examination questions for teaching before sealing them back.
Corruption, Okojie noted, has taken different dimension ranging from cheating in examinations, `sorting' lecturers to earn undeserved marks and non-processing of students' results among others.
Okojie stated that some of the universities especially the suspended ones, outrightly violated the NUC regulations.  "The universities have persistently violated laid down procedures regarding implementation of the provisions of the Academic Brief and Master Plan documents as well as express provisions of the letter conveying approval for their licence through commencement of part-time and other academic programmes without requisite approval. "
Some of the affected universities have over the years failed to properly constitute their Governing Councils and in some instances did not appoint pro-chancellors as required by their university laws and in line with university tradition and global best practices.
"Some of the affected universities have engaged in the establishment of academic programmes without the requisite approval by the NUC and consideration for adequate human and material resources, to ensure quality of programmes."
He, however, expressed dismay that corruption has eroded creativity, played down the value of hard work, and enthroned mediocrity in the nation's university system. He added that university system was the conscience of the society and must strive at all times to uphold those values that make for civility and positive development.
"The NUC as a regulatory body of all degree-awarding institutions in Nigeria has therefore, put in place mechanisms to eradicate corruption in the Nigerian university system. This include closure of illegal degree mills with the aid of security agencies, verification of academic programmes before commencement, programmes and institutional accreditation exercises and on-the-spot inspection and monitoring of universities' activities and host of others," Okojie said.
ICPC's Chief of Planning, Research & Review, Mr. Godwin Oche said the present day universities have become a haven for corrupt practices where "corruption becomes the rule rather than the exception."
Oche mentioned some of the factors that encourage systemic corruption to include conflicting incentives, discretionary powers; monopolistic powers; lack of transparency; low pay and a culture of impunity."
He, therefore, recommended the principle of the 5 'Cs' – Condition; Criteria; Causes; Consequences and Correction to tackling corruption in the university system.
In the same vein, the Pro-Chancellor, Niger-Delta University, Professor Kimse Okoko pointed out that in the past two decades, Nigerian universities have passed through challenging experiences that undermined their capacity to carry out their mandate and contribute to national development.
He identified prevalence of corruption among administrators, academics, staff and students in the universities and concluded that indeed, the entire university system is now controlled by a web of corrupt activities ranging from admission racketeering to fraudulent allocation of degree results and actual misappropriation of funds.
Nonetheless, Mrs. Rasheedat Okoduwa, Education Director at ICPC described corruption as  subordination of group interest to personal interest. "It is not limited to monetary issues; It is often shrouded in secrecy and it is not limited to the university system or even the public sector", she said.
Okoduwa noted, "The decay in ethical and academic standards in our institutions of higher learning produces unemployable graduates; grave incompetence in the employed ones; morally bankrupt youths and causes disdain for our certificates in the international knowledge marketplace."