London 2012 had no attraction for Nigerian athletes. Therefore it was foolhardy for any serious track and field follower to have expected the country's athletes hard done-by ill preparations and malnourished policies to perform magic.
Over the years, Nigeria's participation in the Olympics has been rancorous, however, at the London Games things got worse, and they will get even more worse in the years to come, unless genuine seeds of rapid development are sown by those who have been entrusted with authority to administer the sport.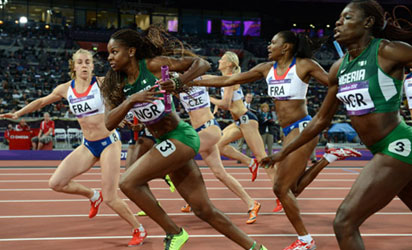 President, Goodluck Jonathan ordered that there should be an overhaul of sports in the country, after the Nigerian team touch down, but to many Nigerians, the President is only waging the dog. After a couple of weeks all the hullabaloo will die down and it will be business as usual until three months to Rio 2016.
"Nigerians can talk and we forget that there is work to done. Policy pronouncements and recriminations have always trailed each poor performance at the Olympics and other sporting events, but nothing is ever done," Olympics gold medalist at Atlanta 1996 declared.
If Nigerian administrators were serious with sports development in the country, they would have built on the successes recorded by Nigerian athletes at the 1996 Games, where Nigerian recorded the highest number of medals from a single competition Ajunwa won gold, Mary Onyali won bronze in the 200m and the women 4x400m won silver. Even at the Sydney 2000, Nigeria was close to it, with Gloria Alozie winning silver in the 100m hurdles and the men 4x400m winning silver, which was later elevated to gold by the International Olympics Committee.
Athletics Federation of Nigeria head coach, Innocent Egbunike told the home truth before the London 2012 Olympics, when he said that Nigerians should expect the unexpected, because requisite preparations were not made. Egbunike who regrettably pointed out that his 44.17 400m record still stands 25 years after submitted that rather than hope on hope, Nigerians must now go back to the grassroots to develop younger athletes.
Rightly so. But the question is will Nigeria ever learn? Will Nigeria ever go back to real sports development, instead of officials just waiting for the Olympics to knock on the door before they start gathering athletes some of whom are working professionals. They only begin to train, when the Olympics is just around the corner.
Abel Selu is the special adviser on sports to the Benue State governor Gabriel Suswam. In Mr. Selu's estimation Nigeria totally lost it, after grassroots sports was relegated to the background.
"The States are practically doing nothing. If Nigeria were to return to international sports, the States must begin to look into their strong field.
"For instance we know that the Southern States have prowess in the sprints, while the middle belt and northern states have long distance runners. Each state should look into its areas of strength and begin to develop their athletes. Unless something close to this is done, we may be going around in circles and and getting nowhere.
Perhaps this is the way to go and Cross Rivers State is already setting the pace. Delta and Lagos States are close to doing so. Ekiti State started a similar programme with former AFN head coach,  Armelia Edet  as consultant, but that programme seem to have run into a ditch with change of administration. They need to start again, other States like Akwa Ibom where Mobil is sponsoring a schools athletics meet should wake up and start something their domain.
Apart from the States' programme the AFN should think about getting a pool of  junior athletes in all events. Those who have potentials should be exposed to world class training just like was done to Blessing Okagbare who was plucked from the Nkoyo Ibori Championships.
That grassroots championships produced a crop of athletes like Kesiena Egone, Endurance Abinuwa, Believe Otorvibi, Rebecca Okitipki and many others.
If Nigeria is really serious of developing athletes there is a need to fashion out working programme.
President Jonathan has rightly declared a sports revolution, but if he is to be taken seriously, he should make more than a face saving pronouncement take active passive interest, by ensuring that funding is provided for these stop-gap programme.
For instance the President of America, Barack Obama is partnering with grassroots sports programmes in the USA and over 122,000 young athletes have been penciled down to participate. It takes money to produce an athlete and it is the duty of the government at all level to provide funding for elementary sports development. On top of it all people should be held accountable when they fail to achieve results.