By Jide Ajani
Boko Haram, FTO  status, and 'American Wonder'
Why Jonathan's resignation is not the solution
At a trying time like this, there are two things President Goodluck Ebele Jonathan needs – patience and good luck. Patience in that he would need to wait till after the US elections to know whether that country's government would change its position on designating the Jamaatu Ahlil Sunna Lidawati wal Jihad, otherwise known as Boko Haram, as a FOREIGN TERRORIST ORGANISATION, FTO; and good luck, that things don't spiral out of control before then.
Just take a look; and then imagine. Take a very long, hard look; and then imagine that your brother, or sister or any member of your extended family had been a victim or had been lost to the insurgency in those areas marked on the face of the map of Nigeria as areas of insurgent attacks.
To understand the magnitude of the crises confronting the Nigerian nation, just imagine for how long this had gone on and the attendant magnifying spectre of extremism and criminality, as well as the increasing helplessness of many a people.
You can add to this the seeming shambolic approach of government in containing what is turning out to be an insurgency of extremism, markedly different in scope, size, content and context,  from politics and poverty that some people are reading into it.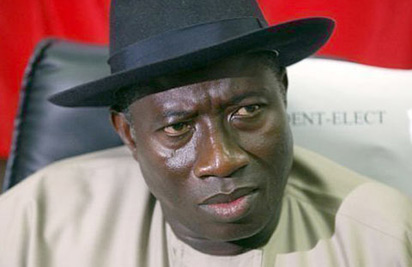 And for those calling on President Jonathan to resign, the call is not only ridiculous, it smacks of crass illiteracy and self-serving venture in hallucination, especially in a country of clashing socio-political, ethno-religious and economic interests. If Jonathan resigns, what next!  Would the insurgency disappear?  Would there be efficient power supply?  Would the healthcare delivery system improve overnight?
Rather than a call to resignation, President Jonathan should be constantly made to understand the implications of a sliding country under his watch, the damage it would do to his person, his wife, children and tribe, just as the shambolic eight-year rule of former President Olusegun Obasanjo and his attempt at tenure elongation have brought him down to earth from the Olympian height which made him a dully respected global citizen.
Does Jonathan wish that for himself? Only he can answer. Vanity upon vanity! But if Jonathan is said not to be proactive, what about the government of the US which has adopted a confusing posture over the designation of Boko Haram as an FTO? This, after designating three leaders of the group as terrorists.
In the second part of this series on the congressional hearing in the US on the matter, you would read the exchange between Hon. Christopher Smith, Ms. Bass, Mr. Turner and Mr. Fortenberry and Ambassador Johnnie Carson, about Boko Haram and Nigeria.  More importantly, the exchanges between Hon. Smith and Ambassador Carson are very interesting because Smith wondered "if you could speak to why the organization has not itself been classified as an FTO.
Are those three acting in a way that is contrary or out of sorts with the organization itself?  What would a designation of that organization as an FTO (achieve).  Why don't we call an organization that is seemingly responsible and claiming responsibility for horrific acts of violence, which appears to have at its core as the radical Islamic position (an FTO.
(I've spoken to many people within and outside and some are) contemptuous and fearful of what our game plans are. I think we have done it in places like Egypt.  So, why are groups designated as FTOs in other countries and yet you do not see the need to designate Boko Haram as one"? Pastor Ayo Oritsejafor's presentation is also reproduced below.
A snippet: "It is hypocritical for the United States and the international community to say that they believe in freedom and equality when there actions do not support those who are being persecuted. A non designation for the group only serves to hamper the cause of justice".
Boko Haram, FTO  status, and 'American Wonder'
Ms. BASS
We all know that Africa's most populous nation with wealth of natural resources, Nigeria, has much to offer the continent, our country and the world. Over the last six years, Nigeria has experienced an average growth rate in GDP of nearly 7% due in part to the fact that Nigeria is the largest African oil producer and one of the top US suppliers of oil. It is said that oil and gas production account for 95% of export earnings.
The congressional research service reports that US imports account for over 40% of Nigeria's total crude oil export, making the United States the highest trading partner. It is clear that US and Nigerian have a unique partnership that links our two nations in important and meaningful ways.
However, despite all that Nigeria has to offer, Nigeria continues to be challenged by a host of social, political, economic and security issues that stifles its full emergence as one of the continent's brightest stars. President Jonathan must address some of the most enduring tensions that divide ethnic groups in the north and south and also cut across religious lines. Too many Nigerian have lost their lives.
I would appreciate the witnesses (Amb. Carson) providing an update on the Jonathan's administration efforts to address corruption. We're all also aware that Boko Haram continues down the part of violence and destructions and it poses a threat to peace in Nigeria and can be a destabilizing element throughout the region, especially if it is ties to AQIM are continued.
What diplomatic efforts show sign of positive progress with the Nigerian government to effectively address Boko Haram strength and position. I would appreciate greater clarity about designating Boko Haram as a foreign terrorist organization – is there the potential for Boko Haram to be further emboldened and given greater legitimacy, with an official designation and most importantly, how do we address the root causes of Boko Haram grievances without ostracizing other groups and communities and regions where the social economic and political realities are equally challenging.
Mr. TURNER
I have a series of questions for the witness, Mr. Carson, regarding the non-designation of Boko Haram as a Foreign Terror Organisation, FTO.  This designation has been pressed by the FBI and the department of justice, homeland security, as well as a bill in the senate.  There was the attack on UN House, there has been over thousands of deaths attributed to it.
The attacks have been based on religious grounds – (attacks at Christmas, at Easter, attacking Christian churches and as I've researched this, all recommendations seem to be this will make life a lot easier here, if Boko Haram is designated as an FTO, in view of the proactive interdepartmental efforts against terrorism since 9/11.
It would seem this will be the logical thing to do, yet it is not, so I would like to get a better understanding of the rationale, it has been blocked by the state department and state department only. So that would be my single question.
Mr. FORTENBERRY
Serious problems demand our attention, a collection of photographs recently published in Washington post under the headline forgotten conflicts, highlighted Nigeria's Niger Delta region which is yet to emerge from a vicious circle of environmental degradation and militancy and remains largely inaccessible to outside observers.
Also a long standing rivalry between the north and the south punctuated by ethnic and sectarian tensions have resulted in the loss of more than 13,000 lives since 1999, brutal attacks on minority Christian communities in Nigeria illustrate why the US commission on international religious freedom recommended that Nigeria be classified as a country with particular concern and then consider the potential for regional destabilisation as radical elements within Nigeria potentially linked with global terrorist organization.
Even as reforms developed under President Jonathan, which offer encouragement, Nigeria's future trajectory will depend on how effectively the root sources of instability within that society are managed. Secretary Carson, am going to state one question now:  How do you see the future of reconciliation (in Nigeria) and evaluate the national government efforts to address the grievances in the Niger Delta such as the Ogoni community?
Mr. SMITH
Mr. Carson, this administration has designated three members of the Boko Haram terrorists, and I'm wondering if you could speak to why the organization has not itself been classified as an FTO.  Are those three acting in a way that is contrary or out of sorts with the organization itself?
What would a designation of that organization as an FTO (achieve).  Why don't we call an organization that is seemingly responsible and claiming responsibility for horrific acts of violence, which appears to have at its core as the radical Islamic position (an FTO.
I've spoken to many people within and outside and some are) contemptuous and fearful of what our (American Government's) game plans are. I think we have done it in places like Egypt.  So, why are groups designated as FTOs in other countries and yet you do not see the need to designate Boko Haram as one?
Amb. CARSON
Mr. Chairman thank you for that question, it is an important question, it is a question that we think about all the time. We have indeed designated three individuals, who we think are in top leadership positions inside of Boko Haram.  But we have not designated the entire organization because we do not believe that Boko Haram is a homogenous organization.
We believe that it is an organisation of several parts.
We believe that the individuals that we have designated (as terrorists) represent a core group who lead a part of Boko Haram which is desirous of attacking not only Nigerian targets and interest, but also Western and international targets and interests.
We believe that the larger element of Boko Haram is (only interested in and doing everything) to discredit, disgrace the Nigerian government; discredit, disgrace and embarrass the Nigerian government by carrying out attacks against Nigerian government, security and the civil institutions, attacking politicians, attacking government officials and judges.
But the both of the organisations, we believe to be mainly aimed at going after Nigerians equally.  And as you would see in my longer testimony almost everything of the criminal nature that happens in the northern Nigeria today is attributed to Boko Haram. And again a lot of things that go on such as bank robberies and assaults on homes and individuals are frequently labeled as attacks by Boko Haram. They are in fact only criminal activities that are labeled as such.
We believe that the designation of these individuals will be useful (because) when these individuals are designated, it means that they would not be allowed to travel into the US, they would not be allowed to be given visas, all of the assets if they have any in the United States, would be frozen and confiscated.
It prohibits any American national from engaging in any kind of commercial activity, economic or financial activity with these individuals; it also opens up other opportunities for discoveries of other federal statue which governs the work of the FBI, and I might point out that none of the individuals here are believed to be in possession of visas or likely to travel here or have any assets in the United States.
But by designating these individuals, it is certainly a signal that we think they are in leadership positions, that they have relationships, and linkages with the AQIM; that the individuals are of considerable investigation interest to the US and it signals to the others in the region and the international community that this is (our resolve).
Mr. SMITH
How large is Boko Haram? Where did they get their money? Where did they get their weapons? When people say that Boko Haram (has done something) whenever they did it – burning houses, burning the church – is it that the group claims credit for (these acts, or it's just a statement that is made by someone who has been victimized)?
And finally, how often do we actually designate individual members of a group – especially when they are in the leadership capacity – and we're now saying that they were out of sorts with the rest of the organization.  Designating only those three and not everyone else or maybe the organization, (what is that)?  What is leadership?  And often do we do that for other foreign terrorist organizations – that is target just main individuals but not the group itself?
Amb. CARSON
I have to take that last question and get back to you. I think that their activities are carried out in northern Nigeria.  They do have someone who is known to be the spokes person for the organization.  But frequently, claims that are made in the name of Boko Haram (are sometimes from) individuals that we don't know anything about.
Mr. SMITH
Could you provide the answer for the record to know how often it is certain and what degree of confidence we have that it is not Boko Haram that is actually doing it or it is just out there, and I remember when other groups like IRA operated, they claimed credit and you know we took in their word that they blew up some soldiers and members of the catholic community. (So, what is different here)?
Mr. CARSON
We can look into this.
Mr. SMITH
(He quotes a document) I quote "the issue is impunity that there seems to be no consequences for the violence" (and, therefore, the group is more emboldened).  Could you speak to the issue, are we doing enough? Is everyone doing enough?
Amb. CARSON
We have our bi-national commission and through our bi-lateral discussions and engagements with Nigerian officials in Abuja and all also here in Washington on any of a number of occasions, we've offered both advice and assistance to the Nigerian government on trying to tackle the problem that the Boko Haram presents.
Mr. SMITH
What kind of assistance?
Amb. CARSON
We have provided investigative courses, courses of post blasts, courses on IED prevention and other related police courses that would help the Nigerian authorities and we have provided the forensic training and forensic experts to deal with post blast situations and we have given them advice on how to prevent IEDs and other forms of explosives being used against facilities.
We have also encouraged the government to establish an intelligence fusion circle which would help them to better integrate the intelligence that they receive from their various police and military and security services and to be able to effectively operationalise the kinds of information they acquire.
We have also encouraged Nigerians to do several other things that are critically important and  not to allow their security services and the military to carry out human right abuses as they go after individuals in the community. And there have been many complaints that when the military had come into to a community, looking for one or two suspects where they live, many of the citizens and homes in that community are put in disarray.
So it is important that human right abuses do not occur during investigations of the activities. But let me also bring you back Mr. Chairman to the concerns that I raised of Nigeria needing a comprehensive policy that will address the problem of Boko Haram.
There is a need for good security policy, but there is also, equally, a strong need for social, economic recovery in the policy of the north. I know that the level of income in Nigeria is relatively low given its vast oil reserves but many figures we certainly can provide you with demonstrate that the economic conditions in the northern Nigeria are some of the very worst not just in Nigeria but across Africa.
The infant mortality rates are among the lowest in the world; mothers who die during child birth are among the highest in the world; access to clean water, among the lowest in the world; illiteracy among women, some of the highest in the world; infrastructure, among the weakest; unemployment and under employment, well over 50% across the north and particularly in the north east, in the Borno area.
I know that people will make comparison to other parts of Nigeria which are also deserving of attention but the problems in the north are some of the most outrageous. I would remind people that the phenomenon of Boko Haram is one of discrediting the central government in power for its failure to deliver services to people.
The current president is a southerner, a Christian, has been in office for less than a year and half and before that, was effectively only acting president for approximately six months.  His predecessor was indeed a northerner, the late Yar'adua.
Boko Haram's emergence as a terrorist organisation in Nigeria predates the current government and irrespective of whether there is a Christian leader or a Muslim leader in the country as long as the social economic problems exist in the north to the extent that they do, there would be a reaction which may, in fact as this one does, make for political consequences.
Mr. SMITH
If you could answer, how big Boko Haram is? Where are they getting their weapons, or are the IEDs coming from Iran, for example? You just called it a terrorist organization, why is it not designated as a terrorist organization with the implication which follow from that and I think it is all too convenient to suggest that somehow just because they are poor, (then people automatically become terrorists).
Osama Bin Laden was (from a rich family) but had an ideology that is highly radicalize. Poor people don't necessarily become terrorist and killers.  That's an insult, frankly, to poor people. I think we made the same mistake with all due respects with South Sudan; the imposition of Sharia law; the same type of radicalization happened in Yugoslavia where Muslims were massacred and I say for the record no one did more to try to help the Muslims in the former Yugoslavia, than I did.
So how big is Boko Haram and where did they get this money? And if there are things to be conveyed to the sub-committee secretly, we would welcome that to get a better hint as to why it has not been designated as a terrorist organization. What is the reason?
Amb. CARSON
Thank you Mr. Chairman for your comment, I can't tell you exactly how many members there are in Boko Haram.  We will ask our colleagues in the intelligence community to see what they have in terms of an estimate.
Certainly, the core group probably is in hundreds (in terms of membership), so there is probably an estimate, but the precise number I can't tell you.
Where do they get their money and their arms?  They probably get a lot of their money from engaging in criminal activities, robbery and extortion. And so you can look at that as the source of arms; easy to acquire when you have money and that money can buy lots of things across Africa.
They are probably buying all the kinds of things that they need to make IEDs locally for the most part. What they do get from the linkages they have with AQIM, is the sophisticated training that gives them the knowledge of how to put together these kinds of devices.
Mr. SIMTH
Do we have any evidence that it is coming from Iran? I mean those IED!
Amb. CARSON
I'm not aware of any weapon coming into northern Nigeria from Iran. I say the elements that comprise most of the (vehicles laden with explosives and bombs as well as IEDs are things that can be acquired locally).  It is the sophistication and the ability to put these things together that is acquired as result of the linkages that established with other organizations that have tried these things in other parts of Africa.
Pastor Ayo Oritsejafor
I want to thank you for your interest in the situation in Nigeria and especially the increase in terrorist attacks targeting Christians and Christian institutions.  Just this last weekend (late last month, July) 58 people were killed in Christian villages in Jos, including a federal senator, state law maker. Boko Haram has already claimed responsibility for these coordinated attacks against the Christian community in Jos and it also reaffirmed its early position saying for Christian in Nigeria to know peace, they must accept Islam as the only true religion.
Boko Haram is not a northern problem but a Nigerian problem with global implications. Nigeria is not a country divided by North and South, but it is a country divided by those who support freedom and equality in the eyes of the law and those who promote persecution and violence as a means to an end.
To an outside observer it may appear as though Boko Haram is not a monolithic group, one that is fragmented and disorganized. I am here today to give you the Nigerian perspective. Since its creations, the Boko- Haram network has never hidden its agenda or intentions. Boko-Haram has openly stated that it rejects the Nigerian state and its constitution and seeks to impose Sharia law.
To this end, Boko-Haram has waged a systematic campaign of terror and violence. It seeks an end to western influence and the removal of Christian presence in Nigeria. This is outright terrorism. It is not a legitimate political activity or the airing of grievances.
By refusing to designate Boko Haram as a FOREIGN TERRORIST ORGANISATION, FTO, the United States of America  is sending a very clear message not just to the federal government of Nigeria, but to the world that the murder of innocent Christians and Muslims who reject Islamism.
And I make a clear distinction here between Islam and Islamism. It is hypocritical for the United States and the international community to say that they believe in freedom and equality when there actions do not support those who are being persecuted. A non designation for the group only serves to hamper the cause of justice. And it has emboldened Boko-Haram to continue to strike out at those who are denied equal protection under the law.
The frequency, lethality and sophistication of Boko-Haram attacks raised disturbing questions regarding training, logistical support they have received from other like minded international terrorist networks. In January 2012, the UN Security Council published a report stating that Boko-Haram members from Nigeria receive training in AQIM camps located in Mali and Chad during the summer of 2011.
That same summer, Boko-Haram carried out a bold terrorist attack in the United Nations building located in Abuja. Boko-Haram did not hesitate in claiming responsibility for the attack nor has it ever hesitated in claiming responsibilities for its on-going attacks against police, military, local businesses and increasingly, churches and Christian institutions.
In Nigeria, my people are dying every single day. And it is only a matter of time before the international terrorist rings and anti-democratic Islamist agenda of Boko-Haram turns its attention to the United States. In fact, this may already be a reality. Because in April 2012, the NYPD learned that a US citizen or resident, leaving on the east-coast has sent surveillance including maps and photographs of lower Manhattan, and Lincoln tunnels to an alleged member of Boko-Haram based in Nigeria.
State department designated Boko-Haram current leader, Abubakar Shekau and two others as special designated terrorists but fell short of designating the organization. This will be the equivalent of designating Bin Laden as a terrorist but failing to designate Al-Qaeda as a terrorist organization.
Although I am aware that the designation of Boko-Haram as an FTO is not the final solution to all of the Nigerian problems, yet, it is an important first step towards restoring the confidence of those who believe in freedom and equality in the eyes of the law.
We too want to have freedom – freedom of religion, freedom to worship as we choose without fear. We want to have justice based on equality and not driven by discriminatory religious practices. Let me remind us that this is not all about economics at all, but about an ideology based on religious intolerance that has a history of sponsoring genocide across the globe.
As Boko Haram increasingly turns towards genocide, through the systematic targeting of Christians and Christian institutions in pursuit of its goals, history will not forget the actions or in-actions of your great nation.
CONTINUES NEXT WEEK: THE POSITION OF AMERICAN SCHOLARS AND THE IMPLICATIONS OF DESIGNATING BOKO HARAM AS AN FTO.  IT IS REVEALING.