He is just 19 years, yet he looms larger than life. In less than two years of his entry into the music industry, David Adedeji Adeleke a.k.a. Davido has become one of the most celebrated musicians in the country.
He shares his story with our Entertainment Editor, OGBONNA AMADI.
The last time I saw you on stage was at the finals of the Nigerian Idol. Between then and now, so many things have changed, can you explain why?
Jesus. If I could explain, then I'd be lying because everything happened fast. But one thing I'd always tell myself is that; I remember exactly a year ago at Eko Hotel. I was at Ice Prince's album launch and I told myself that I too must do same thing. So I had to work hard.
I've been working hard and  prayed for God to bless me with hit songs because I know that when you have God and support like good structures, then, everything will fall in place. To me, whoever God wants to blow will blow.
This whole thing; did you expect it to be this big?
I didn't expect it to be this big at all. When I first started in the industry, I used to tell myself that I don't want to be too big. I just want to be in the industry and don't want to be known too much. But after some time, I started getting bigger and people could recognize me anywhere I go. It's just crazy. It comes with a lot of benefits though. Like at first, my father didn't want me to go into music. But now, anywhere both of us go, people call him Baba Omo Olowo.
So, he didn't want you to go into music?
No he didn't. He was 100% against me. He just wanted me to focus on education. But after my music became big, he goes to parties and hears my songs. With this music I have been traveling everywhere; I traveled to like seven countries in just six months.
With just one song?
Yes.
What has changed?
(laughs). My house…
You just bought a new car…
Yes. What has also changed is that people take me more serious now. At first, my family didn't take me serious but now, they do. I feel I now have a job, a profession. So it feels really good that I'm doing something where I make money from.
How did it all start?
It started about two years ago at Atlanta Georgia, I was schooling in America for about two years
Studying what?
I was studying Business Administration and I remember when I came home for Christmas one December, I saw how crazy the industry was getting and I was amazed. I saw the likes of D'banj, Wande Coal, P-Square getting shows for millions. I knew I'm also talented too so I decided to give it a try. So I came back to the country. But when I came back, it was very rough for me. My dad was against my music
You left school?
Yes. I left school in America
To follow your dream
Yes. But I'm back in school running a part- time programme. One thing I told my dad was that even if I'm not in school, he should allow me do part-time. So that's what I'm doing now. So when I moved back, it was hard for me. I survived by chilling with Shank, Wande Coal, D'banj and even Don Jazzy who supported me until I dropped my first single. I couldn't go back home then.
You couldn't go back home?
It's not as if I couldn't go back home. I wasn't at home. If I was at home, I'd have to be in school. So that's why my dad and I were not on speaking terms for like a month. But one day, he just called me and told me he wouldn't want to take my dreams away from me.
He said he dreamt that music is my dream and told me that if I have to do it, then I have to do it right. He challenged me to make it big. And I can say he's one of my biggest fans now.
You wrote the song?
Yes.
What inspired that song?
I was trying to tell folks like my dad not to stop me from doing my music because everybody was trying to stop me.
Are you sure you are not into this for the money?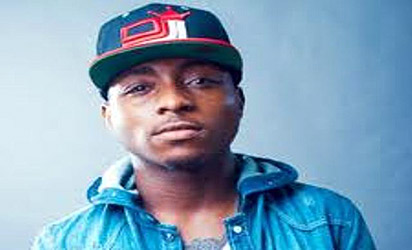 No it's not for the money. I don't know what happened, I remember when we recorded that song, my house was quiet for like two days because the song touched everyone in my family. Everyone, including  our cook all said the song was going to blow. I played it for my dad and he told me it's a hit. So we dropped it around late November. And from then, I can't even remember what  happened, because so much has happened so fast.
But it was a slow start initially…
Yes. It was a slow start. But like I said, I don't know what happened. If I have to start explaining, I'd be lying. It's all God's doing.
So how do people see you on the street?
It's crazy. At every show I go to, I have like sixty to seventy Area Boys following me and my car. Every where I go people want to have handshakes with me, some would say "Davido I love you," some would just want to touch me.
How do you control the girls?
I've always been getting girls even before music. But it's always about self control and knowing what you want to do. You can have fun everyday if you choose to. But at the end of the day, you know what you have to do.
So what's been the most embarrassing moment for you with girls and the fans?
It was my picture that went viral. The one that showed up in Ghana.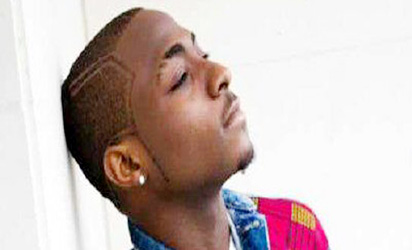 Was it really your picture?
Yes.
So why did you let down your guard?
I was sleeping, when the photographs were taken and that's it.
And what did you do to the girl after that?
Nothing.
Is she still with you?
I don't know where she is.
Thought you are signed on to D'banj's label, now you're talking about HKN. Is that also  D'banj's label?
D'banj and I work together but HKN is my label. We recorded the album on HKN label
What's HKN?
Hakkan in Arabics meaning King Of Kings. It's mine and my brother's label. D'banj and I are business partners and he's my big brother.
So you're not signed unto his label?
Wait and see.
Surprises?
Just wait and see.
But you're doing it with Flytime. Why did you choose Flytime?
Because Cecil promised he's going to do my album launch if I  could get him a hit record. I promised him I was going to come back to him with deal; a hit record. Today it's a deal come true.
And you have a new one, Ekuro?
Yes.
Beautiful song
God bless you
But it's not particularly new. It's like a folk song from somewhere…
Yes. I was in the car one day with my consultant and he was playing some old school songs. When I heard it, I thought about doing something in that direction. So I just put it in my own way.
So what do we expect on Sunday?
It's going to be crazy. Expect it to be one of the greatest shows in Lagos ever. We've planned for it from acting to everything. It'll feature acts like Tuface, P-Square, D'banj and everyone that counts in the game.
What's growing up like?
I wouldn't say growing up was sweet but thank God I have wonderful parents who brought me up. My mum passed away when I was ten. So from then, it was just my father and I
He never re-married?
Yes, he re-married.
You schooled in Lagos?
Yes for some time and then went to America for two years for my University until I decided to come back.
So why did you decide to shoot your new video Ekuro in America and not in Lagos?
I went to America  because I want my music to be international. Right now I'm planning to shoot my next video in Sudan
Why Sudan?
You'll know when the video comes out.
Do you have a visa to Sudan?
When we get to the bridge we'll find a way across. I'm an American citizen remember
Why did you choose Sudan?
Because there are deserts there.
What message are you trying to pass across with such video?
You'll see it.
Now, how many tracks do you have in your new album?
I have about seventeen tracks
…And you worked with how many producers?
I worked with five of them, big names like Chizee, J Sleek, Dr. Frabz, myself and one other person.
How many collabos?
About four- with May D,  Tuface, Naeto C and myself
Has anything changed in the music industry since you came on board?
I've only been here for a year. The technology is growing. We have things like Twitter, Facebook and different things, that were not there in the past
I need to know what happened that led to your being slapped by a policeman?
Nothing really happened. I was just on my bed going through the internet and I saw the story. I was amazed. I didn't get slapped.
You weren't anywhere around there?
No. I wasn't. I was in Lagos but the story said I was in Abuja.
So how did that make you feel?
I don't care because it didn't happen but people would always talk.
Subscribe for latest Videos