BY OPEOLUWANI OGUNJIMI
When President Jonathan nominated Justice Aloma Mariam Mukhtar, 68, as the new Chief Justice of Nigeria, many were surprised. It was indeed a breaking away from the norm of an office which had been occupied strictly,  by the male folk since 1958.
This makes her the First Female Chief Justice of Nigeria since her admission to the Nigerian Bar in 1967 . Below is a summary of the occupants of the office and their terms since 1958:
She succeeds  Chief Justice Dahiru Musdapher, who's retirement is already knocking on the door. In a letter addressed to the Senate by the President, her name as the new CJN alongside those of  Justice Clara Ogunbiyi and Justice Musa Mohammed as Justices of the Supreme Court, were forwarded.
Tracing her profile, Her Lordship, Justice Muhktar, is no stranger when it comes to Nigeria's judicial history as  she is the first woman Justice of the Supreme Court. She was also the first woman to be appointed into Nigeria's second highest court, the Appeal Court.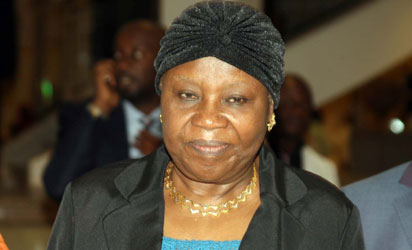 So, it was no wonder, when with a sense of pride, Senate President, David Mark, read out the nomination letter dated July 30 to the House at the plenary session held recently. Titled  "Appointment of Chief Justice of Nigeria," Dr. Goodluck Jonathan's letter said the appointment is in conformity with Section 231 Sub-section (1) of the 1999 Constitution of the Federal Republic of Nigeria, as amended."
Section 231 Sub-section (1) of the 1999 constitution empowers the President to appoint a Chief Justice of Nigeria acting on recommendation of the National Judicial Council and subject to confirmation by the Senate.
"I have the honour to forward the nomination of Honourable Justice Aloma Mariam Mukhtar, CON, CFR for confirmation as Chief Justice of Nigeria," Jonathan wrote to the Senate. These appointments have been necessitated by the impending retirement from service of Hon. Justice Dahiru Musdapher, Chief Justice of Nigeria and Hon. Justice F.F. Tabai," he said.
The nomination alongside those of  Justices Clara Bata Ogunbiyi (Northeast) and Musa Dattijo Muhammed (Northcentral), as Justices of the Supreme Court were referred to the Senate Committee on Judiciary, Human Rights and Legal Matters.
However, before she finally got this far, Justice Mukhtar has had her own fair share of oppositions. In  2005, the confirmation of her appointment to the Supreme Court made analysts wonder if her promotion would initiate a trend for more female justices of the Supreme Court against the norm. Their number has since grown to three with Olufunlola Adeyeye and Mary Odili joining the Bench.
When Muhktar first joined the men at the Apex court, Mary Odili, wife of ex-Rivers State Governor, paid tribute to her indomitable spirit in a "Testament of Hope" saluting the valiant struggle of women to gain respect in a male dominated world.
In 2000, when she served in the Court of Appeal, Muhktar ranked third in seniority behind Musdapher and the President of the Court of Appeal. Even now, as Muhktar waits to lead her fellow 'brothers and sisters' on the struggle for justice, some analysts believe she's the right choice judging from her experience, expertise and fair play, while others think otherwise.
Since her appointment by the President, reactions have been pouring in as to whether she deserves the office and how capable she is for such an elevated post. Some said Mukhtar would definitely inherit bag-logs of judicial headaches and wondered how she would go about solving them on a field which has become a 'nightmare' for even the past male occupants.
Carol Ajie, a Constitutional And Human Rights Lawyer thinks the appointment of Justice Muhktar is a step in the right direction. According to her, "taking into consideration seniority, Muhktar is the most senior of all the Justices and therefore worthy of the office".
Again, Carol Ajie says Mukhtar has paid her dues, having served at all levels of court. Ajie describes her as a woman of integrity greatly admired by her colleagues. "The nomination of Hon. Justice Mariam Aloma Mukhtar, JSC, as the first female Chief Justice of Nigeria, is a most welcomed development, following an extraordinary journey, one could say, similar to the nomination by President Obama of the first female Hispanic, Justice Sonia Sotomayor to the United States' Supreme Court, albeit a less comprehensive process.
Section 231(1) of the Constitution of the Federal Republic of Nigeria, 1999, as amended required President Jonathan to make this historic appointment upon the recommendation of the National Judicial Council (NJC), subject to confirmation of such appointment by the Senate. NJC made the recommendation following precedents on seniority. She is the most senior, so sidelining her and appointing others would have been incongruous. Thankfully, NJC and Mr President did the right thing.
She has worked at every hierarchy of court before she was elevated to the Supreme Court Bench in June 2005, a measure that wholly prepares her for the challenging task ahead. She is of impeccable integrity and has earned monumental respect from members of the Bench and Bar in a way that is unprecedented. She is greatly admired by those of us who look upon her as our mentor. We look forward to her excellent leadership."
Expressing his view about Justice Muhktar's appointment, Justice Odunowo says she deserves it because she has the right judicial training and carriage. He also describes her as a woman of integrity with no time for frivolities.
"She deserves it because she has the correct judicial comportment and she carries herself well all the time. She's been on the Bench since '67, so I think she deserves everything she's got. She has integrity and does her work well. Muhktar is a woman who doesn't have time to attend frivolous parties unlike others. I don't think she'll be part of those kind of scandal you find in the judiciary. She'll do things in the way and manner they ought to be done. I'm very happy because she's someone I know personally," he said.
And when asked about what he thinks will be the fate of justice in Nigeria during her reign, Justice Odunowo says "I'm sure she'll make a good difference. You can't measure justice by taperule. So apart from few problems she would inherit, I'm sure she'll want to make a difference and set an example for other female Justices in the country."