By Emmanuel Edukugho
When the story was broken that the Chairman of the House of Representatives Committee which investigated the fuel subsidy management, Mr. Farouk Lawan collected bribes in US dollars with $620,000 paid to him by oil magnate, Femi Otedola as part payment of the $3 million agreed on by both parties, the nation was shocked.
More startling was the denial by Faouk that he never took bribe from anyone, but later owned up, confessing he took the money.
Speaking immediately on Ray Power's radio programme tagged "Political Platform", Farouk emphatically denied: "I have not collected any bribe," and when he was asked if he ever collected money at all from anyone, he said he has not.
"Bribe is bribe. No other way to define this. If anybody says I've been given bribe, let him come out."
Have you been contacted by the press?
"I don't want to blame the press. Normally in a matter like this, the press should find out who is involved, get information and establish it. But not so. They said a prominent member of the committee took bribe. They should have contacted me for clarification."
But you collected money and it was recorded?
"First of all, this is disturbing, traumatic. Through our credibility and integrity, we've tried to expose corruption. Not surprising that if you fight corruption, it will fight you back. While doing the work, we've put our integrity and life on the line. I didn't cover up anybody. I can assure you, no member, myself or anyone compromised in the course of investigation." Farouk continued:
"I've made it public that they tried to bribe members of the committee with dollars, confronted with bribes. We know the enormity of the challenge. They want to rubbish our names."
What about the video clip?
"I don't know of any video. Nobody has come out publicly that I've been offered bribe, let him come out, say the amount.
First of all, EFCC has not invited me, no correspondence with EFCC."
Did you inform the security?
"What I'm saying is that there were instances of bribe being made and we told the security."
Did you see any money?
"I Farouk Lawan, did not collect money from anybody. So man y overtures made, our lives threatened. Let the report be implemented. It took time, sacrifice to make the report. I didn't collect bribe. If anybody says so, let him come out and say we collected bribe."
But later Farouk confessed to his colleagues in the House that he actually collected the said amount of $620,000from a businessman (Otedola) and intended to tender the money as a bribery evidence.
However, the question is: Where is the money? Even despite being detained by the police and later bailed, Farouk has not produced the money.
 It's a tragedy  — Prof Sagay
Renown constitutional lawyer, Professor Itse Sagay has described the $3 million subsidy bribe scandal involving the Chairmanof the House of Representatives Ad hoc Committee on Fuel subsidy management, Lawan Farouk, and a major oil marketer, Mr. Femi Otedola as a tragedy.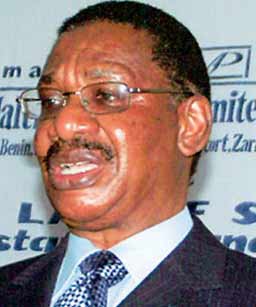 Speaking with Saturday Vanguard, he expressed disappointment over what happened at the end f the investigation into the fuel subsidy management when huge amount of public fund was siphoned by oil companies and the Nigerian people patiently waiting for action on the report submitted by the committee.
Excerpts:
What is your reaction to the ongoing $3 million fuel subsidy bribe scandal involving Hon. Lawan Farouk who chaired the House Ad hoc Committee that probed the subsidy regime?
Well, it's a tragedy, as far as Farouk and the government are concerned. We've all regarded Farouk as a man of great integrity and had high hope on him,  to the extent that the people have now suffered a setback by what he has done. It is shocking.
Are you satisfied with what the House did by suspending him and stripping him of chairmanship of both the committee on education and that of fuel subsidy regime?
The House has done the right thing as Farouk has been isolated and suspended. In addition, the House has done the right thing by bringing back to the list, the names of the oil companies delisted by the committee on the fuel subsidy regime – the Otedola oil companies and therefore achieving what the report so stated – prosecute the oil thieves and recover the money involved.
Should the government still implement the report in spite of the controversial bribery scandal?
It is not for government to implement the report, rather it's for Economic and Financial Crimes Commission (EFCC), the Independent Corrupt Practices and Other Related Offences Commission (ICPC) and the Police as a matter of compulsory duty to act on the report. It's strictly for them to do so. They have no choice, because it's the report of the House. It is irrelevant if Farouk and others have taken bribe.
It is for the EFCC, ICPC and Police to take action. They have a duty to Investigate, prosecute and recover the stolen N1.7 trillion from these oil thieves.]]
Must be treated as serious offence – Prof Awuzie, ex-ASUU President
This subsidy bribe involving Lawan Farouk, Chairman of the House ad hoc committee on fuel subsidy administration should be treated as a serious offence, said Professor Ukachukwu Awuzie, immediate past National President, Academic Staff Union of Universities (ASUU).
How do you view this scandal, tending to rubbish the work of the investigative committee which probed the management of fuel subsidy?
We should isolate the report from the bribery scandal. We're talking of $620,000 bribe, then ignoring billions of naira some people took away in the guise of supplying fuel under the subsidy regime. This has caused harm to the people because government had to increase the pump price of petrol. We had portfolio carrying business men who had no fuel to supply, but only to siphon away money.
Who should be blamed for this kind of thing?
The Nigerian people themselves know who to be blamed for this. A situation in which government budget for fuel subsidy was about N500 billion, but ended up spending N1.7 trillion on subsidy, instead of the N500 billion budgeted for fuel. So we all know who to blame for this kind of corruption.
It's a serious offence. But people are trying to find excuse. Why do you want to give bribe?
Also reacting, Professor Isaac Adeyemi, Vice Chancellor, Bells University of Technology, Ota, Ogun State, was bewildered, saying he does not want to comment on the bribe saga.
"I don't want to comment on it. It's a reflection of our society. This is sad, highly unforunate," he told this writer in a brief chat.
"The more one hears about the scandal, the more one becomes sad. If it is not properly handled, corruption will become a hydra-headed monster and nobody will be able to tame it," Professor Adeyemi