By AMAKA ABAYOMI & LAJU ARENYEKA
The statistics
If the over 71,000 Nigerian students who pay tuition fees in Ghana were to contribute the N160 billion they spend annually, they would account for 40 per cent of the 2012 education budget. A report in 2010 recorded that Nigeria fuels the UK education sector to the tune of N246 billion; over 60 per cent of the 2012 education allocation.
Nigerians studying in British and American universities have spent over N137, 023bn on tuition and living expenses in the last two academic sessions; about 34 per cent when measured against the Federal Government's allocation to education.
The Director of the Federal Scholarship Board (FSB), Mrs. Hindatu Abdullahi said that the Federal Government spent more than N900 million to sponsor 150 students abroad last year; nearly 10 per cent of the 14.14bn allocated to Nigerian universities.
It is no longer news, according to a breakdown of the 2012 budget, that the sum of N400.15 billion was allocated to education. However, when measured against the figures that Nigerians spend on education in the Diaspora, the situation raises alarming questions concerning economic implications as well as a lack of confidence in the Nigerian education system.
Economic implications
Average tuition fees of some selected countries (excluding living expenses) for undergraduates are: USA $8,000; UK 19,000 pounds; Singapore $4,000; Malta $20,000; Malaysia $1,000; Ireland 6,000 euro. When converted to Naira, Malaysia is N130,000; UK N1.4m; US N1.04m; Malta N2.6m,etc.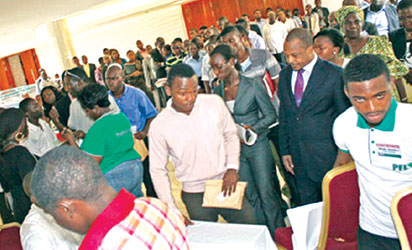 According to a member of the British Parliament, Mr. Iain Stewart, there will be nearly 30,000 Nigerian students in the UK by 2015, and this accounts for seven per cent of the total UK university population.
As these numbers increase, so do the financial figures. As at 2011, there were 17,585 Nigerians studying in UK universities, about 1,000 more than the 16,680 registered in the 2009/10 academic session, making Nigeria's student population the third largest from non-European Union countries, trailing 39,090 recorded for India and 67,325 for China, according to statistics provided by UK Council for International Student Affairs.
According to the U.S. Embassy Educational Advising Center (2011), Nigeria sends more students to the United States than any other country in sub-Saharan Africa. Nigeria currently has over 6,500 students studying at over 733 institutions in all 50 states of the United States and the District of Columbia.
It is a fact that foreign universities are profiting from Nigeria's ill-equipped institutions, as Nigerian youths paid whopping sums as tuition to foreign universities in the last two years. Nigerians studying in British and American universities have spent over N137,023bn on tuition and living expenses in the last two academic sessions, going by an average tuition of £19,000 per session for international students in UK universities, and $21,000 tuition and living expenses for international students in America.
In the UK, international students, including Nigerians, spend an average of £19,000 on tuition and living expenses per annum though science students pay more. This amount far exceeds an average of £1,310 paid by home students and students from the European Union countries per annum.
According to a graduate of one of UK's varsities, some international students pay far higher than the average, depending on what part of the country they school or reside in.
He stated that most universities in the UK charge the same tuition fees for home/EU students, and another rate for international students, which is far higher than home students' fees. "Students' sustenance/maintenance entirely depends on the area the school is located, if the individual will be living in the halls of residence or renting a place around the school. "
Some Nigerian students in the US said, depending on the course of study, tuition and living costs gulp an average of $26,000 per student annually. According to a second year student at Morgan State University, Baltimore, Maryland, "my school fees is $26,500 p/a, including accommodation, feeding, internet access and other needs."
Despite the huge cost of schooling abroad, more Nigerians are joining the quest to acquire foreign education. Such Nigerians spoke to Vanguard Learning with reasons ranging from a higher standard of education, to more job opportunities, and a higher standard of living.
Asinobi Nnadozie, who recently embarked on his second degree at the University of Exeter said: "The primary motivation for going abroad for my second degree, was to get more specialist knowledge in my field of study. With London being one of the top financial centres in the world, it offers me a unique opportunity to learn more about finance in a very practical manner."
Judith Uchidiuno who had her three degrees abroad said that the prior motivation was because her parents wanted her to do so. However, she realised as her educational career progressed that: "Classes are much smaller, Very focused on real world application and networking, and education here is much more expensive."
Citing better teaching method as her reason for wanting to study in the UK, Obioma Ochuba said: "I want to further my education in the UK because their schools are well funded, they have better facilities and their teaching method is superior to what we have in Nigeria. Schools in Nigeria can be at par with UK schools if only they are well funded and adequately equipped."
Omotola Layeni isn't satisfied with the standard of education in Nigeria and prefers to study in the UK for better understanding of her course. of study so as to increase her chances of becoming successful in life.
For Odunayo Okebunmi, schooling abroad would open a new vista for her as she would be more informed about other climes and culture. "Though there are some good schools in Nigeria, the UK system is well structured with conducive learning environment and this will enable me gain better knowledge of the course and also get to know about other climes and cultures."
Lack of confidence in the Nigerian education system
Young civilians like Layeni aren't the only ones dissatisfied with the nation's education system; President Goodluck Jonathan, who recently set up a committee with a responsibility to search for best 100 first-class students in Nigerian Universities for immediate scholarships to study abroad, in the same vein decried the dearth of academics in the nation's tertiary institutions, where only 60 percent of lecturers are doctorate degree holders, and said there was need for a drastic change.
Following in the President's footsteps, the Osun State Government is planning to sponsor 98 students of the Clinical Department of  College of Medicine,   Osun State University (UNIOSUN) to complete their medical studies at the Karazin University in Ukraine.
Although the state governor, Ogbeni Rauf Aregbesola, said that the N146 million naira feat is as a result of the fact that "there is no accredited teaching hospital in UNIOSUN where they could be trained to become qualified medical practitioners," it does raise the question as to whether there are no accredited teaching hospitals in the country as a whole.
The actions of the government in this regard, seem to speak louder than the words of many Nigerians not just on education but on what many refer to as the "Nigerian system".
Alarming rumours of ill treatment of some Nigerian students in the diaspora, coupled with the activities of fraudsters and human traffickers spurred by rising figures of many citizens' craze to find greener pastures outside the nation's shores, no doubt stirs up troubled waters beyond education itself.
Subscribe for latest Videos